The developer seeking to replace the building currently housing Draeger's Market in downtown San Mateo is in negotiations to keep the gourmet grocer as part of its new four-story mixed-use plans — although it would be smaller.
The city has received a preliminary planning application for a commercial office mixed-use building from real estate and development firm Lane Partners. The new building would include a grocery store, a retail floor, affordable housing units, offices and underground parking.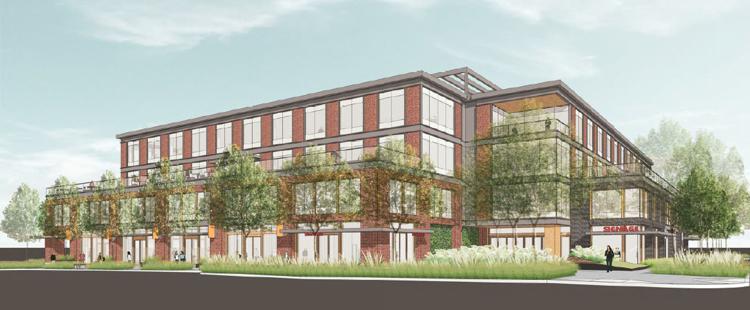 Although all sides want to keep Draeger's at its current location, there is no agreement yet. Marcus Gilmour of Lane Partners said having a high-end grocery store at the site was essential to their company and the community. Lane Partners' primary goal is to reach an agreement with Draeger's to ensure its partnership continues, and they are still several years away from making final decisions on which grocery store will be at the new building. Gilmour said Lane Partners talks weekly with the Draeger family on existing and future operations.
"We recognize just how important they are to the community, and so that's our goal. That's Plan A," Gilmour said.
Richard Draeger, co-owner of Draeger's Market, said there is not a lot of certainty about if Draeger's will reach a final agreement to be in the new building. He said that was because of how early the negotiations are and how extensive the process is for both sides. He said the store's lease is not coming up soon, and it will operate business as usual. However, he is working with Lane Partners to try and devise a solution.
"I am working with them to come up with a concept that makes sense," Draeger said. "We are very fortunate that we have a great market in San Mateo, and we have a very loyal patronage."
San Mateo Mayor Joe Goethals said Draeger's is a critical grocery store for the city. He was confident Draeger's would be part of the proposed development project and continue to be part of downtown. He doesn't expect a change in grocery stores with the project, but he is open to finding other opportunities for Draeger's if the new project doesn't work out.
"I am committed to working with the developers to make sure Draeger's has an opportunity to come back. I think having a grocery store downtown is critical," Goethals said.
If the city approves the project and Draeger's stays as the proposed grocery store, it would still have to leave its location at 222 E. Fourth Ave. temporarily while construction took place. According to Lane Partners, Draeger's will operate and be in its current building for the next few years regardless of the application status. The city has not set a date for a decision on the application. If Drager's is part of the new project, Lane Partners will structure a new lease with the company.
Under the proposed plan, the new grocery store would be significantly smaller than the existing store. Draeger's is two floors and 60,000 square feet, with a market, deli, bakery, cooking school, restaurant and additional amenities. The new grocery store would be closer to 17,000 to 20,000 square feet, according to Gilmour. Draeger's started in San Francisco in 1925 and returned to San Mateo in 1997 to open downtown.
Lane Partners submitted a pre-application to the city May 18, and the project is currently under review. It hopes to receive a response from the city before the end of 2020, but circumstances could change based on delays or requests for changes. If the project is approved, Lane Partners is still not close to starting construction due to COVID-19 and the economy's downturn. The project construction would last approximately 18 months.
The proposed site would be 147,645 square feet and consist of four parcels totaling 49,478 square feet, or around 1.123 acres. There would be two basement parking levels open to the general public after business hours and weekends. The plans include a public gathering plaza on the corner of Fourth and Ellsworth avenues with landscape and seating areas. Lane Partners also recently decided to add 10 units of affordable housing to the development. Lane Partners purchased the Draeger's building in October 2019 after making an unsolicited but substantial offer to the company. Members of the Draeger family said at the time they were hopeful for a long and successful partnership with the new building owners.
Gilmour plans to create a project that the community is proud of and incorporates community feedback throughout the design process.
"Our goal is not to build the project and sell it. Our plan is to hold it for the long term and for it to be integrated into the community. That's why it was important to incorporate the grocery store, the outdoor community gathering areas and the housing," Gilmour said.
People who want to see the project's architecture plans or provide feedback on the proposed project can go to https://courbanize.com/projects/222-east-4th-ave/comments for more details.
(650) 344-5200 ext. 102