After 47 years, co-owners Rino Betti and June Williams will close Burlingame institution, Sam's Italian Sandwich Company, on Jan. 25.
"June and I would like to give a million thanks to our community for their support over the years," said Betti." It's very sad and hard for us to say goodbye. We're going to miss all of our customers and we've made so many friends over the years. It's going to be very hard."
Their customers come from all walks of life, from high school kids to mechanics.
"A nice mixture of people," said Betti.
And according to Williams, they are loyal too.
"Many of our customers who have moved away out of state, when they come back, for whatever reason, they always come to Sam's, because they remember the sandwich they grew up with," Williams said.
Sam's Italian Sandwich Company, originally started by friends Rino Betti and Rich Vento, opened in 1972. Betti was inspired by his frequent drives to San Francisco deli, Freddie's, in North Beach which gave him the idea for him and Vento to open their own place. At 22 years old, Betti opened Sam's Italian Sandwich Company at its original location at 297 California Drive in Burlingame. 
The place was tiny, only 10 feet by 12 feet, but it was located right next to Burlingame High School which at the time was an open campus, allowing students to visit Sam's for lunch ensuring a steady group of customers.
"It gave Sam's Sandwiches a kick-start," Betti said. "We had lines of students out the door." 
That connection with Burlingame High School lasts to this day. Rino estimates that he hired about 60 local students over the years, giving them their first jobs. Sam's has also provided sandwiches during various school and town events.
"We'd like to give a very special thank you to our employees, who over the years have become more like family," said Betti. "We'll never forget all of you."
For those wondering, there is no actual "Sam," save their mustachioed, rotund mascot. Betti and Vento simply liked the name "Sam" and the rest was history.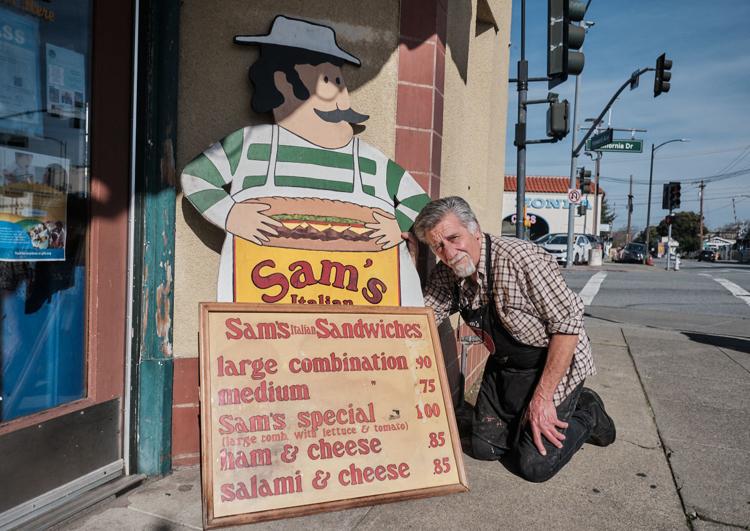 Five years after starting Sam's, Vento decided to leave but Betti would later find his next partner after meeting a young woman who worked at a flower shop down the street named June Williams. Once the flower shop job fell through, June decided to work with Betti at Sam's until she found another job. Decades later, the two now have grandchildren, and Williams proved to fit right in the sandwich-making business, creating a "June's Turkey" sandwich and her claim to fame, Sam's Italian Sandwich Company's garlic dressing. 
As time passed, rents in Burlingame got higher and there was a development plan in the works for the whole first floor of the building the shop occupied, so in 2005, Sam's moved the more spacious former Greyhound Station located at the intersection of Howard Drive, California Drive and Highland Avenue.
Unfortunately, high rent, along with the cost of business, eventually caught up to Sam's again in 2013, almost forcing Betti and Williams to call it a day. However, they were saved by an online campaign started by the City Council and led by former mayor Cathy Baylock and former councilman Russ Cohen. The town which Williams and Betti served for so many years pitched in and in the end not only met, but exceeded their goals, raising enough money to keep them in business. 
"Rino and I will always be grateful for the Burlingame community coming together to help us out. It means so much to us," she said.
Cohen, and his wife Constance Quirk Cohen have been longtime patrons of Sam's. Constance Cohen had a birthday party for her husband there, and years ago, when Russ Cohen decided to run for office and Sam's was the site of his campaign's kickoff party. 
"They are two of the hardest working people I've ever known," said Constance Cohen. "Always very warm and welcoming," she said. "We've known them for over 20 years. I think Sam's closing is going to leave a big hole in this town." 
"Forty-five years is an incredible run," said Russ Cohen. He said that Betti and Williams have been great community partners, supporting the town's schools during events, and even giving out free sandwiches from time to time to random people. "Rino and June are just good-hearted people, and the hardest-working people in the sandwich business." 
Russ Cohen said the town coming together to save Sam's in 2013 shows how the community paid them back for all of their goodwill over the years.
"They've build such a great following over the past 47 years. I know a lot of people are going to miss it," he said.
This time around, however, the two owners are closing not because of high rental costs which the city, who owns the building, "has been more than fair" according to Betti, letting them stay even after their lease expired. 
Instead, the two are closing due to other reasons.
"The last couple of years we have been hit hard because a couple of things. First, people's tastes have changed. A lot more people aren't eating bread as much anymore. Also, many of our customers have moved away, so things have been very difficult," said Betti. 
Burlingame Mayor Emily Beach is also sad to see Sam's close. 
"I can't think of anyone who doesn't love Sam's Sandwiches here in Burlingame. It's just been a favorite place in our community in a beautiful, historic building, but mostly it's the owners, Rino and June who are so loved, said Beach. "We are sad to see them go. We will surely miss Sam's and all they have done for the community over the many years they have been a part of the Burlingame business community." 
As for the future of the bus depot, Beach said they plan to utilize the building for staff who are helping to renovate the community center.
"Even though they are retiring, we will still be using the depot for a good, civic purpose," she said.
Sam's Italian Sandwich Company's last day will be this Saturday, Jan. 25, where they will hold a small get-together for people who would like to say goodbye and maybe have one final chance to eat a sandwich that has fed Burlingame and beyond for the past 47 years.