Based out of a single-family home in Belmont and distilled in Mexico, fruit-infused tequila brand 21 Seeds is growing rapidly.
The brand officially launched March 21 and has since produced close to 15,000 bottles of its take on the Mexican spirit. Its three infusions — cucumber and jalapeño, grapefruit hibiscus and Valencia orange — can be found at bars, restaurants and stores throughout California and increasingly in other states as well, including New York and New Jersey. Even celebrities such as Naomi Watts and Jessica Alba have shared their affection for the product on social media.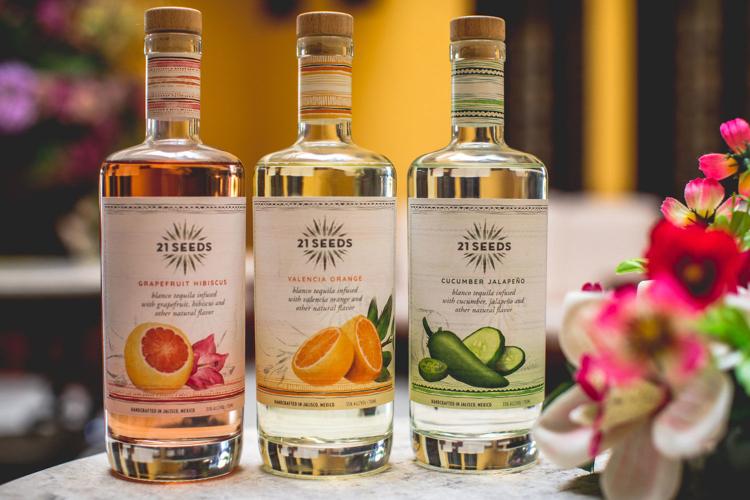 The name 21 Seeds is a reference to both the product's ingredients and the company's founders: all of the infusing is done with natural ingredients that grow from seeds while the number 2 refers to sisters Kat Hantas and Nicole Emanuel, who are the company's CEO and CFO respectively, and the number 1 refers to their mutual friend Sarika Singh, who is the COO.
"This is a tequila for women and by women, though guys love it too," said Hantas. "There are very few spirits out there really with women top of mind and not just how the product is made, but the packaging and design — all of it."
The company's distillery in Mexico is also run and mostly staffed by women, Hantas noted, with flexible shifts that accommodate working moms.  
The product was initially created about 10 years ago by Hantas, a regular wine drinker who began experiencing night sweats in her mid-30s. She discussed the concerning development with her doctor, who recommended switching to distilled white liquors. Hantas opted for blanco tequila, but found the taste to be too strong. Instead of mixing the tequila with sugary juice or soda, she began infusing it with fruit.
In her kitchen, Hantas sliced up a jalapeño with the seeds and an English cucumber and dunked both in a bottle of tequila, which then sat in her refrigerator for 48 hours. She would test the spice levels occasionally and after two days, she strained the beverage through cheesecloth and then it was ready to drink.
"The last part is I pour the jalapeño and cucumber infusion into a wine glass with club soda and a slice of orange. That's how I'd finish my day," she said.
The product today is created via a similar process, just on a much larger scale of course.
Infusing tequila with fruit was almost unheard of at the time, Hantas said, but it quickly caught on amongst her friends, who also gradually switched from wine to blanco tequila to her product. Hantas's infusions became a big hit at parties, she often gifted bottles of it to friends and at some point, one of those friends asked: "Why don't you make this and sell it because it's really good and there's nothing like it on the market," Hantas said. 
The idea obviously resonated with Hantas, who soon after, recruited her sister and close friend to form the team that now runs 21 Seeds.
Before 21 Seeds came into existence, Hantas was a film producer, Emanuel was a CFO for numerous companies including Refinery 29 and AngelList and Singh had extensive experience in consumer-packaged goods, having worked for companies including U.S. Mills, Attune Foods and Gimme Health Foods.   
"When Kat first approached me this felt like one of the most exciting opportunities I ever had," Singh said. "People always said how can I go from healthy food and beverage to tequila? Wellness isn't just about what you put in your mouth, it's also about community and the social connections you make and the joy around that. … I felt this would be a great business and a great experience."
Emanuel said the partners work well together in part because each brings a different skillset. 
"We're all each other's soundboard, but we all stay in our lanes so we don't have to run everything by each other and slow down and we can get there faster and more efficiently," Emanuel said.
Emanuel said she's been surprised how quickly people, including tequila purists, have taken to the product.
"We thought we'd deal with a lot of purists who said this isn't tequila, this is something else. Everyone warned us we're doing something no one else has done so watch out, but this is how we like our tequila," she said. "My most favorite thing is to watch a purist who wants to hate it so badly just say 'oh I didn't expect it to taste like this.'"  
Singh added that more and more women specifically seem to be drinking blanco tequila these days. 
"More and more women are choosing blanco tequila with a squeeze of lime because for whatever reason it doesn't make you feel as bad as beer and wine," she said. 
In Belmont, 21 Seeds can be found at Water Dog Tavern, Mollie Stone's and Carlmont Liquors. It's also available at BevMo! throughout the state and in numerous other establishments. 
Hantas said Belmont has embraced the product. 
"Belmont is a great community and has embraced 21 Seeds," she said. "We do a lot of sales there and when people hear it's local they support it. It's a great small-town feel that way."