CAMPBELL — Shock and awe have been a staple of the Menlo Knights' dominance all season.
In Saturday night's Central Coast Section Division II football championship game at Westmont High School, the No. 3-seed Wilcox Chargers flipped the script, running a shock-and-awe campaign of their own to run up a 54-20 final score and hand No. 4 Menlo (12-1) its first loss of the season.
While Menlo quarterback Sergio Beltran emerged as the top touchdown passer in CCS history this season, Wilcox (9-4) countered with an epic ground game. Senior running back Luther Glenn hurdled the 2,000-yard plateau on the season, rushing 16 times for 231 yards and four touchdowns.
"He's a great player," Menlo senior Robby Enright said. "He ran through a lot of tackles. He had a great game. … We had a lot of respect for him going in, and obviously we have a lot of respect for him now."
Glenn's first touch of the night, on Wilcox's first play from scrimmage, was a majestic 61-yard bolt to the end zone. It was Wilcox's answer to Menlo's opening drive, after which the Knights held a brief 6-0 lead.
As it turned out, the Chargers' answer was a definitive one, as they'd score on all six first-half possessions, including several on dramatically short fields — two due to a failed fourth-down tries, and two more because of botched punt snaps by Menlo.
"That's a very good team," Glenn said. "Shout-out to them, shout-out to the quarterback, he was making good plays. But this game means a lot to us. We wanted this game, we knew we were the No. 1 team, and we had to come out and prove it."
Beltran finished his historic season with 367 total yards, going 22-of-43 passing for 284 yards and one touchdown, while rushing 15 times for 83 yards and another score. But the senior was taking hits all night, including steady pressure with Wilcox totaling five sacks.
Beltran finished the season with a CCS-record 52 touchdown passes, breaking the previous single-season mark set in 2013 by Terra Nova's Anthony Gordon with 49.
"He's the heart of the team," said Jake Bianchi, Menlo's backup quarterback. "We wouldn't be here without him."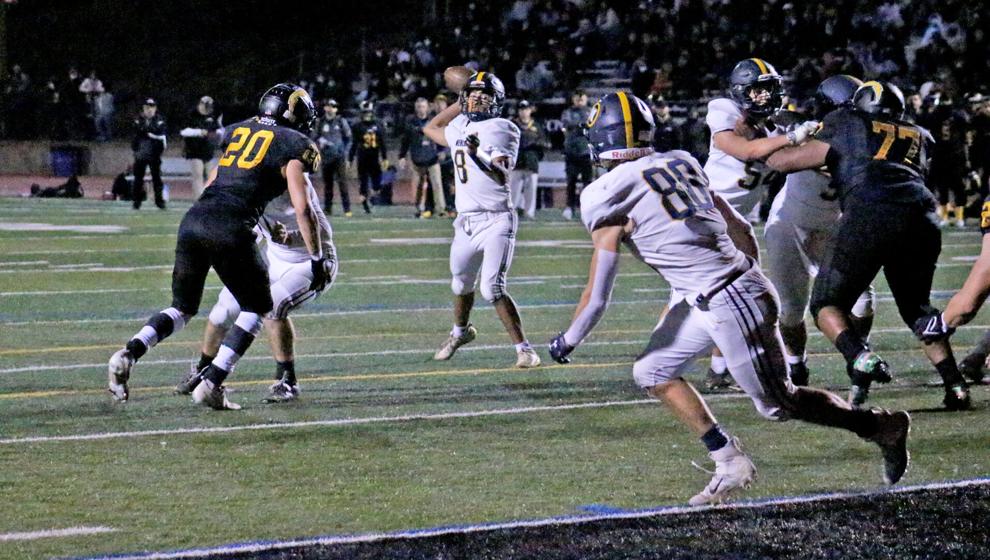 Menlo opened the game by trying to make a statement on offense. But after Beltran's first five pass attempts came up empty, all shots downfield, the Knights turned to a gritty approach not often relied upon during the team's 12-game winning streak to start the season.
Only a Wilcox personal foul penalty put the Knights past midfield, and Beltran later converted on fourth down with a 2-yard keeper, followed by 19 yards on a scramble to the Wilcox 19. Then on third-and-10, Beltran connected with Enright for a 19-yard touchdown on a sharp slant pattern over the middle to give Menlo a 6-0 lead.
Enright totaled eight catches for 133 yards and one touchdown.
"Just great scheme," Enright said of his ability to get open, "and the other receivers running the routes. Making the safeties stay just an extra second allows the window to open up. And Sergio played his heart out. He puts the perfect balls there."
But the Chargers responded with a lightning bolt on Glenn's 61-yard score to go up 7-6.
Menlo went back to the big-play motif on its next play, lining up Beltran's backup, Bianchi, at the receiver position for a familiar trick play. Beltran handed off to Bianchi, who dropped back for an option pass. But the attempt sailed long.
In a season where the Knights relied on big pass plays, the fact that none of the many long pass looks connected on Menlo's first two possessions was a momentum killer.
"It was tough," Bianchi said. "Everything was so close … and could have been caught. The momentum stayed up for a while. We were running as a team, riding as a team. … The momentum shifted at a point."
After a 9-yard pass from Beltran to Enright to set up third-and-1 at the Menlo 47, the momentum shift was felt resoundingly. Beltran got hit for a loss of 2 yards to force fourth-and-3. The Knights, near midfield, opted to go for it, but the resulting play left Beltran recovering his own fumble to force a turnover on downs.
Glenn responded with a 30-yard rush and, two plays later, Wilcox junior Andrew Palacios scored on a 2-yard blast to make it 14-6. Palacios finished with 13 carries for 74 yards and two touchdowns.
Then Menlo's long-snapping troubles came into play. The Knights have been without senior lineman Logan Deeter, their regular long snapper, since early in the season due to an injury. During the regular season, thanks to Menlo's high-powered offense, the punt team was never under scrutiny.
"We do work on it a lot because we know that [special teams], that's a phase of the game that can really change the game," Enright said. "We've been working on it a lot this year. Unfortunately, we had a few mistakes (Saturday). But that happens to everyone."
The first miscue was in the opening quarter near midfield, with the snap sailing over the head of punter Ross Muchnick. The junior ran down the ball and fell on it at the Knights' 18, giving Wilcox prime field position. Three plays later, Glenn scored a 14-yard touchdown to make it 20-6.
After the teams traded scores to put the Chargers up 27-12 — senior Jack Giesler scored a 3-yard run for Menlo, but Glenn answered on the following series with a 26-yard touchdown — Menlo botched another punt snap deep in its own territory. This time the snap flew to the back of the end zone and, while Muchnick was able to recover and get off a decent punt, it set Wilcox up at the Knights' 25.
Five plays later, Palacios scored on a 7-yard run. The ensuing Menlo drive went nowhere, and the Knights failed a fourth-down conversion at their own 29 with 2:24 remaining in the half. It was more than enough time for Wilcox to score once more before halftime, when quarterback Armand Johnson connected with Charlie Carlson for an 11-yard touchdown pass, sending the Chargers into the break with a 41-12 lead.
Menlo scored midway through the third quarter on a 3-yard Beltran run. But Wilcox responded with two third-quarter scores on Glenn touchdown runs of 33 and 18 yards. The fourth quarter was played to a running clock at the request of both teams' head coaches.
"[We're] just proud that we fought hard," Enright said. "We didn't give up, we kept fighting towards the end. It's just not the way we wanted the season to end. We've been working really hard, and we lost a lot of guys, and we were playing for them. So, it sucks to lose when you're playing for something bigger."