The San Mateo football team showed it can take care of business when facing an overmatched opponent like the Bearcats did in their season-opening 34-0 win over Saratoga.
Now, the Bearcats proved that they can win when their backs are against the wall.
After visiting Carlmont tied the game at 21 with 6:09 left to play, San Mateo ate up more than five minutes off the clock, capping a long drive with a Giancarlo Selvitella 2-yard plunge to give the host Bearcats a 28-21 win Friday night.
"It was a battle," said San Mateo head coach Jeff Scheller.
And to think the winning play was a call made by San Mateo center, senior captain Semisi Latu. Facing third-and-goal at the 2-yard line, Selvitella took the snap, took a step to his left and found a huge hole, diving into the end zone for what turned out to be the winning score with 59 seconds left.
"He said (to Scheller during a timeout), 'Let G.C. run behind me.' They weren't ready for it," said Selvitella, a junior. "We were waiting for the right moment. That was the right moment.
There was still about a minute to play, however, and Carlmont certainly made the Bearcats sweat it out. Starting at his own 25, Scots' quarterback Jack Weissinger completed 4-of-7 passes — including gains of 12, 13 and 20 yards — to get down to the San Mateo 25 with four seconds left.
There would be no miracle finish, however, as Weissinger's final pass of the night fell for an incompletion, preserving the Bearcats' win.
"San Mateo played heckuva a game," said Carlmont head coach Eric Rado. "They were just more physical at the point attack."
San Mateo lived up to its reputation of pounding the ball on the ground. Tevita Kioa led the way with 73 tough yards and touchdown between the tackles as he was lead runner on the Bearcats' dive play.
With Scheller trying to conserve Kioa as much as possible, since he is an important piece of the defensive side of the ball, Viliami Zepeda gave the Bearcats a much needed boost as he rushed for 37 yards and a score on nine carries.
In all, seven Bearcats amassed 198 yards on the ground.
While Selvitella was not asked to throw the ball much, when he did, he was effective. He hooked up with Noah Rodriguez twice for 77 yards — a 49-yard gain that set up San Mateo's first score and later a 28-yard scoring pass.
Carlmont, on the other hand, went against type. Having dominated on ground its first two games, the Scots went to the air for a majority of their offense. Weissinger completed 11-of-22 passes for 201 yards and two touchdowns. Ivan Coronel was the big recipient, catching four balls for 142 yards — including a 76-yard catch-and-run for a score.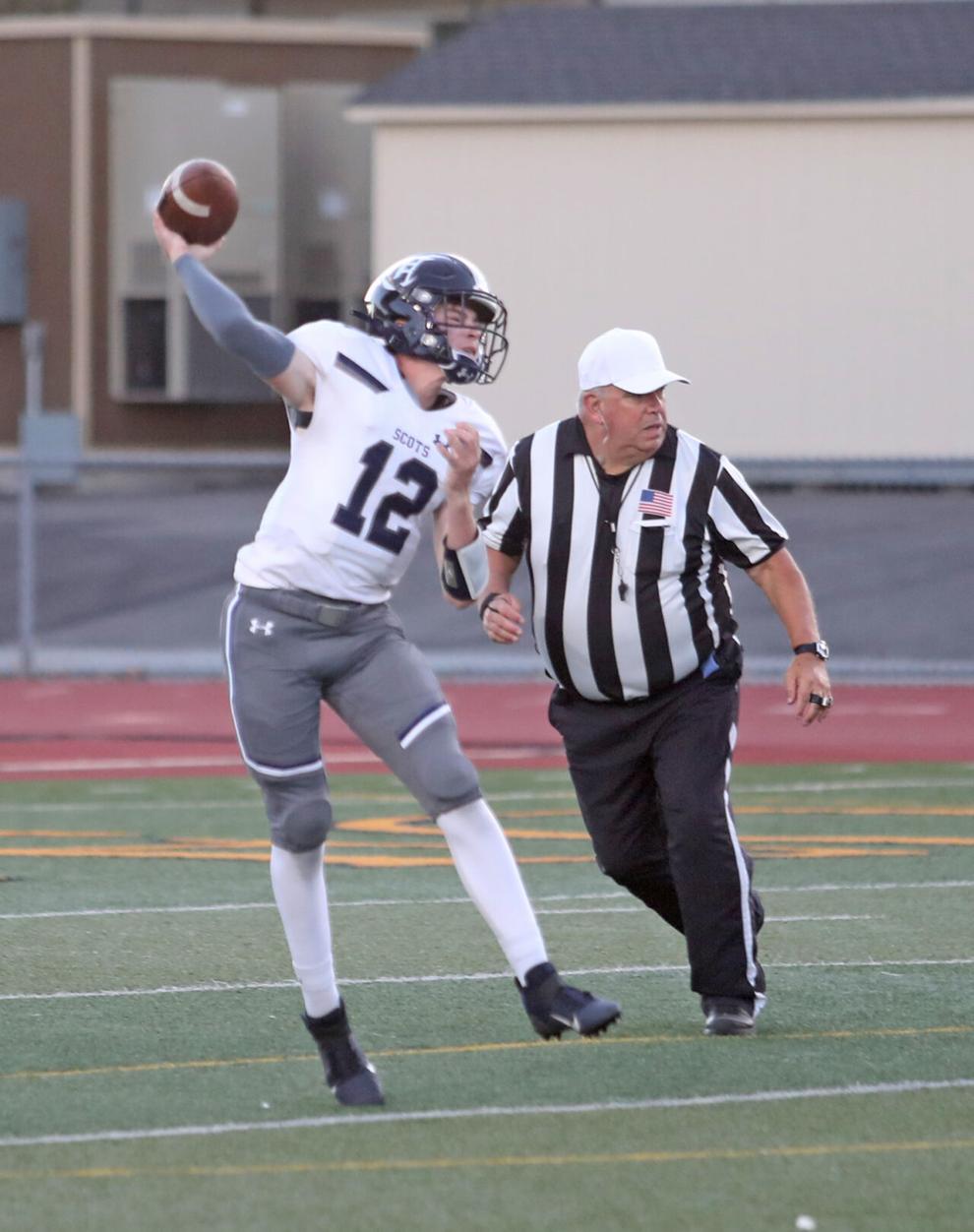 Carlmont running back Luke Nessel, who had run for almost 400 yards through the first two games, did not get his first carry until late in the first half. He was featured more in the second half and he finished with 95 yards rushing on 15 carries. He also caught three passes for 16 more yards.
"He was dealing with an ankle thing from Terra Nova (last week)," Rado said.
The game was really one of two different halves. In the first two quarters, the teams marched up and down the field, combining for nearly 400 yards of offense.
Carlmont opened the scoring after San Mateo turned the ball over on downs at midfield on the first drive of the game. The Scots took over and went 49 yards on five plays. Weissinger and Coronel combined for a 44-yard completion on fourth-and-4 down to the 1-yard line and Victor Nickolayeva punched it in from there for a 7-0 Carlmont lead.
San Mateo came right back, also needing just five plays, including a big completion of its own — Selvitella to Rodriguez for 49 yards to the Carlmont 5. After a 5-yard loss, Kioa rumbled 10 yards and bulled his way into the end zone to tie it at 7.
Carlmont responded right back, needing just three plays to cover 80 yards, the final 76 coming when Weissinger found Coronel in the flat, who turned it upfield, shook off a couple of tackle attempts and raced 76 yards up the left sideline for a 14-7 Carlmont lead.
Back came the Bearcats. Starting from their own 24, they marched down the field, using nine plays to find the end zone, with Selvitella hooking up with a wide open Rodriguez in the end zone for a 2-yard score to tie the game at 14.
San Mateo forced Carlmont to punt on its next possession and embarked on another scoring drive. This time it was Zepeda who went in from a yard out to cap an eight-play, 49-yard drive to put the Bearcats up 21-14 at halftime.
The second half turned into a defensive battle that was played mostly in the San Mateo end. But the Bearcats defense kept the Scots off the scoreboard, forcing them to turn the ball over on downs two times to open the third quarter.
The Scots finally broke though on their third possession of the half, going 47 yards on 13 plays, with Weissinger finding Conner Cook for a 3-yard score to tie the game at 21.
San Mateo was having its own struggles offensively as the Bearcats did not pick up their initial first down of the second half until their final scoring drive. But they put a drive together when they needed it, going 62 yards on 10 plays to pull out the victory.
"This was a total team effort," Scheller said.