EL DORADO HILLS — The chant was ringing through the Oak Ridge High School gymnasium from the Hillsdale sideline.
"V! V! V! V! V! V! V!"
The "V" is for "Vanos," as in Hillsdale senior Victoria Vanos, but it might as well stand for "victory," as the Lady Knights pulled off a historic coup Tuesday night.
"It's been around since my freshman year," Vanos said of the chant. "One of the seniors, when I was a freshman, started it, actually. It's just stuck. And it really keeps me motivated, like I'm doing this for my team. It's something bigger than myself."
No. 3 Hillsdale (27-2) did what no other team in its program history has done, sweeping past top-seed Oak Ridge-El Dorado Hills 26-24, 25-21, 25-16 to claim the CIF Northern California Division I regional championship.
The Jessica Dean & Vanos show was in full effect, each displaying her double-double prowess on the championship stage. Dean totaled a match-high 20 kills to go with 17 digs, while Vanos went for 15 kills and 16 digs.
"I feel like a lot of us were nervous — I was," Vanos said. "But once we got the game started, we shook off the nerves."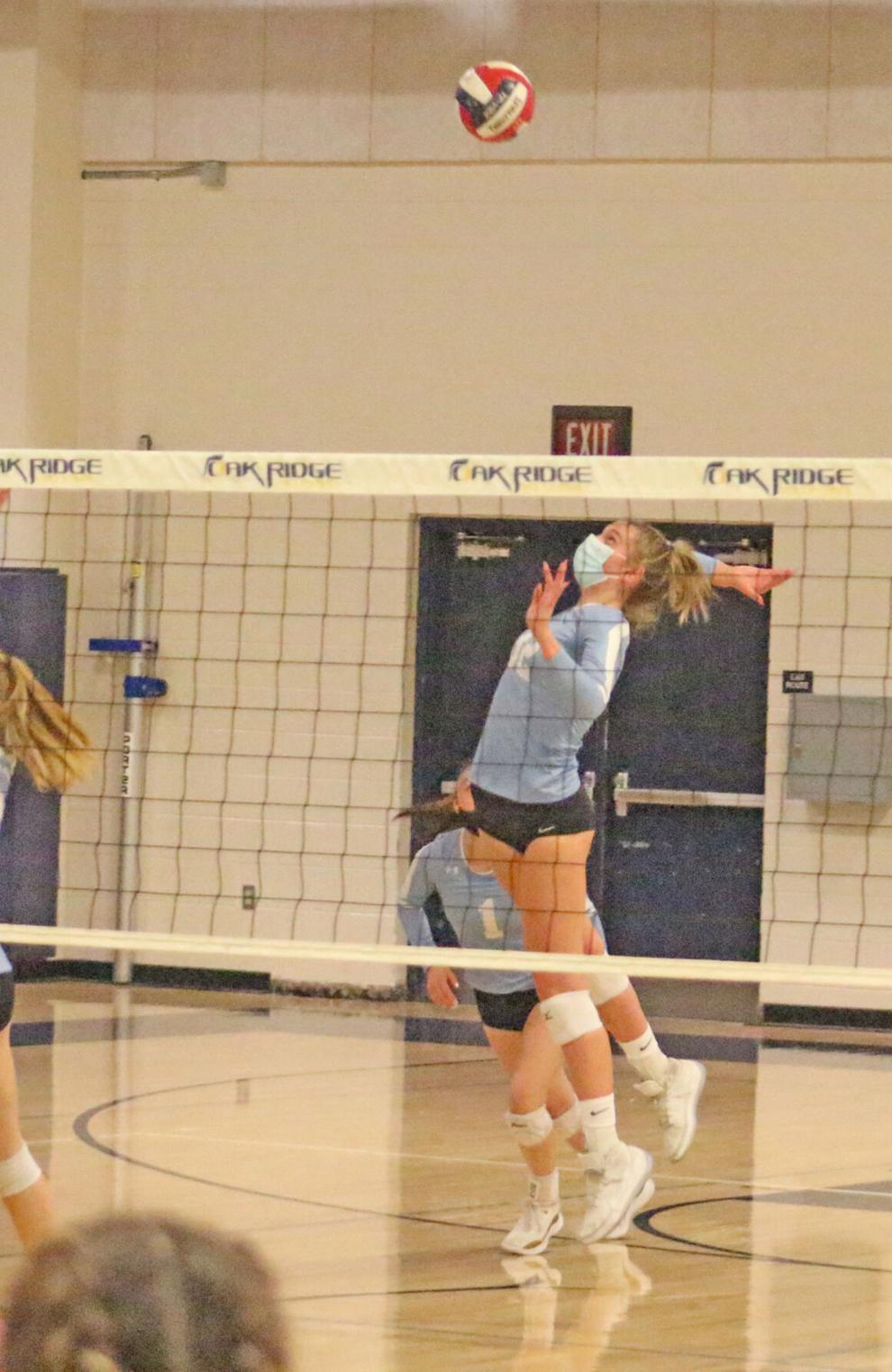 Perhaps the most pivotal kill of the match came off the hand of Vanos late in the opening set. With a back-and-forth Game 1 tied at 24-24, and the charged capacity crown at Oak Ridge hinging on every touch, Vanos used the full length of her picturesque swing to tool a block off the left side to force set point.
Junior middle Vivien Gilbert followed with a kill on a crafty dump shot to give Hillsdale the Game 1 win.
"The first set, it was battle back and forth," Hillsdale head coach Dwight Crump said. "It could have gone any way. Our girls had that fire and that determination not to lose that first set. They knew if they won that first set, they just had to fight and execute the next two, and that's what they did."
Hillsdale setter Rianna Liu opened Game 2 by landing a devastating one-two combination with back-to-back service aces. The Knights jumped out to a 5-0 lead and led the set the rest of the way.
But Crump was forced to exact a daring lineup change in Game 3 to keep the momentum in Hillsdale's favor. With senior libero Gwen Wong battling through a calf injury, she was forced to sit to start the third set. This forced freshman Allison Khau to don the libero's jersey.
"We knew our freshman was coming in, so we had to support her no matter what," Vanos said. "We knew she was going to be nervous; she handled it fantastically. But we always have each other's backs no matter what."
Crump changed up his offense from a 6-2 to a 5-1, relying on Liu to set all the way around the rotation.
"I think we adapted really well," Khau said. "Obviously there were some changes with our hitters … but I think overall we did a great job of changing our offense and just adapting to the new rotation."
Liu, who was credited with 31 assists in the match, not only corralled the scrappy and improvisational offense in the final set. The junior also stepped up on defense, crashing the front row for several key digs, and even scoring a critical late block to give Hillsdale a 19-14 lead.
"She has to play defense, and we worked all week on her playing defense," Crump said. "And she played it awesome."
Dean followed with two kills off the left side before a Stefanie Elgaard block made it 23-16. After an Oak Ridge hitting error forced match point, Dean stepped to the service line and delivered an ace she's been waiting for her entire life.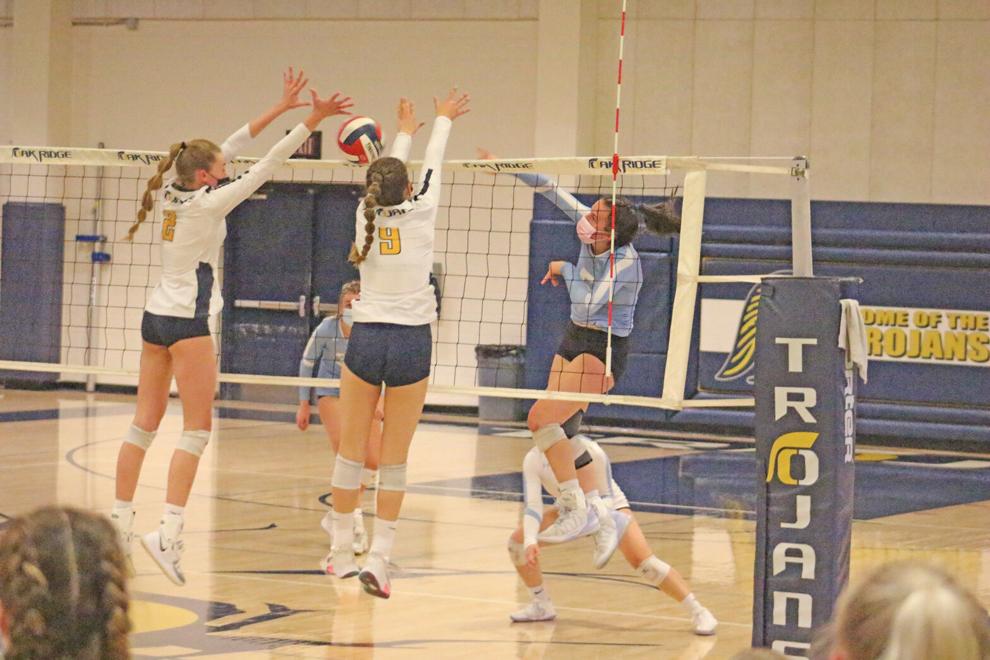 "It meant the world," Dean said. "I've been working my whole career for that point and … all the hard work paid off in that moment. I was ready to take it home."
Led by the firepower of junior outside hitter Madison Walker, and seniors Reyna Hoppe and Abigail Reynolds, Oak Ridge was riding an undefeated postseason wave entering play Tuesday. The Lady Trojans claimed the Sac-Joaquin Division I championship Nov. 6 before defeating Foothill-Pleasanton and Los Gatos in the state tourney to reach the Nor Cal regional finals.
Oak Ridge (34-6) has appeared in five straight CIF State Volleyball Championships tournaments, including a Nor Cal regional finals appearance in 2016, when the Trojans fell to Menlo-Atherton.
None of Hillsdale's players had ever set foot in Oak Ridge's gym before. And the Trojans' mighty reputation certainly was no secret.
"That was the most amazing game," Liu said. "I can't believe we beat them in three (sets), especially because it was a final game."
Hillsdale now advances to the CIF Division I state championship finals at Santiago Canyon College in Orange. The Knights will face their opposite number, Harvard Westlake, the No. 3 seed from the Southern California Division I bracket Friday at 6:30 p.m.