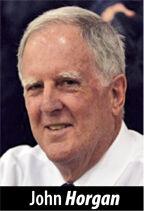 It's almost a requirement as Thanksgiving heads into immediate view. We reflect on our good fortune, or at least a strong modicum of that commodity here on the Peninsula.
In a departure of sorts, we'd like to hearken back decades to give thanks for what we once had here but no longer do. At least we have the memories.
There is a lot to recall with fondness. Let's take a look. The list is in no particular order. You might remember some of them (all are of post-World War II vintage). Here goes:
Steam locomotives: The smoke-belching, coal-fired, iron monsters were fixtures on the Southern Pacific Railroad line as they surged through the county 24/7. Watching the Daylight and Lark roar past was a particularly exhilarating experience you didn't forget.
Drive-ins: The suburban car culture ruled here. Drive-in dining options like King's and Kibby's were regular teen haunts. Drive-in movie locations were scattered near the Bay where land remained relatively cheap. No longer.
Record shops: If you wanted to listen to the latest Top 40 singles or albums on vinyl you headed for places like Ross Radio in San Mateo where tiny private booths permitted such audio diversions. Hello, Fats Domino and Jerry Lee Lewis.
Free-flowing creeks: For the most part, they ran unimpeded for all to see and experience firsthand. That changed as development forced most of these babbling brooks into culverts and drainage pipes that emptied into the Bay.
Old San Mateo Bridge: OK, we know. That ancient structure was a two-lane anachronism. But there was just something about the drawbridge section that was an odd novelty. It lifted to allow ships to pass beneath in the Bay channel. Vehicles were forced to sit and wait. Kids, at least for awhile, got a kick out of the sight.
Missing high schools: Crestmoor, Ravenswood, San Carlos and Serramonte, all of which closed due to declining enrollment, served their communities for a time. For good measure, throw in Archbishop Alemany, a proposed Catholic secondary school in South San Francisco, and much-anticipated Marina High School in Foster City, neither of which was ever built.
Jump in, the water's fine: Searsville Lake in Portola Valley was once a summertime haven for those seeking sun, sand and swimming. Due to a variety of factors, not the least of which is considerable siltation, the lake and beach have been closed to the public for decades.
Borden's vs. Spreckels: These two dairy enterprises in Burlingame offered ice-cold, handmade milkshakes that competed for attention on a daily basis. Which one did the better job? It was an argument that was never fully answered. A verdict remains elusive to this day. Make mine vanilla, thank you very much.
CSM at Coyote Point: There was just something rather romantic about that makeshift campus. Nestled among eucalyptus trees near a modest harbor, it was a former Merchant Marine training academy. It offered spectacular views of the Bay throughout the day all the way to sundown. Fabulous.
When the Knights of San Mateo competed for the 2021 California Interscholastic Federation Division I state championship last week in Southern California, it marked the first time in 36 years that a San Mateo County public school volleyball program had gotten that far in the post-season tournament (the largest and most comprehensive of its kind in the United States).
The last local public school team to do so was South San Francisco in 1985 when the Warriors of Coach Ann Stluka won the CIF Division II crown (they did so in 1984 as well). So major kudos to those gritty Knights who made some history of their own this year. Just getting into a state final was huge.
Oh, and don't forget about South City. Those two titles still represent the only ones (in volleyball) ever captured by a county public school.