ORANGE — It wasn't the fairytale finish Hillsdale was hoping for. But the last thing senior Victoria Vanos did before walking off the volleyball court for the last time after an extraordinary four-year varsity career was, in the grand scheme of things, perhaps just as epic as all the Lady Knights' program-record 27 wins this season.
After opponent Harvard-Westlake was awarded the CIF Division I state championship trophy — following a 25-17, 25-15, 23-25, 25-18 dismantling of the Knights at Santiago Canyon College Friday night — Vanos met Harvard-Westlake junior Grace Thrower at center court for a congratulatory high-five under the net.
It used to be routine to see all volleyball players high-fiving at the net before and after matches. Since COVID, however, health protocols have forced several changes during the 2021 season, including all players in masks, even while playing; no switching sides of the court between sets; and absolutely no high-fives at the net — until Vanos and Thrower bucked convention Friday.
"That was literally the first one I think," Vanos said. "But I think we were both on such a high. And she was one of the captains too, so I met her earlier when we were doing the coin toss. She's such a nice girl, so I just felt like giving her a high-five. It was well earned on her part."
It certainly was, as Harvard-Westlake (30-8) displayed an array of firepower more akin to the college game than high school. The Wolverines have three NCAA Division I commits in their ranks — Thrower (Duke), senior Kennedy Hill (Northwestern) and Ava-Marie Lang (Harvard) — while senior Sophia Lindus (Wesleyan) is a Division III commit.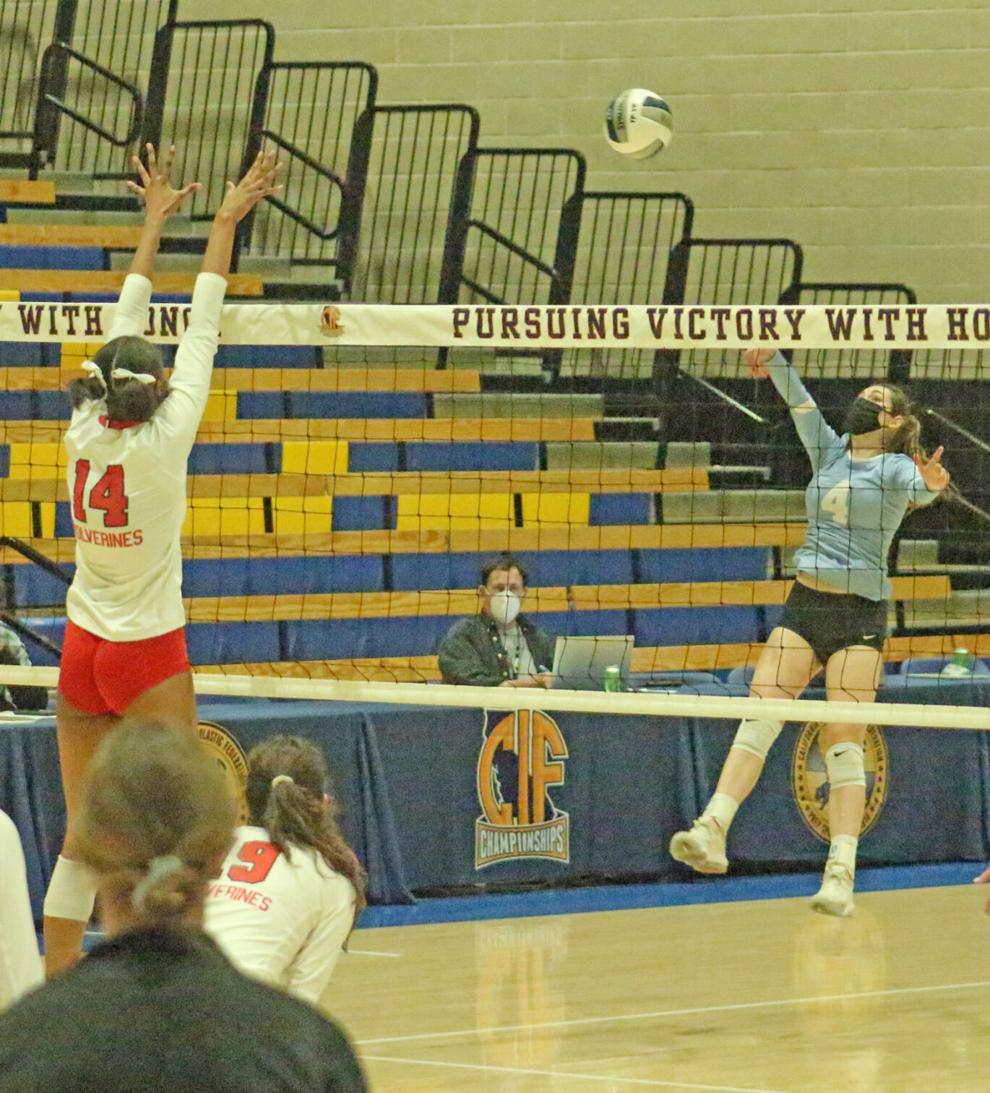 "Going in, we knew they would have strong hitters, and we knew we'd have to put up big blocks to put up a fight against them," Hillsdale senior Sophia Makarewycz said. "They came out, they came out with fire. They had strong hitters."
Hill led the hit parade for the Wolverines, who had four players finish with double-digit kills. Hill led the way with 15 kills, sharing the match-high with Hillsdale's Vanos and Jessica Dean, who finished with 15 kills apiece.
While delivering kills from all three front-row positions consistently, Harvard-Westlake took the first two sets off Hillsdale handily.
But in Game 3, the Knights ratcheted up their serving accuracy, performed better on defense, and demonstrated something they haven't had the chance to do all season — when the chips are down, their volleyball sensibilities are as sharp as anyone's. And they used those sensibilities to scrap and claw their way back into the match.
"We knew it was going to be a tough battle to come back and they just kept on fighting," Hillsdale head coach Dwight Crump said. "When you believe, things do happen. And they believed that if they fought, stayed aggressive, they would continue to battle. And that third game was the battle. They never gave up and fought their hardest."
Vanos delivered a pair of aces mid-set to swing the Knights in front 16-15. Dean later broke a 20-20 tie with an ace of her own. But it was the dump kill by setter Rianna Liu to put Hillsdale up 24-23 that tipped the scales. Liu backed it up by hawking a Harvard-Westlake over-pass and punching it down for the kill to force a fourth set.
In Game 4, Hillsdale tweaked its lineup to ride the hot hand of Liu. Senior setter Caitlin Musich has been a factor throughout the Knights' five CIF postseason games. In the Nor Cal regional quarterfinals against Christian Brothers, she totaled 18 assists. She went on to tally three assists in the fourth set Friday.
Liu, however, had never been utilized strictly as a pin hitter — until Friday, when she recorded a career-high six kills.
"This was a unique role for her," Crump said. "She performed really well."
The Knights led the set late at 15-14 when Vanos delivered a mighty swing from the back row in what would be the final kill of her varsity career.
Then with the set tied 16-16, Hillsdale suffered a service fault to set Harvard-Westlake on a four-point run. The Wolverines led the rest of the way, finishing off the championship with an ace from senior libero Laurel Elliot.
"Hats off to Hillsdale, they played an incredible game," Harvard-Westlake head coach Hayley Blanchard said. "They have had an incredible season. To win that much is very difficult against anyone. … It was really on our side of the net. There were some things we weren't doing that was at fault, and once we were able to turn that around, we were able to take control."
The Knights (27-3) suffered just three losses this season. Those losses came to Menlo School in a regular-season tournament match; to St. Francis in the Central Coast Section Open Division tournament opener; and Friday to Harvard-Westlake. All three are private schools.
"I don't think we ever considered it a factor," Vanos said. "I didn't even know this was a private school, to be honest. So, I never considered it as a factor."
Vanos — who was all smiles following the match, along with the rest of her teammates — was named Hillsdale's CIF Honor Athlete for the tournament, giving her walk-off high-five with Harvard-Westlake's star junior all the more gravitas.
"They kept their heart, kept their fire," Crump said. "Victoria Vanos just stepped it up. She played at a whole other level, and that's what we needed as a team. We needed her leadership. And that's why she got the sportsmanship award because she's our leader on the court. She did what she had to do, and she came out with fire."