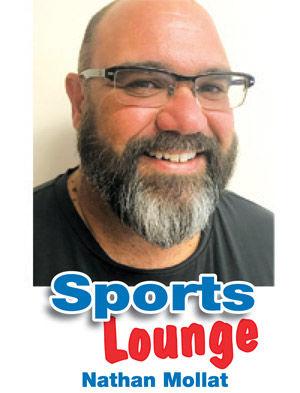 Have you ever heard a story and so want it to be true? That's the dilemma I faced this week as I tried to do some sleuthing to get to the bottom of a story that I heard a couple years ago.
While not appropriate for an actual sports article, it's perfect fodder for a column. Instead of giving a you a history lesson from everyone fondly remembering the past, I'm changing gears and hoping someone out there can shed a little more light on the situation.
With that being said, you want to hear a story?
A couple years ago, I was at a garage sale in my neighborhood deep in the East Bay. I find a handmade metal sculpture, about 15 inches tall. As I turn around, standing right in my face is John Gradwohl — a longtime high school football coach at Hillsdale and at several other Peninsula schools, as well as athletics director at Peninsula Jewish Community Center.
He is also, interestingly enough, in the Pro Football Hall of Fame in the youth and education wing.
"John!" I exclaimed. "What are you doing here?"
I had gotten to know Gradwohl during my time at the Daily Journal, but it had been a few years since we had talked. Turns out, he was at his daughter's (maybe daughter-in-law) house, who was in the process of moving and holding a garage sale.
This is the story Gradwohl told me then: the statue was made by "someone" who gave it to him (or gave it to the Hillsdale baseball team) in the mid-1980s and was used as a good-luck charm in the dugout.
I bought the story and the statue — and then it sat in storage for the last couple of years.
Earlier this week, Gradwohl's story popped into my head and I decided, since I'm trying to clear the clutter out of my own house, I would reunite the statue with the school. I just wanted to verify the story before doing so.
I've ran into a brick wall on that end. No one I've talked to — neither Hillsdale alumni nor former Hillsdale coaches — has any recollection of such an object existing. Could Gradwohl have been pulling my leg to make a sale? I doubt it. He was always a straight shooter and there would be no reason to lie to make a $2 sale, or whatever I paid for it.
There is no doubt that the sculpture is old, made of what looks to some kind of thin metal, tin maybe? It uses a slot-and-tab system to mount the knight on to the base. The knight itself is put together with flat-head screws, which are seldom seen in this day and age. Each of the pieces appear to be custom made for what can only be a one-of-a-kind sculpture.
On the back tab of the base, the word "BASEBALL" was written with what looks to be felt-tip pen.
This is all I know — what it looks like and what Gradwohl told me. Now I'm calling on Daily Journal readers to help me out and identify this statue or corroborate the story. Do any former Hillsdale baseball players remember this in the dugout during their playing days? Maybe the actual sculptor recognizes their handiwork and can fill me in on the origins? Maybe someone has a picture with it in the dugout?
Any help is appreciated and hopefully we can verify that this is a relic of Hillsdale High School and return it home. Or it can remain a cool piece of folk art.
Menlo College continues to build a national power with its women's wrestling team as the National Wrestling Coaches Association named 11 Oaks as All-Americans.
A pair of Peninsula wrestlers were named: Sara Aguilar, a junior out of Palo Alto High School, was a first-team selection at 191 pounds. Lizette Young, a junior out of Westmoor, earned honorable mention status at 123 pounds.
The other wrestlers named to the first team were: Alleida Martinez (109, So., Selma), Tiana Jackson (123, Jr., Modesto), Gracie Figueroa (130, So., Selma), Alana Vivas (130, Fr., Kahuku, Hawaii), Angela Peralta (136, Jr., Ewa Beach, Hawaii), Solin Piercy (143, Sr., San Jose) and Precious Bell (170, Sr., Lancaster).
Other Oaks earning honorable mention: Tianna Fernandez (101, Fr., Kahului, Hawaii) and Marilyn Garcia (155, Sr., Van Nuys).
The 2019-20 season saw the Oaks go undefeated in dual meets, win the NWCA Dual meet Championship and won the Cascade Collegiate Conference title. The 2019 national champions, the Oaks were denied a chance to defend their title when the season was canceled by the coronavirus.
But with eight of the 11 All-Americans returning for next season and the recent signing of two-time California state champion Alia Abushi from Arroyo High School in San Lorenzo, that quest for back-to-back championships is still within reach.