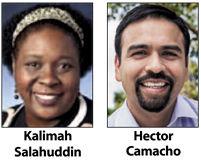 In the midst of responding to a global pandemic that has had a devastating impact on communities of color with disproportionately higher rates of positive COVID-19 cases and job loss, reality chooses to dig in: We live in a fundamentally racist society.
The murders of Ahmaud Arbery, Breonna Taylor and George Floyd, and the continued killing of Black Americans, have brought people to the streets calling for an end to the systemic inequity and oppression that has persisted for more than 400 years. The time for a reckoning is now.
Schools and education leaders play a critical role in disrupting systems of oppression, a journey that starts with taking the active and intentional steps to become anti-racist. For years, education leaders have attended workshops and seminars aimed at closing the "achievement gap," looking for something to "fix." Many of these meetings only served to center whiteness and white voices, unsurprising given the demographic makeup of those in power at all levels of government and leadership in San Mateo County. Participants left feeling better about themselves and their "passion" to fix things, but with no actionable items or tools to help dismantle a system that was built to ensure these inequitable outcomes. 
Two important points frame this conversation: First, the current educational system was never designed to be equitable. What we see today in schools is the result of a system built to maintain a particular balance of power. Second, there is a stark difference between equality and equity. Equity is not giving all students the same thing. It is ensuring that all students have equitable access to resources to thrive. Equitable access needs to be reflected in every facet of our educational system, including budget, staffing, resource allocation and many other spaces. More resources need to be directed toward marginalized students and communities. These decisions must be made and these changes must be enacted to ensure all of our students have access to the resources they need to eventually contribute effectively to our society.
The path to true equity must start with the educational leaders themselves. The San Mateo County School Boards Association took the bold step of launching the Equity Network, a collaboration of school board members and their executive leadership teams working together to make lasting change to our education system for the benefit of students.
"We cannot close the educational gaps that we see in our schools if we don't close the one in our minds first," said Nicole Anderson, an educational equity expert and facilitator of the Equity Network.
Thirteen districts took up that challenge: Bayshore Elementary, Belmont-Redwood Shores Elementary, Burlingame Elementary, Jefferson Elementary, Jefferson Union High, Menlo Park City, Pacifica, Redwood City Elementary, San Mateo-Foster City Elementary, San Mateo Union High, Sequoia Union High and South San Francisco Unified school districts and the San Mateo County Office of Education.
And while COVID-19 paused our in-person efforts and redirected energy to equitable online teaching and learning, the work continues. The time for change is now. A global pandemic and global protests in response to the murders of Black Americans, something many school leaders in the county are now much more aware of because of their participation in the Equity Network.
"This difficult moment provides an opportunity for us to be bold in addressing long-standing racial inequities," said Davina Drabkin, trustee on the Burlingame Elementary School District board, highlighting that the current design of the education system continues to oppress marginalized students.
Holding up the current flawed system prevents a redesign that works equitably for all students. We must reflect on our current practices. What are our hiring practices? Are district and school staff demographically reflective of the student body? If not, how are districts preparing staff to work with these students and communities? Is the curriculum reflective of the student population and anti-oppressive? Why have we not taken these first basic steps to creating a culturally-reflective school environment that challenges an oppressive system? As Kevin Skelly, San Mateo Union High School District superintendent, put it, "the SMCSBA Equity Network was an opportunity to 'eat our own cooking' and demonstrate that we are committed to this work beyond just asking others to do it."
This is only the beginning of the journey to correct the inequities embedded in our educational systems in San Mateo County but this many districts joining together united in purpose is a powerful first step toward that goal. This is not the sole responsibility of school districts and school boards; this is work that needs to be embraced by the district community by supporting the necessary changes to policy and practice. Join us on this journey.
Kalimah Salahuddin is the president of the Jefferson Union High School District. Hector Camacho is the president of the San Mateo County Board of Education. Both are SMCSBA Equity Network coordinators.