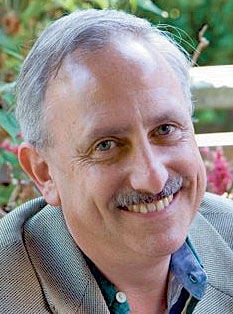 I started my morning by reading a portion of "A Force More Powerful," a book about the history of nonviolent resistance movements. The chapter told how the Danish people resisted the Nazis during World War II, at first warning and hiding Jewish people who were about to be rounded up and sent to concentration camps, and eventually sneaking over 7,000 of their neighbors and friends onto boats bound for neutral Sweden where they would be saved from the Holocaust. I asked myself what my husband and I might do given our current tribulations here in the United States. 
As I got into our car to head to work, I turned on the radio to learn that the United States Supreme Court had decided by a 5 to 4 vote to uphold President Trump's mostly anti-Muslim travel ban. The court had also gutted labor unions. All this after two weeks of witnessing the agony of mothers and fathers being separated from their children because of the Trump Administration's "zero tolerance" policy. Reports also surfaced of plans to build migrant internment camps on military bases around the country, including one in Concord. 
My thoughts returned to the Danes and their Jewish neighbors. Today, we see tens of thousands of migrants, fleeing their own holocausts in places like Honduras, El Salvador and Guatemala, where gangs rule the streets and governments are either helpless, simply look the other way, or are complicit in the mayhem as innocents are slaughtered. Much of the trouble in these Central American countries can in part be traced to U.S. policy over the last half century. Hundreds of men, women and children show up on our southern border every day, seeking refuge, begging for asylum, much as my Jewish ancestors did before and during World War II. America turned most of those European Jewish refugees away. Today we are turning away, arresting, separating and deporting desperate asylum seekers, with a president who tweeted that there should be no due process, no hearings on their asylum claims, just send them all away. The words "never again" come quickly to my mind. Why? I'm the son of a Jewish-American soldier who landed in Dachau soon after it was liberated, and was stationed there during the war-crimes trials. Why? I'm the son-in-law of a Japanese-American citizen who was interned.
The despair of those who oppose all that is happening is palpable. Hopelessness and helplessness abound. As I discussed the news of the day and my morning reading with my husband over dinner, he quipped: "Perhaps we are not in dire enough straits yet to be as creative as the Danes." 
Are we? Are you feeling enough pain to stand up and do something ... creative? Street protests, vigils, letters to the editor and praying that the mid-term elections somehow turn the tide are essential, but not enough. We need to be more creative. During World War II, the occupied Danes, facing a curfew each night, started leaving work at 1 p.m. to tend to their gardens, idling weapons factories that were critical to the war machine. Very creative!
The Danes would have approved of major U.S. airlines standing up to our government and saying "NOT ON OUR PLANES" as flight crews realized they were transporting immigrant children thousands of miles away from their parents. They would have approved of the publicity stunt by U.S. Sen. Jeff Merkley, D-Oregon, knocking on the door of a former Walmart store and demanding to see the children who were being held inside, knowing he had little chance of getting in, but hoping that video of his attempt would go viral. It did. Across our country many jail facilities run by counties like ours are making money by renting beds to Immigration and Customs Enforcement. The Danes would have approved of San Mateo County not doing so, despite the potential financial gains that come with such rentals. The Danes would have been proud of Amazon employees, refusing to work on facial recognition technology that could be used by ICE. Surely, there are hundreds of thousands of other Americans who could find some way to muck up the systems that are incarcerating innocent asylum seekers, aren't there? What if communities surrounding the military bases where internment camps are planned made it clear that no one, no civilians for miles around, would show up for work at those bases if they were used to incarcerate migrant families?
In what ways can we apply the lessons of the Danes in World War II and resist what we know to be unjust, immoral and tearing at the very fabric of our nation? What will we do for today's Jewish neighbors, who happen to be Central American, Middle Eastern, Asian and African? Would you walk up to a woman who you know to be in danger and hand her a set of keys and tell her that she and her children can stay in your house? The Danes did. Our friends at the Unitarian and Congregational churches in San Mateo have declared themselves as sanctuary churches. Will you help them protect, house, feed and accompany migrants? A list of sanctuary churches can be found at the Interfaith Movement for Human Integrity (im4humanintegrity.org).
The opportunities to be creative, or follow someone else's creative leads, will abound more than helplessness and hopelessness if we open our eyes and hearts wide enough and if we, like the Danes, are brave enough. Just google "creative ways to resist" and you'll find hundreds of great ideas. 
Enough reading, go tend to your garden! Resist.
Craig Wiesner is the co-owner of Reach And Teach, a book, toy and cultural gift shop on 25th Avenue in San Mateo.