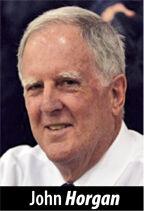 "Follow the science." "Trust the data." These phrases have been part and parcel of the daily messaging of health authorities throughout the ongoing pandemic.
For 18 months, they have urged all of us to rely on carefully assembled statistics related to the battle to control a virus that has taken lives, wrecked families, destroyed jobs, killed businesses and shaken leadership at all levels.
The latest numerical information provided by San Mateo County and some other Bay Area counties has been heartening. Very much so.
In a nutshell, our county, along with San Francisco, Santa Clara and Marin counties in particular, has been tackling the outbreak with single-minded focus and the clear and unmistakable results of the campaign to accept vaccines that limit the spread of the disease dramatically are stunning.
As of last week's pandemic report on the county's public health website, 89% of all residents here aged 12 and over have accepted at least one jab. If all of the county's 775,000 residents are considered, the figure drops to a still-impressive 76%.
It's generally agreed that the primary, if not the sole, reason for a slight uptick in local COVID cases (due, in large part, to a mutated version of the ailment) falls on the small minority who remain adamant that they will not receive protection from any of several effective vaccines. The bulk of the population (three-quarters of us overall) has been deemed safe from hospitalization and death.
And there's more. The county's website also notes that, since the outbreak began and numbers were kept, just one individual below the age of 30 has died here due to the virus. One. No child of elementary or high school age has perished.
Are we nearing herd immunity (in which the virus has been deemed to be under statistical control)?
Dr. Anand Chabra, a spokesman for County Health, said, "We are closer to it." But, he noted, a precise percentage figure remains elusive. "Nobody knows for certain."
He added that experts have speculated that 85-90% would be a target range. "It's a difficult question," he admitted.
It's always wise to be reasonably prudent in the face of a perceived threat. That's a given.
Still, it's fair to point out that, at least on the Peninsula, the citizenry has responded in such a concerted and helpful manner that congratulations are in order — and that includes the health care workers, volunteers and others who have pitched in to make this areawide effort so successful.
Dr. Chabra agreed. He offered that he was "very pleased and encouraged" by the overall local effort to put the clamps on COVID.
Are we out of the woods? No. But the statistical signs are strong. Extremely strong. The numbers don't lie.
A VERY PUBLIC REMINDER: It's been a jarring sight. A small homeless encampment has been gracing the southeast corner of the Caltrans State Route 92/El Camino Real interchange in San Mateo for weeks. It's a stark symptom of the times. Its very public presence at that busy junction, just blocks from City Hall, has been a persistent and depressing reminder (it was still there on Sunday morning) that the down and out continue to struggle here despite efforts to feed, house and care for them.
HALL OF FAME EVENT DELAYED: The 2020 Peninsula Sports Hall of Fame induction ceremony, postponed once already due to the pandemic, has been delayed again. It is now scheduled to be held in the spring of 2022 at the San Mateo County History Museum in Redwood City. The Hall of Fame honors local athletes, coaches and other sporting luminaries. The first induction affair was held in 1989. So far, about 300 individuals have been inducted. A precise date for the 2022 event will be announced later this year.    
REAL PEOPLE, COME ON DOWN: Every now and then, a snappy slogan created by a media outlet is so weird it bears repeating. That's the case with this one presented by Newsmax TV: "Real news for real people." Real people? What other kind is there? Mannequins? Blow-up dolls? Wax figures? Someone, please help me out here.