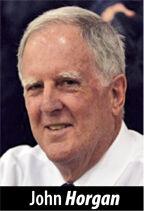 America was still months away from its entry into World War II in 1941 when folks in quiet, unassuming San Bruno had a modest promotional brainstorm. Why not create a gentle, scaled-down version of Pasadena's Rose Parade? The notion was intriguing.
The idea caught on. The Posy Parade was born. Floats would be nonmotorized, downsized and for kids only. There would be a flower theme. It would be low-key.
The Posy Parade endured, with a brief hiatus due to the pandemic. It's now in its 80th iteration this coming Sunday in the burg's original retail shopping district.
In a way, though grown-up San Bruno is cheek-by-jowl with busy (and loud) San Francisco International Airport and is home to 21st century companies like YouTube, the Posy Parade, sponsored now by the city's Lions Club, continues to give off a distinct whiff of a small-town Mayberry here in the Bay Area suburbs.
You almost expect to see the ghosts of Andy Griffith and Don Knotts directing traffic in front of Artichoke Joe's thriving downtown poker parlor.
This weekend's affair will begin at 11 a.m. The parade will be confined to San Mateo Avenue, downtown's main drag. It will feature mini-floats, marching groups, pets, bands and other traditional assemblages.
But that won't be the end of things Sunday. Not by a long shot. Youth baseball games are scheduled for Tom Lara Field. A Community Day celebration will pick up where the parade leaves off downtown.
The celebration is funded in part by money provided by the San Bruno Community Foundation, an organization that handles a $70 million settlement with PG&E in the aftermath of a deadly explosion and fire that devastated portions of the Crestmoor neighborhood in the city's western hills in 2010.
This weekend's affair will be marked by a street fair on San Mateo Avenue that includes ethnic dancing, art displays, a variety of different food options, music and other diversions.
In some pleasant ways, the Posy Parade, combined with a street fair, is a pleasant time warp. Frankly, considering the daily drumbeat of very bad news, we could use an uplifting experience right about now.
A FOIE GRAS FESTIVAL IS A NO-NO: What to do about intrusive, messy geese who continue to foul public areas along the Peninsula? It's a question that has vexed authorities for years.
Frustrated Foster City officials have had enough of the migrating birds who regularly deposit their rank, semi-digested calling cards where people congregate.
Policymakers in the island community are trying to come up with legal solutions to the persistent fowl. Plans to poison them have run into protests from animal rights folks. Other forms of control appear to be less than satisfactory for the critics.
Making things even tougher is the state itself. Forget about a foie gras festival. Foie gras, a delicacy created from goose or duck liver, is banned in California. Not really a surprise in a state with an animal welfare focus.
Any creative chefs with ideas to surreptitiously use the Foster City geese for that enticing purpose are out of luck. So Jacques Pepin, put away your spatula and forget about it.
SO MUCH FOR AN IDYLLIC VISIT: A trek to California's peaceful Central Coast can be a tonic. Places like Paso Robles, Pismo Beach and San Luis Obispo are relatively free of the daily hubbub of San Mateo County.
But there's a caveat: The presence of the Diablo Canyon nuclear power complex. Ticketed for eventual extinction but given a possible reprieve due to the expanding need for electricity, PG&E's massive operation is not a favorite neighbor for some nervous residents.
You get an immediate indication of that when you open the region's guest guide. The entire first page is a warning about a potential, but unlikely, emergency caused by a malfunction at the plant.
Worries about a possible China Syndrome, no matter how remote, cannot be helpful for the San Luis Obispo County Chamber of Commerce and its associated businesses.