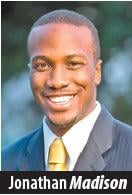 Beyond my mother's love of Mafia cinema, exercising her civic duty to vote was among her highest priorities. I am reminiscent of the first time I learned the importance behind casting a ballot. Driving me to school on election Tuesday, my mother first stopped by the local church to cast her ballot. Preferring not to leave me in her car unattended, she brought me inside the polling place. At 11 years of age, it was one of the most unentertaining environments I had experienced. What's more, there was a line that stretched in and around the large auditorium. After waiting nearly an hour for my mother to cast her vote, I urged my mother to allow us to leave.
My mother kneeled down and patiently explained that this was the only timeframe for which she could cast her ballot. "But you can vote any election year," I sarcastically responded. With a more commanding tone, she said that this election mattered. Foreseeing my next comment, she cut me off in saying that every election mattered. She looked at me, perhaps realizing that my age and limited experiences made it difficult for me to comprehend the importance behind her sentiments. Her words were lost in translation, but her expression said more to me than she could have communicated verbally.
As I reflect on my mother's sentiments, I am reminded of the ancient philosopher Plato, who held that the price of voter apathy is the election of unqualified individuals, unchecked government initiatives, and an unsustainable path for a nation. The bottom line behind Plato's belief was that, without voter participation, a citizen forfeits their right to have an effect on major issues of their nation.
Take the single most important issue that matters to you nationally, whether it is our ongoing wars in the Middle East, comprehensive immigration reform or the state of our global economy. Now, take the single most important issue that matters to you locally — from an increase in local taxes to potholes in your neighborhood streets. I pose the following question to you: Did you vote on one of the national and/or local issues that matter to you today?
The answer is an important one, for it reveals just how much we believe in the capacity of our elected officials and democratic government to deal with these critical issues at both the national and local level. More importantly, it reveals just how much weight we believe our votes actually carry in elections.
We know our nation's Founding Fathers believed from our nation's inception that with every vote, the American people wielded great power in elections. More than 240 years ago, after our nation's Founding Fathers met to discuss and draft the U.S. Constitution at Independence Hall, a curious and elderly woman tugged at Benjamin Franklin's coat as he was boarding his carriage in the streets of Philadelphia. The woman asked, "What government have you bequeathed us?" Franklin replied, "A Republic … if you can keep it."
Franklin's last words indicate one message among others — to "keep" our democratic republic, a government in which power is ultimately vested within each citizen, we must each understand our duty and privilege within our society to exercise our voice in the democratic process. Franklin's quote also suggests that there are no guarantees of freedom or democracy for those who do not exercise their voices in that process.
In a nonpresidential election year, it is easy to forget the heightened responsibility we bear, not just for ourselves, but for the future of our great nation. By exercising our civic duty to vote, we can fundamentally change the direction of our nation for the better. We can make the choice to reject the status quo, to elect individuals that truly represent our ideals, and to embark on a path of collective prosperity, sustainability and national safety.
In the upcoming recall election, a number of issues face the Bay Area and our state, including looming questions about rent and eviction moratoriums, rolling government shutdowns in the wake of COVID-19, and unemployment. More than 1.7 million voters made clear in a petition to recall Gov. Newsom that things must change in our state, regardless of who is in leadership. The Gubernatorial Recall Election is scheduled on Sept. 14, 2021. I would implore each of you, regardless of party affiliation, to vote.
You and I have an obligation, a duty if you will, to call our locally elected officials, ask questions, demand answers, report local issues and cast our votes in elections. As my mother said years ago, every election matters. That, my friend, is why your vote matters on Sept. 14, 2021.
A native of Pacifica, Jonathan Madison worked as professional policy staff for the U.S. House of Representatives, Committee on Financial Services. A Fox Business contributor, Jonathan is Lead Attorney at The Madison Firm. He can be reached via email at jonathan@themadisonfirm.com.