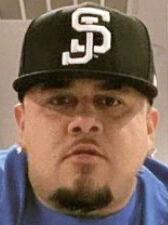 A Torrance woman has been arrested for allegedly investigating and misidentifying Melota Lasi, a local rapper known as Cutty Banks, as her boyfriend's killer that resulted in Lasi's Dec. 19 death in San Mateo as retaliation, the San Mateo Police Department said Tuesday.
Amanda Young, 29, is accused of beginning a "street investigation" into the death of her boyfriend, Lewis Reupena, and incorrectly identifying Lasi as responsible, police said. Reupena was shot and killed in Orange County in August. The California Highway Patrol investigated Reupena's killing and confirmed Lasi was not involved based on its investigation, Jeanine Luna, a community relations officer with the San Mateo police, said.
"We can't get into their specific investigation, but they have things they are investigating," Luna said.
Lasi was shot and killed Dec. 19 in the parking lot of the Wells Fargo Bank on West Hillsdale Boulevard near the Hillsdale Shopping Center, and Isaiah Reupena, the brother of Lewis Reupena, was arrested April 1 on suspicion of the murder. Young provided Isaiah Reupena with information from her amateur investigation and convinced Isaiah Reupena of Lasi's guilt, leading him to drive to San Mateo to shoot and kill Lasi for revenge and then move to Oklahoma, police said. Luna said the two did previously know each other through the rap game.
The police were previously investigating if the Lasi murder was connected to the Oct. 30 killing of Ueta Savelio Muasika Jr., 30, a San Mateo rap artist who performed under the name Juice Boi with the group Cutthroat Mode. However, San Mateo police spokesperson Officer Alison Gilmore said Tuesday San Mateo investigators do not believe the Lasi murder is connected.
"There is no evidence at this time that it is connected to Juice Boi's murder," Gilmore said.
Reupena was living in Blanchard, Oklahoma, at the time of his arrest by San Mateo detectives, and Young was arrested by San Mateo police detectives April 15 in Southern California after previously living in Oklahoma with Reupena's family. Young is currently in custody in the San Mateo County Jail and faces homicide and conspiracy charges.
Lasi was shot Dec. 19 by a man in a black hoodie at least five times before fleeing on foot. San Mateo detectives learned the man fled toward Highway 101 in a white Mercedes sedan, and the police department launched an investigation, and detectives found the white Mercedes abandoned in Southern California. Security camera footage obtained by investigators revealed the Mercedes driver matched the descriptions provided by witnesses on the scene. Additional investigative leads brought detectives to Reupena's home in Oklahoma and his subsequent arrest.