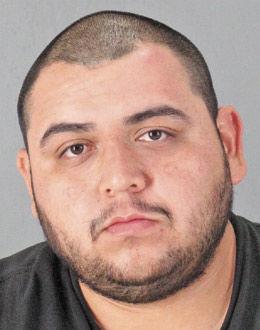 A man accused of sexually molesting and fatally beating to death a 17-month-old girl in 2015 pleaded no contest Thursday to first-degree murder and child molestation charges, San Mateo County District Attorney Steve Wagstaffe said.
Daniel Contreras, 32, of Redwood City, will be sentenced to 33 years to life in prison. His sentencing date is April 23 to allow the victim's family to speak.
The defense and prosecution teams reached a resolution after a judge indicated Thursday to both sides that three separate confessions Contreras made would be suppressed on Miranda rights grounds and not be allowed during the upcoming jury trial, Wagstaffe said. Contreras allegedly made incriminating statements to Redwood City law enforcement before asking for a lawyer and was not immediately provided one. The two sides reached an agreement quickly, and the defense team reached out to the prosecution following the judge's conclusion that the confessions were tainted, Wagstaffe said. The prosecution was previously seeking life in prison with no opportunity for parole before the judge's decision.
"I think I am satisfied the resolution of the case is appropriate given the confessions were suppressed," Wagstaffe said.
With the confessions no longer admissible, the case was significantly compromised.
"The quality and strength of our case was dramatically reduced," he said.
Wagstaffe acknowledged that while the prosecution did not agree with the judge's interpretation of the law, it does happen during cases. His thoughts were with the family of the victim.
"They were having difficulty understanding the confession being thrown out. They were very disappointed that had occurred," Wagstaffe said.
Contreras, in August 2015, was left alone for the first time with the daughter of his girlfriend, who he had been dating for about two months. Over a couple of hours, he allegedly sexually assaulted and fatally beat her. He then lied about the girl falling off a changing table, which an autopsy established his story was false, prosecutors said. He is currently in custody on no bail status.
A lawyer on Contreras' legal team, Scott Sherman, said he hoped there would be some closure on the issue for everyone involved and that everyone's thoughts were with the family of the victim.
"Matters like these are tragedies," Sherman said.
Sherman said the judge took a good look at the evidence and reasonably considered everything involved in the case. Sherman said that when Contreras asked for a lawyer, the police did not stop questioning right away, leading to the judge's decision.
"The police didn't follow that simple rule. The whole community should expect more from the police department," Sherman said.
Sherman said his team decided to work with the prosecution following the judge's conclusion about the confessions.
"In light of these rulings, we thought we could propose a resolution which would save the need to put everybody through a trial. We are thankful the District Attorney's Office agreed," Sherman said.