It took Holocaust survivor Sylvia Ruth Gutmann decades before she was ready to share her story. Now that story is forever documented in her first book, "A Life Rebuilt."
Gutmann, who lives in Massachusetts, is currently touring the West Coast after the memoir was published in July, and has a stop at the Redwood City Main Library 7 p.m. Monday, Aug. 13.
The memoir largely focuses on her life after the Holocaust.
"This is the aftermath. We didn't live happily ever after. I didn't have the American dream," she said.
A child survivor, Gutmann was born in Belgium in 1939, six months after her parents were forced to flee their home in Berlin. She spent the first three years of her life in hiding with her family in the South of France. In the summer of 1942, while her father was ill and bedridden, Gutmann and her mother and two older sisters were arrested by the Vichy police and sent to an internment camp in Rivesaltes. Not long after arriving there, her mother was deported to Auschwitz.
"They called my mother's name and she steps out of line and she's told to walk to the other side of the square," Gutmann said. "I run out of my carriage screaming 'take me momma,' and the Vichy don't let me near her. My mother turns to [my sister] Rita and says 'promise you'll take care of my baby' and that was the last time we ever saw her. ... My brave mother, she was 35 years old. And all because she was a Jew."
Six months later, her father was also deported to Auschwitz. Both her parents were killed in a gas chamber.
The three young sisters were left in the care of a young nurse at the camp who secretly worked with a child rescue organization. A few months later, another woman working for that organization took the three girls out of the camp, and they traveled from hiding place to hiding place. With the help of the French resistance, the girls were smuggled across the border into Switzerland, where they stayed with several distant relatives who only reluctantly took them in.
Fast forward to 1946, the war is over, and a now 7-year-old Gutmann and her 13-year-old sister Susi and 14-year-old sister Rita are on a ship sailing to America, traumatized and unaccompanied by an adult. She stayed with a loving uncle in the United States, physically safe, but still very much in hiding, she said. She was often told to forget the past and move on.
In second-grade, she planned to tell her story during show and tell and brought the dress she wore on that boat ride to the United States.
"I held up the dress and I said I once had a mommy and daddy, but they were taken and killed. All of a sudden I had a hand on my arm and my teacher swings me around and points her finger in my face and said 'you little liar go sit down,'" Gutmann said. "I never talked about it again."
She didn't talk about it until she was in her 50s.
Gutmann today has no memory of those first seven years of her life. The stories were passed on from her sisters and others, and pieced together from the research she conducted much later in life.
"I have all the scars, they just don't show," she said.
She went through years of therapy and 12-step programs and said for most of her life she felt worthless and guilty for being alive. After her sister Rita died, she suffered a post-traumatic stress breakdown.
"My sister was everything to me, she was like my mother and she loved me unconditionally." Gutmann said. "There was no reason to keep going then."
Standing on a street one day, she saw a truck moving toward her and thought about stepping in front of it. But she heard her sister's voice telling her to stop. So she instead called the only number she knew and was later put in touch with a therapist in charge of a Holocaust survivor group.
"I said my mother, father and sister are all dead and I want to die," Gutmann said.
The therapist told her he wanted to help and didn't care that she couldn't pay.
"He was the first person in my life who gave me permission to grieve and be angry and sad," she said. "He called me a hidden child and I was 54 years old. He said you're free now and safe and you can come out of hiding. ... That was the turning point."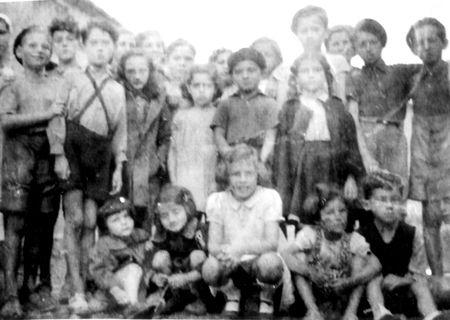 She later traveled to Germany, where for the first time she told her story to crowds of people at high schools, universities and senior centers. She even spoke to a neo-Nazi group.
"That was petrifying, as was the first couple of times I spoke at a high school," she said.
Before traveling to Germany, it was hard not to feel a combination of fear and loathing for the country and its people. The language — even the German accent — would trigger fear of the Gestapo coming, she said.
And growing up in New York, she lived with two Holocaust survivors. German was their first language, but they never spoke it, not even to each other.
She described that first talk she gave to a room of German students as a "defining moment."
"I told my story and then there was a quiet in the room and I thought they hated me and were thinking 'dirty Jew' — that's what the quiet was telling me," she said. "All of a sudden they're all standing up and giving me a long ovation, the boys are crying and I broke down and wept. Here I was with the grandchildren, maybe great-grandchildren of the perpetrators and I understood they were guilty and shameful too of something they were not even involved in."
Gutmann later visited the places where she hid from the Nazis as a young girl and tracked down the people who helped her.
Asked what physical items she has from her early years or family, she said:
"I was out to dinner with a friend and I said 'that's a beautiful ring you're wearing' and she said 'it's my grandmother's.' I don't have those things," Gutmann said.
There are two items that came into her possession much later in life. One is a photo of her and her sisters standing with the other children stationed at the work camp in France.
"I'm staring and staring at the photo and I see this little girl, and she's sitting on the pavement floor and I see her eyes and they look almost dead and I scream 'it's me,'" she said.
She later learned the photo was taken the day her mother was deported to Auschwitz.
The other item, which she acquired in 2006, was a letter her father wrote to his sister six months before he was arrested and sent to Auschwitz.
"I just saw [my children] for a week and they look fine, but I had to send them away because I'm too sick to take care of them," the letter reads. "As you know, their mother has already been taken. I want you to promise me you will save my precious children because I feel I'm no longer safe here and I too will be gone."
Gutmann said she wrote the book, in part, because she wanted people to meet her family.
"This is a piece of history, it's like my legacy in a way," she said. "And when I go, other child survivors will leave and then there'll be no physical person to tell you about what happened. ... There's so much anger and hate in the world right now and it's scary because people so easily forget and history keeps repeating itself."
The library event is 7 p.m. to 8:30 p.m. at the downtown library, fireplace room, at 1044 Middlefield Road, Redwood City. It is sponsored by Friends of the Redwood City Public Library.