Redwood City's Roosevelt neighborhood is celebrating the holidays with an elaborate light show synced to music that will occur twice every night through the end of the year. 
With help from the city and neighborhood association, Roosevelt resident Russell Muzzolini has strewn tens of thousands of colorful lights on his home at 752 Valota Road as well as on trees in Red Morton Park across the street, where there is also a 30-foot-long tunnel covered in lights that visitors can walk through. For the remainder of the month, a meticulously programmed light show synced to about 15 to 20 minutes of Christmas and pop songs will kick off at 6:30 p.m. and 7:30 p.m. daily.
"[Muzzolini] is a very creative gentleman and really a techno wizard, he's something else," said Barbara Valley, chair of the Roosevelt Neighborhood Association. "He wanted to bring some entertainment, some joy to the city and to the neighborhood." 
Muzzolini's light show debuted several years ago and continues to expand each year as have the number of people who come to see it. At first, the show attracted 30 to 40 people a night, but once it was promoted in a Facebook post last year, 2,000 people suddenly showed up.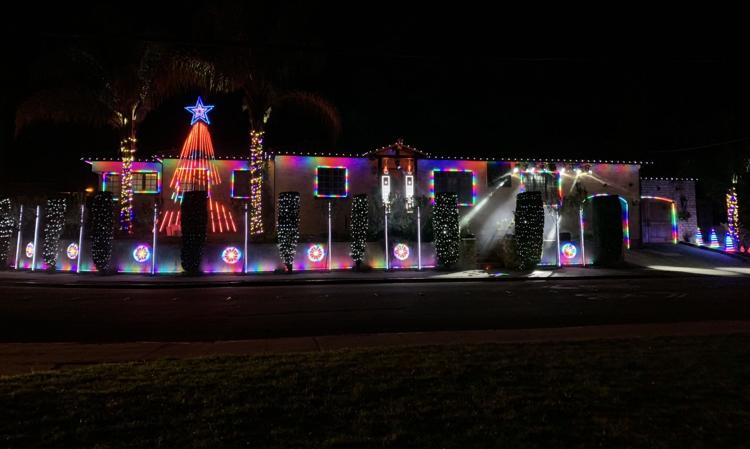 On this year's Facebook post for the show, more than 4,000 people said they were coming with an additional 64,000 people interested in attending. Overwhelmed by the response, the organizers deleted the post and added more shows so turnout wouldn't be concentrated on a handful of days.
"Our epic light show got an epic response," Valley said. "It kind of scared us." 
Visitors are encouraged to park in the Veterans Memorial Senior Center parking lot at 1455 Madison Ave. and the best vantage points for the show are just steps away.
Muzzolini was also overwhelmed, but also heartened by the surge of visitors after that first Facebook post.
"The park was jam packed, it was like a parade was going on," he said. "It's so gratifying to have all these people show up because it does have a lot of work that goes into it. The overwhelming support has been a huge motivator that's really been cool and unexpected." 
He added that when he started decorating trees in Red Morton Park last year the most common question he was asked was whether he had permission to string up the lights. This year, everyone who approached him said they appreciate the show and can't wait to see what he comes up with. 
Muzzolini, who is a software engineer, said he was initially encouraged by his wife to decorate the house. Before long, he was learning software programs to transform his decorations into a choreographed show.  
"My wife said put some lights on the house and do something to show some holiday spirit and I said if I do this it'll probably get out of hand," he said. "So I blame her for starting this."
With the assistance of his wife, neighbors and the city, Muzzolini has been putting the show together for close to two months leading up to opening night Monday, Dec. 16.
"It's a creative outlet for techy dudes who write software like me," Muzzolini said, adding that the project has fostered a sense of community and put him in touch with neighbors he doesn't normally interact with. "It's been great getting to know the community more."