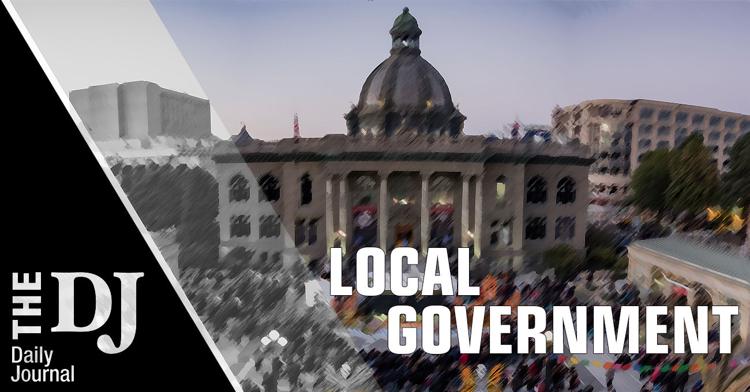 The Redwood City Council Monday will discuss recently completed studies on short-and-long term improvements to the downtown Caltrain station as well as the feasibility of a streetcar connecting that area to local job centers.
What's called the Broadway Streetcar study was initiated in 2016 — it was completed in the fall of last year — to address the first-last mile connection between the Caltrain station and areas beyond walking distance. The streetcar route would travel mostly on Broadway from Second Avenue near the Stanford campus to the Caltrain station.
Several different routes were studied, with all of them sharing a common segment on Broadway between Second Avenue and Maple Street and differing in terms of how they get from Maple Street and Broadway to the station. 
One option is for the streetcar to remain on Broadway and end where that street intersects with Arugello Street or at the intersection of Arguello and Bradford streets if the station is moved slightly north, which is a possibility. 
Another option is to have the streetcar instead turn off Broadway at Maple Street and travel along Spring and Marshall streets to Winslow Street where it would then turn south on Winslow Street around the curve to Hamilton Street. The route would end on Winslow Street or if the station is moved north, then it would continue along Marshall Street and turn right to end on Arguello Street.
A third option is to have a bus instead of a streetcar follow a similar route while offering broader coverage of downtown. That alternative would be far cheaper than a streetcar, but would likely have lower ridership and fewer economic benefits, according to the study. 
The streetcar routes would cost between $152 million and $158 million with an annual operating cost of $1.9 million. Daily ridership is projected to range between 2,200 to 3,900 and one-way travel time would be 13 minutes.
The bus option, by contrast, would cost between $14 million and $22 million with an annual operating cost of $1.2 million. It would likely carry 1,900 to 3,400 daily riders and one-way travel time would be 18 minutes.
The study also concluded that a bus line would have less of an impact than a streetcar on the real estate market, property values, retail sales and tax revenue.
"The main reason for this is that real estate investors and businesses are more likely to be willing to commit their funds when they view the transportation investments in the area to be permanent and long term in nature, which would be characteristic of a streetcar, but not as much for an urban circulator," a staff report states.
As for potential short-term station upgrades, a recent study proposes to create a counter-clockwise circulation loop for buses and install a sawtooth design to the bus bays to improve passenger loading and unloading, reduce conflicts between buses and pedestrians and create space for a central open green area, according to the report. 
The proposal also entails the removal of the fence along the Winslow Street side of the station as well as 50 parking spaces in the surface parking lot there, though cars could be accommodated in the underground garage or in the Perry Street parking lot, according to the report.  
As for long-term upgrades, one option is to relocate the station north to a site on Perry Street as more space will be needed to accommodate a growing Caltrain corridor or keep the station where it is and enlarge the loop mentioned above to increase capacity for buses. That would create an even larger central open space and improve access and circulation on James Street and to surrounding businesses, according to the report. The options would remove 90 to 135 parking spaces. 
Also on Monday, the council will discuss proposals to limit campaign contributions and ban natural gas in new construction. 
The council will meet 7 p.m. Monday in the council chambers, at City Hall located at 1017 Middlefield Road.