PALO ALTO — Talk about a teachable moment.
In the fourth inning of Thursday's District 52 Little League All-Stars Tournament championship finale at Mitchell Park, with San Mateo American leading by a run, cleanup hitter RJ Church was batting with the bases loaded when he took exception to a low strike-two call. His posture tensed, his shoulders shrugged, and he immediately looked down the line to his third-base coach and father, San Mateo American manager Steve Church.
Steve Church's direction set his power-hitting son straight as, two pitches later, RJ Church crushed a mammoth grand slam to ignite a 16-1 championship victory over Alpine for San Mateo American.
"I said: 'You can't control what he's going to call, all you can control is your at-bats,'" Steve Church said. "He has a two-strike approach, so I said: 'Stay connected with your body and just put a good hit on the ball.' And that's what he did."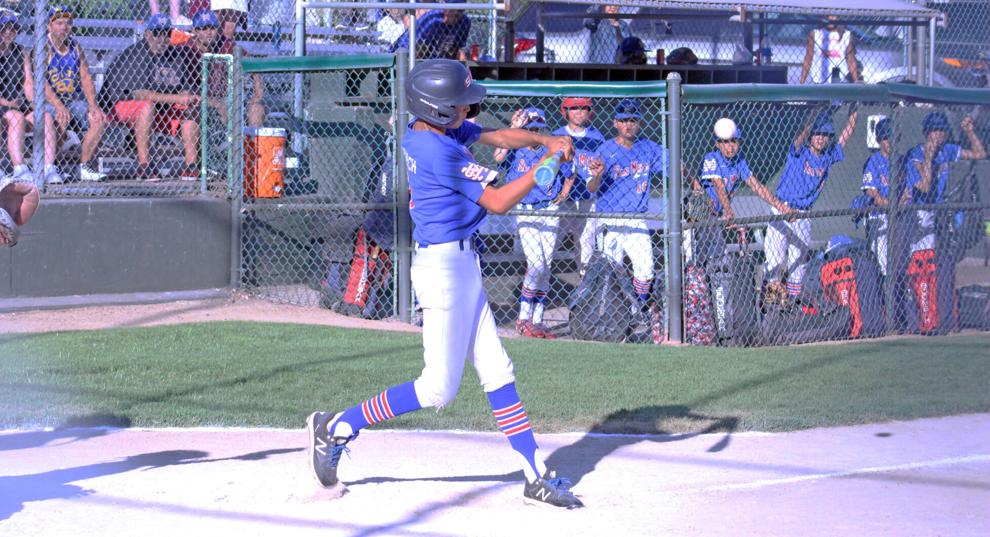 It was a tight game before RJ Church's game-changing slam, with American starting pitcher Kurtis Lee and Alpine starter Timothy Harrick locking up for a tense pitching duel through the first three frames.
Lee got the best of it, doing something rarely seen in the era of pitch counts, firing an 82-pitch complete game to earn the win.
"I was thinking of pitching the whole game from the first pitch," Lee said. "I was super confident in my team and myself. And I just felt super comfortable up on the mound. I knew I was going to do pretty well with my teammates having my back."
The big right-hander — with precise and statuesque mechanics reminiscent of Matt Cain — also got in on the power show, adding a two-run home run in the sixth as American went large in the inning, sending 13 batters to the plate amid a nine-run rally.
American hit three home runs in its final inning of the District 52 tournament. In fact, the team hit for the home run cycle, adding a solo homer from Bennett Simon — his sixth of the tourney — and a three-run shot from Julio Calderon, to go with Lee's two-run blast and RJ Church's grand slam.
But one of the biggest swings of the night came in the first inning courtesy of Cooper Hipps. With the bases loaded and two outs, Hipps punctuated a gritty at-bat with a two-run single back through the middle.
"That base hit was super clutch," Lee said. "It gave us a two-run lead. And today after we scored two runs in the first, I was just super confident in myself and my team."
Alpine got a run back in the third inning when Matthew Majalya singled home Fletcher Cahill to make it 2-1. But on the next pitch of the inning, with runners on first and third and two outs, Alpine attempted a casual steal of second base.
It's something of a routine play in 12-year-old Little League with runners at the corners for the runner at first to stroll into second for a steal. But not on Simon's watch, as the American catcher threw down to Hipps, the second baseman, who slapped a tag for the final out of the inning.
"We practice that every day," Lee said. "We do that first-and-third play all the time. And when Coop made that out, I was just super pumped and hyped."
American put on a defensive display throughout the night. RJ Church at first base opened the bottom of the first with a nice pick of a long throw across the infield by shortstop Milo Morelli, setting the tone for American's fundamentally sound performance. In the second inning with two on and one out, RJ Church made another slick play by fielding a chopper as he ranged away from the first-base bag and took the only play he had by throwing to third base to cut down the lead runner.
Right fielder Jack Hickey opened the third inning by showing off some range, running down a towering fly ball down the right field line. In the fourth, center fielder Leo Rhein covered some distance as well, running down a liner off the bat of Sullivan Fishbein in the right-center gap.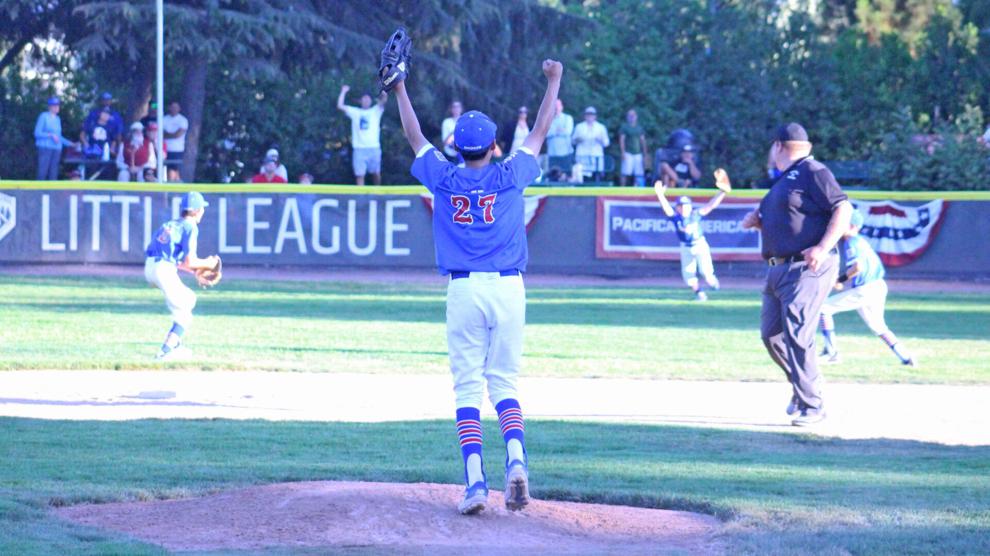 All the while, Lee was conserving his pitch count and gaining momentum toward American's championship destiny.
"I have three really good starting pitchers that we start with — Milo, RJ and Kurtis — and they're all capable of going a complete game," Steve Church said. "And they throw with such command, and they just fight, and they work so hard at it."
It was the first CG of the tournament for American, though the team did serve up five mercy-rule wins in storming through the elimination bracket. Lee did throw a complete game as recently as his final game in the regular-season Little League playoffs. In fact, he and his San Mateo American Little League Giants went head-to-head with RJ Church's Pirates team for the regular-season title, a game the Pirates won 3-2 with RJ Church also firing a complete game.
American took a long path through the tournament, dropping its opening game to Alpine 6-4 before winning seven straight games to claim the District 52 banner.
"It was just one after the next after the next," Steve Church said. "And these boys just kept fighting. It was fun to watch. It was just a contagious effort that we had. Everybody was just building for this moment. We knew they had it in them. … It was just that 'next game, next game, next game' kind of mentality."
And it all came down to one fourth-inning at-bat that RJ Church nearly let get the best of him by disagreeing with a low strike-two call.
"I kind of used that as fuel, as energy to hit the home run," RJ Church said.
San Mateo American now advances to the Section 3 Little League Tournament and gets to play host. This year's tourney will be held at Trinta Park in San Mateo. American opens play in the four-team, double-elimination tourney July 17 against the champion of District 57. First pitch is scheduled for 1 p.m.