An array of alumni was on hand to witness Menlo's authoritative 55-21 victory over Hillsdale in Saturday's homecoming game.
But with an inspired performance both sides of the ball, junior lineman Ralston Raphael was playing for someone else.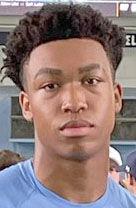 Earlier this year, on Jan. 18, Raphael's Menlo teammate and best friend Michael Enright was killed in a car crash. In addition to the memorial at the 15-yard line of Cartan Field — a No. 15 stenciled in gold on the turf — Raphael paid tribute by carrying a picture of Enright with him at the game.
"It's like he's here watching," Raphael said.
And, with the undefeated Knights' sixth straight victory Saturday, they are certainly in the midst of something special.
Senior quarterback Sergio Beltran continues to dazzle. Beltran led the charge in Saturday's key Peninsula Athletic League Ocean Division showdown by accounting for 342 of Menlo's 417 total yards. He was 20-of-25 passing for 290 yards with five touchdowns and one interception, including a perfect 13-of-13 clip in the second half. He also rushed 11 times for 52 yards and a touchdown.
"I think Sergio is a natural born leader," Raphael said. "Ever since I first played with him my freshman year, he's always been leading us and always just making plays on the field. And he's just a great guy to be around."
Menlo's talent runs much deeper than its quarterback though. Up front, Raphael led a dominant effort that held Hillsdale — a team riding a wave of four straight wins, including a 20-13 defeat of PAL Bay Division opponent Sacred Heart Prep — to just 260 total yards of offense.
The Knights (2-0 PAL Ocean, 6-0 overall) flustered Hillsdale with an array of defensive fronts. Menlo even installed a five-man front for the first time this season and mixed it in with its three- and four-man looks. Raphael at defensive tackle was consistently in the middle and, from an early point, helped stifle Hillsdale's running game.
"I don't think that gave us the issue as much as just not finishing blocks," Hillsdale head coach Mike Parodi said. "Our kids — you scout, you know that they like to shift and move — so I think we had a pretty good idea of what they like to do over the years. So, we practiced all the different variations. And then, after that, I think for the most part there wasn't much confusion about who to block, it was just sometimes they beat us."
It took some adjustments in the opening minutes for Menlo to find its footing though. Hillsdale opened the day with a tempo, taking the opening drive across midfield with consistent yards, including a 15-yard trap play to senior Josh Violette and a 14-yard sweep by Makoa Ah Tou to reach the Menlo 22.
Then, following a timeout, Menlo went on lockdown, starting with senior linebacker Sam Scola dropping a Hillsdale run for a 5-yard loss. After two incomplete passes, Hillsdale went for it on fourth down, only to see junior Liam Smith on a quarterback scramble get pushed out of bounds for a 1-yard loss to force a turnover on downs.
"In that timeout we kind of talked about how we worked for it and it's our game, and it's nobody else's," Raphael said. "They shouldn't be that far up the field, and we just shut them down after that."
It took Menlo just two plays to drive 72 yards for its first score, highlighted by a 53-yard touchdown pass from Berltran to senior Carter Jung — who paced the Knights with six catches for 103 yards — to take a 6-0 lead.
Then, after the two teams traded three-and-outs, the Menlo defensive line affected the scoreboard directly when defensive end Cort Halsey came up with an interception on a batted pass by linebacker Aidan Housenbold in the Hillsdale end zone for a surprising pick-6.
Halsey, also a wide receiver, has seven offensive touchdowns on the year, but his interception marks the first points of the season for a Menlo defensive lineman.
"We had a flush call, so my responsibility was to flush the quarterback out of the pocket," Halsey said. "Once he was out, 'House' made a great play; Housenbold jumped up and batted it and I was just able to grab it."
Menlo upped the lead to 22-0 on a 7-yard scoring pass from Beltran to Ben Banatao with 8:09 remaining in the half.
But Hillsdale (0-1, 4-2) answered quickly — and would soon make things interesting for a minute — thanks to springing a big gainer on the first play of the ensuing possession. Smith connected with senior receiver Zach Leighton for a 74-yard pass to the Menlo 6. Three plays later, Violette pounded it in with a 1-yard touchdown to cut the score to 22-7.
After a Menlo three-and-out, Hillsdale drove again, producing a fourth-down conversion with a 7-yard pass from Smith to Leighton on fourth-and-4 to cross midfield. Two plays later, Smith hit Leighton again for a 42-yard score to cut the deficit to 22-14.
Leighton went on to total six catches for 154 yards and two touchdowns.
"We have a lot of chemistry," Smith said of his favorite target. "He runs those post routes perfectly, and we're just clicking. He's a great all-around player. … He's catching kicks, running routes, scoring touchdowns. He's a great target but he's also a great guy."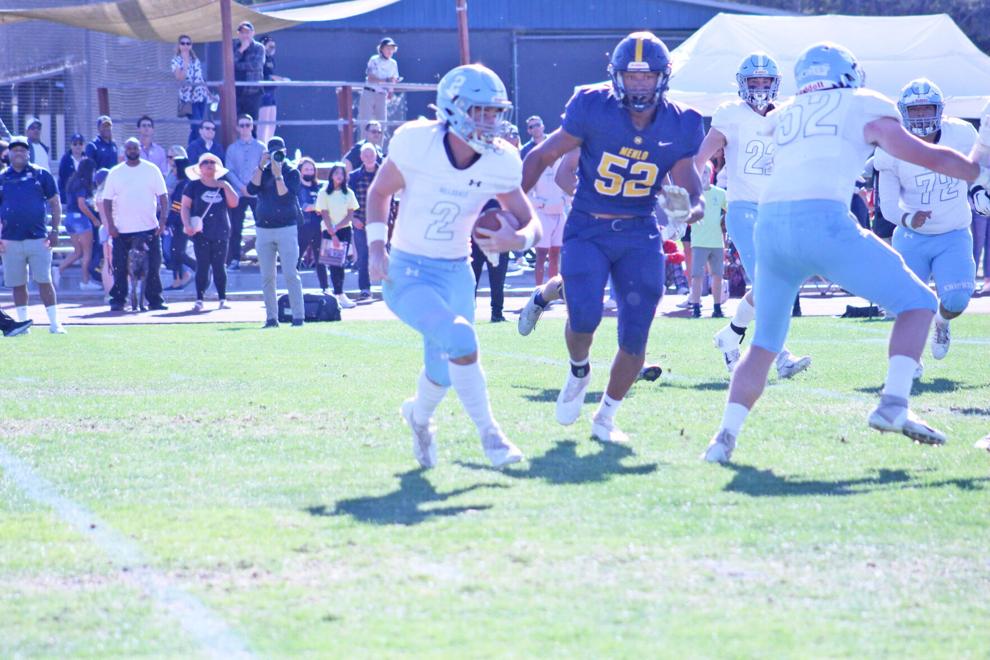 But Menlo countered with a blistering tempo to answer back just over a minute later. Beltran set the tone with a 14-yard keeper and a 21-yard pass to Banatao before senior Jack Giesler rushed for 19 yards on a pitch play to take it to the Hillsdale 21. Following a Menlo holding penalty, Beltran struck again with a 30-yard touchdown pass to Halsey to make it 28-14 with 44 seconds left in the half.
Menlo opened the second half by eating up half the third-quarter clock with a sustained drive, punctuated by a 4-yard scoring pass from Beltran to Robby Enright, cousin of Michael Enright. Following a Menlo interception by Giesler two plays later, Beltran found the end zone again on a short scoring run to make it 42-14.
Hillsdale answered with Smith finding Leighton yet again on a 13-yard scoring pass with 10:10 to play. But Menlo piled on with an 11-yard scoring pass from Beltran to Robby Enright with 4:55 to go, and after recovering a fumble saw backup quarterback Jake Bianchi hit Halsey for a 2-yard score to end it.
With the win, Menlo remains the only team in the PAL Ocean Division with an undefeated overall record and remains one of three first-place teams through the opening weeks of league play along with Capuchino (2-0 PAL Ocean, 4-2 overall) and Aragon (1-0, 4-2).
"This was a huge one," Halsey said. "We had the most fans we've ever had out here. We had to show out for them. They (Hillsdale) were coming off four wins in a row with a huge fourth-quarter win against Sacred Heart Prep, which is our rival. So, this is definitely a huge game for us."