Coming into the final week of the regular season, the Hillsdale softball team found itself in fourth place in the Bay Division standings.
That's one spot out of an automatic berth into the Central Coast Section playoffs.
But the Knights are not concerned with the postseason, not this week, anyway. There is still business to take care of and they did so Tuesday afternoon with a 6-3 win over Woodside in San Mateo.
"Regarding CCS, whatever happens, happens," said Hillsdale's senior catcher Brianna Santos, who was 2 for 3 with a triple, double and two RBIs. "The focus is to keep everything tight when it comes to [fundamentals]."
There were a couple Knights' lapses in the first inning, as starting pitcher Sydney Nagamine was called for an illegal pitch on the first offering of the game. Santos said there was confusion when the umpire said, "play ball" and Santos and Nagamine thought they heard "dead ball."
It amounted to nothing as Nagamine went on to retire the side in order.
In the bottom of the inning, leadoff hitter Sophia Eftekhari walked and moved to second on a passed ball, but was called out for leaving the base too soon.
The Knights, however, did not dwell on the couple of hiccups.
"You gotta move on," Santos said.
Nagamine certainly did as the freshman held Woodside in check for most of the game. The Wildcats scored an unearned run in the fourth and added two more in the seventh, but Nagamine stayed poised and closed out the game.
She allowed three runs while scattering five hits with five strikeouts and one walk.
"It doesn't surprise me," said Hillsdale head coach Kelly McDonald. "[Nagamine] was outstanding. She handled it brilliantly."
Nagamine took a no-hitter into the fourth inning before a single to left by Woodside's Megan Barstad broke it up. Barstad's hit also drove in the Wildcats' first run of the game as it plated Gianna Voltattorni, who was on second following a two-base error.
The Hillsdale defense atoned for a couple mistakes in the field by making a couple of defensive gems. In the fifth inning, Santos dove headlong to make a catch on a popup just in front of the plate. Then later in the inning, with a runner on first, Mika Chong snared a line drive at third base and threw across the diamond to first baseman Alex Bunton to double up the runner.
By that time, Hillsdale (8-5 PAL Bay, 13-7 overall) enjoyed a 4-1 lead. After going quietly in the first inning, the Knights scored runs over the next five innings. They took a 1-0 lead in the bottom of the second when Bunton hit a RBI groundout to second, with Kealani Cardona scoring on the play. Cardona had singled and took second on an error.
Bunton, a freshman, would got on to finish 2 for 3 at the plate, adding a double in the fifth.
Hillsdale added two more runs in the second. Junior Sophia Eftekhari led off the inning with a single to right, stole second and went to third on a wild pitch. Santos drove her in with a groundout to second, followed by senior Addison Eftekhari's single right. She then mirrored her younger sister — Addison Eftekhari stole second, moved to third on a wild pitch and then scored on wild pitch for a 3-0 Hillsdale lead.
Woodside (5-8, 6-15) finally broke through in the top of the fourth, but the Knights came right back in the bottom of the frame to get the run back. Bella Carreon reach on a fielder's choice and scored on Santos' two-out triple to the fence in left field. Chong had a leadoff triple in the fifth, her second hit of the game, and scored on Hayley Ahlvin's single to right. It was 6-1 an inning later when Sophia Eftekhari walked, stole second and scored on a Santos single.
"We played loose and executed extremely well," McDonald said.
Woodside made it interesting at the end, scoring twice on three hits. With one out, Barstad had her second single of the game. Nagamine got a strikeout for the second out, but Anissya Avendano reached on an infield hit. Emma Kinder followed with a RBI single to left and a pair of Hillsdale errors enabled Avendano to score as well.
But Nagamine got a routine groundout to second to end the game.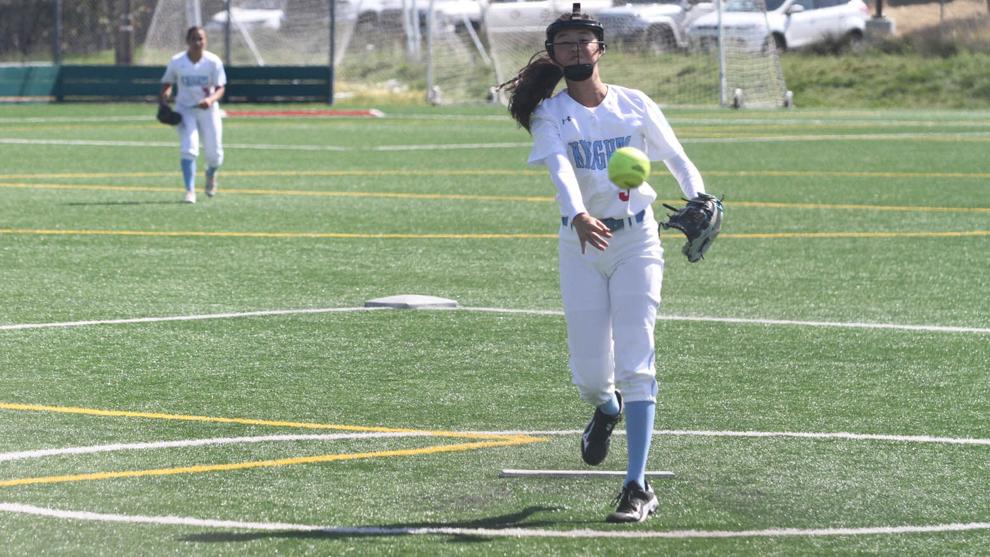 "[Nagamine] did great," Santos said. "She's been pitching a lot the last couple of weeks. … She's been doing her job."
Now, Hillsdale's focus turns to cross-town rival San Mateo, who they'll host Thursday. The two teams battled into extra innings with the Knights pulling out a 1-0 win in nine.
"What a great way to end the (regular) season," Santos said.