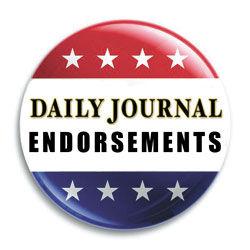 Experience counts in local leadership. Both incumbent Vice Mayor Michael Salazar and Planning Commissioner Tom Hamilton have that experience and would be able to lead capably from day one.
All five candidates seeking two seats on the council bring their own experiences and value but there is little daylight on their perspectives when it comes to what is needed for San Bruno now and into the future. All seem to believe the city's development approach is the right one, simply following the will of the people who passed Measure N in 2014. All believe economic development and attention to its core commercial corridor are key in ensuring a big portion of the city's financial stability. And all believe customer service and communication are decent, but can get better.
So it comes down to details. Hamilton suggests that the transit corridor plan be incorporated into the General Plan to make it easier for all. It's wonky but it's exactly the type of suggestion needed. Salazar too has a good handle on balancing the needs of many. In his case, Salazar believes strongly in ensuring economic progress and other changes don't come at the expense of the city's downtown character and longtime merchants.
By many accounts, the city of San Bruno is doing a decent job of incorporating perspective from longtime residents while also planning for young families and economic development. However, there is always more attention that could be paid and all candidates for office recognize that.
At this time, in this race, experience matters and the two candidates with the best experience are Michael Salazar and Tom Hamilton.