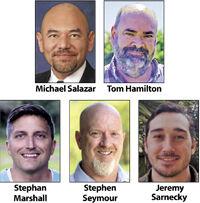 With the pandemic expected to deal a mighty blow to an already wobbly budget, four candidates are running for two open San Bruno City Council seats to help solidify the city's financial footing.
Incumbent Michael Salazar is seeking re-election, and he is joined in the race by Planning Commissioner Tom Hamilton, Realtor Stephan Marshall, retired FedEx executive Stephen Seymour and microbiologist Jeremy Sarnecky. Incumbent Laura Davis did not seek re-election.
Citing the need for experienced leaders during a trying time, Salazar made his case to extend a term that started in 2009, stalled when his re-election campaign failed in 2015 and restarted in 2017.
"Having the time on the dais where I understand where we have been and understand where we have tried and failed is important," said Salazar, who is currently vice mayor.
Hamilton also has long experience he is using to fuel his campaign, starting with his appointment to the city's Traffic, Safety and Parking Committee in 2007 and followed by his appointment to the Planning Commission last year.
The extended term of volunteerism granted valuable insight to how government operates, said Hamilton, who is interested in parlaying that knowledge into action focused on improving San Mateo Avenue.
"Development in our downtown is needed," said Hamilton.
All candidates agreed enhanced investment in the city's core commercial corridor will be essential to stabilize San Bruno's income streams and help protect against expected financial hardship brought by the pandemic.
The city was grappling with a $7 million deficit before COVID-19. Two tax measures were floated to the election ballot with intent to generate additional revenue as well.
For his part, Marshall said he believes the community must accept the temporary unease that will come with the change needed to revitalize downtown and bring more opportunity to the city.
"It's time San Bruno embraces that discomfort, looking toward the long-term positive results we will get," he said.
Like most candidates, Seymour agreed the guideposts provided by the city's Transit Corridor Plan establishing boundaries for redevelopment will be useful in planning the city's future.
But as more building occurs, he said learning from past mistakes will be critical. To that end, Seymour said officials must assure all developments include adequate parking — nodding to previous developments which have compounded the shortfall of existing spaces.
Beyond economic development, Sarnecky said he favors more residential building as a means of assuring San Bruno is affordable to natives wishing to stay in the community or workers who want to set roots near their job.
"We should really be building up our potential and not focusing on keeping our city small," said Sarnecky.
Recognizing the local presence of major employers such as YouTube and Walmart.com, Sarnecky said he thinks San Bruno has done a good job building a reputation as a desirable business environment.
Marshall agreed, and said officials should do even more to lobby for San Bruno to welcome even more large companies. Recognizing the success of Redwood City and South San Francisco in luring business interest, Marshall said San Bruno does not need to look far for models to replicate.
"We don't have to re-create the wheel," said Marshall.
Regarding some of the city's larger corporations, Hamilton said he believed officials should work to leverage relationships and partnerships as a means of reducing the burden on taxpayers.
"Residents have done more than enough to help us out of this mess," said Hamilton, who also suggested partnerships with county officials could stabilize the city's financial footing.
Seymour, meanwhile, pointed to development projects recently approved by officials which he expects will help offset the economic damage brought by the pandemic and position the city for its next chapter.
"I think we are going to see quite a lot of benefit from development coming our direction," he said.
Salazar, who voted in favor of those developments, said he supports progress in San Bruno but also wants to assure that change doesn't occur too rapidly — potentially displacing tenured merchants and independent business owners.
More broadly though, Salazar said his contribution to the city over previous terms make a compelling case for re-election, as well as the need for experienced leadership through the challenges ahead.
"I do believe our council has been doing a pretty solid job and I do think I've earned another run at this," he said.