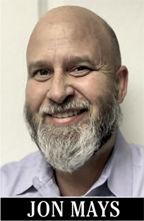 There are some people who, when you meet them, it seems as if you have known them your whole life. Or they walk the walk so much that you have absolutely no choice but to be a better person having encountered them?
Too often, there are people who think of themselves first, or who pretend to care about others more. In my profession, I meet a range of people — bad and good, selfish and selfless. Then there are those who make a difference. Who care. Who change lives.
Larry Teshara was one of those.
I first met Teshara when I was trying to convince high school administrators to keep their journalism programs about 10 years ago. The San Mateo Union High School District superintendent suggested I pitch my ideas about the value of journalism programs (project-based learning; sense of community, compassion, collaboration, communication and creating change; understanding the intersection of the arts and technology; making a difference and understanding the impact of putting your work on public display) to a principals meeting.
After, Teshara gave me a hearty and genuine handshake thanking me for the presentation and my passion for my craft. He told me he was the principal for both my wife and her brother at Burlingame High School and relished my account of their progress in life. He took a certain joy that my brother-in-law took up a career in politics. Teshara, or Mr. T as he was known to most, had a tremendous impact on him in taking him aside and explaining his potential. In the district office parking lot, we went on for quite some time about all sorts of things: his prior position at BHS, his role at the time leading the adult school and changes in educational policy. It was the type of conversation I take great interest in and he patiently and enthusiastically answered my questions while also offering insight into my professional role in all of it. We kept in touch, and two years before his 2017 retirement, Teshara accompanied me when I received the "Friend of Education" award from the Association of California School Administrators, Region 5, which I consider to be my highest professional honor.
And over time, I recognized that this type of interest was not unique by any means.
For Don Tingley, a 25-year teacher at Aragon High School who wrote a letter of recommendation for Teshara to take on the BHS role, his way of doing things gave him liberty to do what he thought was the right thing.
"I was more certain that my style of interacting with kids was pretty good because I was seeing Larry as being able to hold kids when necessary and be their buddy whenever he could," he said. "He was strong when he needed to be strong, but he was nice and kind."
Fairness and balance was also a primary concern, he added.
"He was always concerned for the student in the sense that not all of us teachers were entirely fair with the students, and not all of the students were entirely fair with other students. There was a lot of balancing and he really worked at that task."
When Tingley moved into the district administration, he again worked with Teshara and enjoyed how he interacted with students at the SMART Center, the district's adult school. For me, I was always impressed by Teshara's enthusiasm for the learning that took place there and how critical English skills were for new residents. The feeling at the SMART Center was that through there all things were possible.
Carolyn Pannu, who worked with him both at BHS and at the adult school, said Teshara was "the most welcoming, humorous and captivating boss."
"I will always remember his class visits, so full of humorous family drawings, his dry wit and off-the-cuff quips, and his unending support and encouragement all along my career's path and his own courageous journey the last six months," she said.
That courageous journey was his own battle with cancer that ended Aug. 19. His wife Peggy said even in his battle, he remained engaged. He was on different boards and was active with Eagle Scouts, even hosting kids and their parents two weeks prior to his death while he was at home in a hospital bed. This was the man she married, and she knew what she was getting into. And for her, that so many former students who are now parents and even grandparents kept in contact and reached out up until his death and after holds great meaning.
"It all came back to him. What he was to so many, and all his efforts over decades came back to thank him," she said. "He was always a man for others."
Jon Mays is the editor in chief of the Daily Journal. He can be reached at jon@smdailyjournal.com. Follow Jon on Twitter @jonmays.