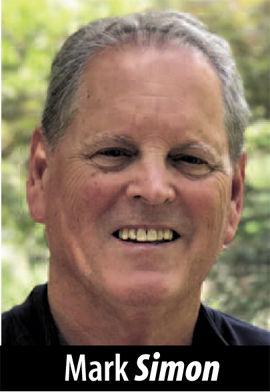 As the legendary Hunter S. Thompson wrote, "When the going gets weird, the weird turn pro."
We are in for some weirdness.
The next election — whether to recall Gov. Gavin Newsom — is a mere 62 days away, slightly more than two months, or, as my friends who served in Vietnam used to say, 61 days and a wakeup.
We are 328 days to next year's June 7 primary, and 482 days to the November 2022 general election.
It is a mortal lock that 2022 will be nothing like the high-water mark of 2020, which was a combination of absurdly original factors — a pandemic, the politically energizing Black Lives Matter movement and the unique ability of then-President Trump to inspire both his supporters and his opponents.
It is almost as if 2022 is trying to make us look away.
Every poll indicates Newsom will not be recalled. Ho hum. It is, in the words of Macbeth, "Sound and fury … signifying nothing." The recall is a Republican cottage industry — undertaken by a group of people who have no idea how to make their party impactful again in California. The recall is likely to come and go without mussing our hair.
And then just a few months later, that very same Gov. Newsom, who has a knack for inspiring indifferent disaffection, will be right back on the ballot, facing a reelection campaign. No one has the slightest chance of defeating him, except, of course, himself.
All of which sets the stage for a particularly weird year here in the Land of High-End Housing.
In addition to at least one high-profile race for a seat on the Board of Supervisors, at least three countywide officeholders, who customarily run unopposed, are facing challengers that have serious potential.
David Pollack, a longtime community and Democratic Party activist announced this week for County Clerk-Assessor-Recorder, the office that houses the county elections department and has been the domain of incumbent Mark Church.
It's an uphill fight. Church served as a county supervisor for 10 years, back when supes ran countywide, and then was elected to his current post in 2010. His late father, Marvin Church, also held the same job for two decades. People have been voting for a Church since 1967. The current model keeps a low profile, but taking out an incumbent usually requires a compelling reason, and, grumbling aside about some minor issues, no such reason seems to plague Church. He never has faced a serious challenger, so we do not know how he will react to this latest challenger. What we do know is that Church has not set up a campaign website or Facebook page or publicly indicated he will run again.
Sheriff Carlos Bolanos appears destined to face vociferous opposition — he had a noisy challenger four years ago, and Sheriff's Captain and Millbrae Police Chief Christina Corpus has announced she will run against the incumbent. A 20-year veteran of law enforcement, Corpus said in her campaign announcement, "Integrity is too often used as a pillar for an organization without any substance behind it."
It is hard not to read that as one more reference to a 2007 episode in which Bolanos, then the under-sheriff, was detained during a raid on a Las Vegas brothel. He has consistently denied any wrongdoing and he has never been arrested or charged in relation to the incident. Bolanos was appointed sheriff in 2016 and elected to the office in 2018 with more than 60% of the vote. The matter, it would seem, is a settled one in the minds of voters. Bolanos is not taking anything for granted — he has an active campaign.
That Bolanos faces an opponent from the Latino community only raises the stakes for this election.
Then there is District Attorney Steve Wagstaffe, seeking his fourth term. He has never had an opponent, but San Mateo City Councilmember Joe Goethals is being urged to take on Wagstaffe and they have exchanged sharp words in this column. Goethals has not indicated he will run. Wagstaffe has set up a campaign Facebook page but it can barely be described as bare bones.
So, here we are. The question confronting challengers, identified or speculative, is whether 2022 will be a dud — low turnout, general disinterest and voters more entranced by their new post-pandemic freedom than an off-year, off-brand election.
There is more to be said about the Bolanos-Corpus race and what it means in the context of a shifting local landscape, notable for an emerging, diverse younger generation eager to take on the status quo. But not to worry. We will get to it at some point.
Mark Simon is a veteran journalist, whose career included 15 years as an executive at SamTrans and Caltrain. He can be reached at marksimon@smdailyjournal.com.