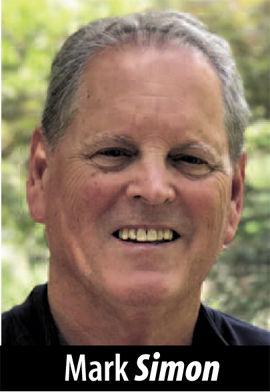 EVERY DAY IS LABOR DAY: In political campaigns, organized labor is always important and the endorsement by local unions and the regional central labor councils is eagerly and aggressively sought by nearly every candidate who runs for nearly every office.
In exchange, an endorsed candidate can receive substantial amounts of campaign funds from a wide array of unions. Perhaps even more importantly, labor provides other resources, including, in some instances, printing of campaign materials at a dramatically reduced cost, opening up phone banks and campaign foot soldiers to walk precincts and staff those phone banks.
This rambling preamble (prerambling?) is notable in the upcoming 2022 election because of the presence of Steven Booker, business agent and political director of the electricians' union local, in the race to replace Don Horsley on the San Mateo County Board of Supervisors.
In my experience as a political writer, I have covered many candidates with close ties to organized labor, but never a candidate from labor. The most recent campaign finance report shows Booker, understandably, got the bulk of his funds from labor. But on a recent Saturday, Booker also campaigned in Pacifica, and more than 30 campaign workers from labor were on hand. They went to more than 700 homes and contacted nearly 1,500 voters.
That Booker has these kinds of resources available is indicative of what can happen when labor has one of its own on the ballot. But it also could be a troubling sign for the other candidates in the race, who might have been counting on labor money and resources for their own campaigns.
By the way, in a recent column I said another candidate was the last to get into the race. Actually, Booker filed last.
BOUNCING BERMAN: A final note from the recent No on Recall bus tour a couple of weeks ago. The No on Recall rally team arrived in Redwood City late morning and, before they could even get off the bus, Yes on Recall demonstrators were shouting at the occupants and waving signs. This had an energizing effect on Assemblymember Marc Berman, who, despite being behind everyone else, bounded off the bus in great excitement and happily plunged into the Yes crowd and began going nose to nose with them. It was as though he saw it all as political theater.
ACTUAL POLITICAL NOTES: San Mateo County Sheriff's Capt. Christina Corpus, running against incumbent Sheriff Carlos Bolanos, has announced the formal kickoff of her campaign Sept. 23. It prompts the question: What's her hurry? … For all the fuss and feathers over the new Equity Endorsement Pledge emanating from the San Mateo County Democratic Party, it appears not to have slowed the pace of endorsements. Meanwhile, political insiders are still waiting for the formation of the committee that is supposed to pass judgment on the endorsers. … Two Caltrain board members and a former member are said to be running for San Jose mayor, suggesting it is as good a credential as any for would-be candidates. San Jose Councilmember Dev Davis, currently on the Caltrain board, and Councilmember Raul Peralez, a former board member, are in the race to replace termed-out Sam Liccardo. The candidate everyone expects to run is Santa Clara County Supervisor Cindy Chavez, who has been at the center of regional fight over the future of Caltrain. And there is a rumor that Chavez may win the backing of Carl Guardino, former head of the Silicon Valley Leadership Group.
OUT OF SMALL THINGS: Saratoga Councilmember Rishi Kumar is running again for U.S. Congress against U.S. Rep. Anna Eshoo, despite losing to her in 2020 by a margin of 63% to 37%, I have been emphatically informed by a loyal reader that this is a landslide no matter how you slice it. Kumar also is using a fleet of student volunteers, who go door to door throughout the district, which is nice. But there always seems to be something about Kumar that gives one pause, whether it is his outsized claims about his achievements in Saratoga, the accusation he had a hit-and-run accident in 2019 (ultimately reduced to a citation), or the latest video on his campaign website. It shows a woman saying that she appreciates the personal campaign visit from Kumar and, while she always has voted for Eshoo, she now will keep an open mind when it is time to vote. The problem is the video is labeled as "a word from a supporter," when the woman clearly is not yet a supporter. It is a small thing, it could be argued. But it is misleading.
Mark Simon is a veteran journalist, whose career included 15 years as an executive at SamTrans and Caltrain. He can be reached at marksimon@smdailyjournal.com.