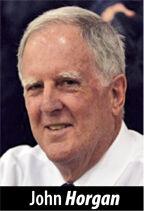 As you may be aware, the very private town of Hillsborough finally settled a tacky public dispute with one of its homeowners not long ago.
The unseemly affair escalated quickly during the previous decade, going worldwide with the pervasive influence of the internet and cable TV helping to up the ante. Social media was especially busy amplifying matters. 
The kerfuffle involved the owner of what has been dubbed the "Flintstone House" and the pricey village itself. It wasn't pretty. The hamlet lost the public relations war early on. It was a feisty, quirky David vs. an intractable, ham-handed Goliath in an ultraexpensive ZIP code for added spice.
At issue, for the most part, was a set of outdoor dinosaur sculptures and garish cartoon figures that represented unapproved landscaping additions at the site which is plainly visible from Interstate 280; at least that was the view of the town's authorities who considered the backyard collection an ongoing eyesore and a violation of their building/landscape codes.
Because Hillsborough is an exclusive community of single-family homes on large lots and an expensive enclave of the hyper wealthy, it received little or no sympathy in this matter. 
The 1%, or the 0.1%, are a favorite and easy target of any and all class warriors these days. They get cut no slack whatsoever. And these folks are rife in Hillsborough as the grievance brigade runs at full steam to bash them with regularity.
However, Hillsborough, in some respects, really had only itself to blame in this disagreeable matter if you care to take the long view.
Why? Because unthinking town poobahs approved the unusual architecture of the weird residence in the first place way back in the mid-1970s. 
The novel design of the abode (a series of strange pods) was, and is, far outside the conservative, subdued norms and character of the leafy, quiet burg.
Hillsborough officials realized their mistake fairly quickly. By 1979, they had instituted a new Architecture and Design Review Board; its main job is to make sure there are no more visual outliers popping up in town and damaging its ambiance.
But it was too late to do much about what had become known as the Flintstone House. That was a done deal and a notably bizarre one at that.
The latest owner of the home, Florence Fang, a one-time Bay Area newspaper matriarch, took the Flintstone theme to an entirely new level with her winsome backyard concoctions several years ago.
As controversy developed and attorneys became involved, she was portrayed as a well-meaning, elderly victim of a heartless, humorless bureaucracy intent on making her life miserable. There were even allegations of racism tossed about as increasingly public litigation and recriminations proceeded.
In the end, she was allowed to keep her unusual statuary. So it's still available for the public to view.
Bedrock was never like this. Then again, Bedrock never had zoning/building codes worth a hoot — or Hillsborough's sky-high property values.
SO WHAT STREET ARE WE ON ANYWAY?: You can forgive a neophyte driver or a perplexed visitor from out of town from becoming confused on one particular street in San Mateo. The problem: It has three distinct names, all within about 1 mile of suburban distance.
Old 19th Avenue, as it meanders east beneath State Route 92 and over Highway 101 and O'Neill Slough, rapidly becomes Fashion Island Boulevard. It then morphs into Bridgepointe Parkway as it heads toward Chess Drive and the enticing charms of Foster City. 
Keeping track of these changes can be somewhat daunting even using handy online mapping aids. This situation has been ongoing for years. Maybe city traffic officials are just testing everyone to make sure we're all paying close attention.
ANOTHER SIGN OF LIFE IN SOUTH CITY: After well over a year of restrictions, lockdowns and quarantines due to the pandemic, there are increasing signs of life in downtown South San Francisco.
One more pleasant indication: Ristorante Buon Gusto, a dining fixture on Grand Avenue since 1988, is set to reopen July 17. A fresh chance to dive into its traditional Italian specialties is more than welcome.