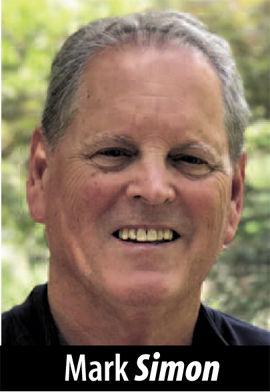 It is 77 days until Election Day, 48 days until ballots are mailed out, and, that's a blatant invitation for Notes, Quotes and Dust Motes, 2020 Election Edition.
COMING SOON TO A BUTTON NEAR YOU: The ever-creative Nicole Fernandez, chair of the San Mateo County Democratic Party, posted a clever item on the party Facebook page — a virtual Get Out of Jail Free Card, except it's a Get Out of Zoom Card. Party stalwart Mike Aydelott designed it — in the signature pink of a Chance card with the Monopoly guy on it, dressed in red, white and blue. Fernandez is offering it as a way to raise money and avoid being hounded for further contributions. "It's the party's version of not hitting you up for the bake sale," she said. Right now, the card is only virtual, but at the urging of a local columnist, Fernandez said she'll think about getting actual cards or a button made.
I GET IT. I GET IT.: Yes, the regional measure to fund Caltrain is Measure RR, and isn't that just adorable?
I know the folks behind the measure are hopeful, but it sure feels like the "deal" that was made to get a "clean" measure on the ballot was one more example of San Mateo County blinking in the face of regional bullying. It bears repeating as often as possible — San Francisco and Santa Clara County officials think they should run the railroad, which is laughable given the disastrous state of their own transit systems. … Meanwhile, I'll be eager to see if those same political leaders raise their share of the money necessary to run a winning campaign. Word is a win will cost $1 million.
A nice suggestion to ponder from a reader: Maybe it's time to charge a toll for San Francisco and San Jose commuters who go through San Mateo County on their way to work.
LEFTOVER AND LEFT OUT: I know some of you think these columns go on long enough, but I ran out of room last week to list all the races and candidates worth watching.
In East Palo Alto, I failed to mention by name the three city council incumbents facing four challengers. They are Lisa Gauthier, Larry Moody and Carlos Romero. …In the race against Tom Mattusch for one of the seats on the San Mateo County Harbor Board of Commissioners, I noted that Lemoine "Lee" Fernandez, the mother of outgoing Commissioner Sabrina Brennan, is running, but I overlooked the other candidate, project manager Dawn North.
AS SPOCK WOULD SAY, 'FASCINATING': At the San Mateo County Community College District, Dave Mandelkern, an incumbent running against colleague Maurice Goodman, posted this heartfelt message on his campaign website: "In order to win this election I am going to need to garner 50,000-60,000 votes on Election Day. … At a typical cost-per-vote of $1.50-$2, that would suggest that I will need to raise $75,000-$120,000 to run a successful campaign." Why, how calculating. … In Belmont, incumbents Tom McCune and Davina Hurt are being challenged by firefighter Ken Loo and by Pat Cuviello, the husband of Deniz Bolbol, who ran in 2018 and finished fourth in a race for three seats. She lost by nearly 2,000 votes, which is a lot in a town the size of Belmont. He says in his candidate statement that he's a veteran free speech advocate who has been arrested several times. Yes, often in skirmishes with circus workers over animal rights. … The race for two seats on the San Mateo City Council has three strong candidates: Incumbent Diane Papan, appointed incumbent Amourence Lee and Lisa Diaz Nash, who unsuccessfully sought the appointment that went to Lee. There may be plenty of real issues to address here, but a recent social media attack accuses Lee of raising racial tension in the city, rhetoric that does no one any good. The same author complains he is "sick and tired of people new to our city (who) preach to use that we don't have a long-term systemic problem with race." Well, if the shoe fits. … In San Bruno, there are five candidates running for two seats, including incumbent Michael Salazar, retired managing director Stephen Seymour, Planning Commissioner Tom Hamilton, research associate/microbiologist Jeremy Sarnecky and Realtor Stephan Marshall, the latter the brother of Millbrae Councilwoman Anne Oliva.
Last week, I got a couple of items wrong. The candidate in Redwood City's District 7 is Mark Wolohan. … And college district candidate Eugene Whitlock's correct title at University of California at Berkeley is assistant vice chancellor.
Mark Simon is a veteran journalist, whose career included 15 years as an executive at SamTrans and Caltrain. He can be reached at marksimon@smdailyjournal.com.