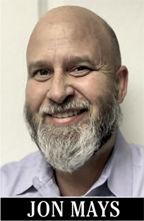 The situation with Caltrain's governance and funding sure got itself in a tangle recently with its proposal for an eighth-cent sales tax to provide a stable revenue source and money to expand service.
But one thing left out of the discussion is that if nothing new happens with this tax proposal, then the individual counties — San Francisco, San Mateo and Santa Clara — will still have to contribute money to keep the train service operating. Just as they do now.
There is a notion, however, that this tangle will somehow "kill Caltrain" and that service will roll to a stop. There is a possibility there might be a systemwide shutdown without federal assistance and ridership returning to normal. This is not a likely scenario. But it does paint a vivid picture.
The eighth-cent sales tax measure aimed to generate a dedicated funding source of about $108 million a year so Caltrain would not have to collect money from the individual counties for operations. This year, the three counties paid a total of $52.4 million for operations and that number will rise if ridership doesn't. That part is key. If the eighth-cent sales tax increase is unsuccessful, it's status quo — meaning the individual counties are on the hook to fund operations from their general funds. Operations are currently being bolstered with federal CARES Act money, but that may run out by the end of the year. So the presented idea is that the tax measure would provide enough to "save" Caltrain as long as ridership ticks up since farebox revenue typically funds 70% of its operations.
However, this tax option is not looking so good. With the San Francisco Board of Supervisors passing a resolution to place the measure on the ballot that others are calling "illegal" because it adds some changes to the governance structure, not everyone is on board with the effort. And anyone who knows anything about tax measures knows that you have to have all parties on the same track for it to succeed.
What is clear is that there has been some bubbling dissent over the governance structure of Caltrain with San Francisco and Santa Clara counties wanting more control since they would be paying more with a sales tax structure rather than the current split contribution method because of their economic and population size. There has been some pronounced concern about the hiring and firing ability of the executive director, but nothing clear on why that is important. What has been interesting is the idea that Caltrain is a transit system for the affluent, and somehow San Mateo County is party to that. While it is true that ridership recently tends to trend toward the tech industry, one could argue strongly that is good since traffic would be terrible without it in normal circumstances. And if there is less operating revenue, one option would be to raise fares to make that up — thus making it less affordable for those with lower incomes and fulfilling that assumption even further. So to say it's an equity issue is just making things up to justify some other beef. And to be clear, the coronavirus crisis is being politically exploited to solve that other beef.
Caltrain is an essential service and any measure to jeopardize it is, and here is a euphemism, less than smart. To do so during a pandemic for whatever reason is also ... less than smart. These are difficult times made even more difficult for reasons that make little sense if you really think about the role of a public transit agency. That role is this: To ensure an affordable way for people to move from place to place in an efficient manner so society can remain productive and its users' lives can be made less difficult. In normal times, Caltrain does this well. Those who represent the public in the counties Caltrain serves should keep that in mind when engaging in political fisticuffs. And there is a certain irony that those choosing to use as leverage an effort to find a dedicated funding source to seek changes to governance in the midst of a pandemic may end up causing more harm than good to the people they say they are representing. This is one the reasons why people fear consolidation of government and the loss of local control.
While there is a chance Caltrain could shut down because it runs out of money, the more likely scenario is that this tax effort will fail, service will be cut, individual county contributions would rise and fares could go up — eliminating what was a source of pride for this area in creating a collective benefit that happened to work well for the average person. Political leaders shouldn't lose sight of that sense of protecting our successful commons since that should be, after all, their primary focus.
Jon Mays is the editor in chief of the Daily Journal. He can be reached at jon@smdailyjournal.com. Follow Jon on Twitter @jonmays.