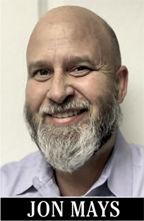 Now that the tumult of our election is ending, so comes the difficult task of governing. This requires assessing the landscape after the smoke clears and determining a path forward. The terrain shows some rough patches ahead. Nationally, Joe Biden has his work cut out for him in being a president not only for the half of the country who supported Trump but also the burgeoning progressive wing of his own party that seemingly wants all things now. It won't be easy.
This local election is also revealing. District elections seemed to make it easier for progressives to get a foothold, as seen in South San Francisco, where James Coleman beat incumbent Rich Garbarino and in Redwood City, where Lissette Espinoza-Garnica also beat an incumbent, Janet Borgens. Both are part of a new generation, a politically active one that so far has been thinking of governance in the abstract and not the practical. Applying those progressive principles in practicality is key now. Let's hope they make the jump from activism to governance well. It doesn't always happen.
Also worthy of note is the successful election of Joaquin Jimenez to the Half Moon Bay City Council. It's never easy to knock off an incumbent, particularly the current mayor, but Jimenez did it. If district elections sought to increase representation, it appears to have succeeded in this instance and also in South City and Redwood City.
In San Mateo, a 30-year-old height limit measure appears to have been barely defeated with fewer than 100 votes below victory. Also vanquished is an alternative measure that sought to retain those limits but not in key areas of the city around train stations and, in particular, at the Hillsdale Shopping Center. Now, it is in the court of the City Council, which would be wise to recognize that the measures' failures is not a mandate for runaway growth. It means exactly half the city wanted to loosen height limits and the other did not.
When President George W. Bush won re-election in 2004, he said he had political capital and he intended to spend it, though he won 50.7% of the popular vote and 286 electoral votes to John Kerry's 48.27% of the popular vote and 251 electoral votes. That too was not a mandate. Close elections mean those who win must treat it carefully and not push too hard. The beauty of the American political system is that the pendulum finds ways to correct if it goes too far in one direction.
So when it comes to San Mateo's General Plan, let's do what we said in our endorsement editorial against both measures R and Y: "Put in the work and do something better, together." The key part is together.
About Measure R, I was disappointed by some of the campaign fliers that misconstrued the Daily Journal's position. Taking text from editorials out of context is a common tactic, though shady, but printing the entire editorial with portions cut off or covered in boxes was quite the step forward into darkness.
However, it was one pro-Measure R flier in particular that was completely out of bounds. In it, the Daily Journal was listed as a signatory on a message to the community against Measure Y using text we would never support. It is one thing to list us as being opposed to a measure (we were opposed to both), it is quite another to make it appear we were politicking or participating in a campaign by signing onto what appeared to be a letter to the community. Not to mention that the text of the message was saccharine slop.
It was even more difficult to believe considering Measure R's backers. These are typically strong and trustworthy organizations and people who were likely beguiled by someone on the campaign team infected by moral ineptitude. Let's hope such tactics are not used again, and that the Daily Journal's autonomy is respected and we are kept away from this mud.
Overall, though, most campaigns were conducted in a dignified manner from South San Francisco to Redwood City. I was particularly impressed by the candidates in San Mateo — Diane Papan, Amourence Lee and Lisa Diaz Nash — who focused solely on the weighty issues at hand and not on trying to weaken each other. There was a questionable flier or two, but those were from independent committees. And nearly all the campaign signs disappeared immediately after the election. That is a responsible act, so thank you.
Now the real work begins.
Jon Mays is the editor in chief of the Daily Journal. He can be reached at jon@smdailyjournal.com. Follow Jon on Twitter @jonmays.