Roses are red, violets are blue, florists' hands are cramping and their feet hurt too.
Such is life for those in the flower industry working long days to assure beautiful arrangements arrive in bloom and on time for lovers across the Peninsula.
"It's very physical labor and a lot of people don't understand that," said Victoria Sabelnik, of San Bruno Flower Fashion.
After 20 years of working as a florist, Sabelnik is well aware of the pain that Valentine's Day can mean. To prevent common injuries, she said store workers are required to attend safety training sessions.
Sharp knives, thorny flowers and long days don't mix, said Sabelnik, who said it is not uncommon to spend 12 hours working in the last-minute rush to assure all orders are just perfect.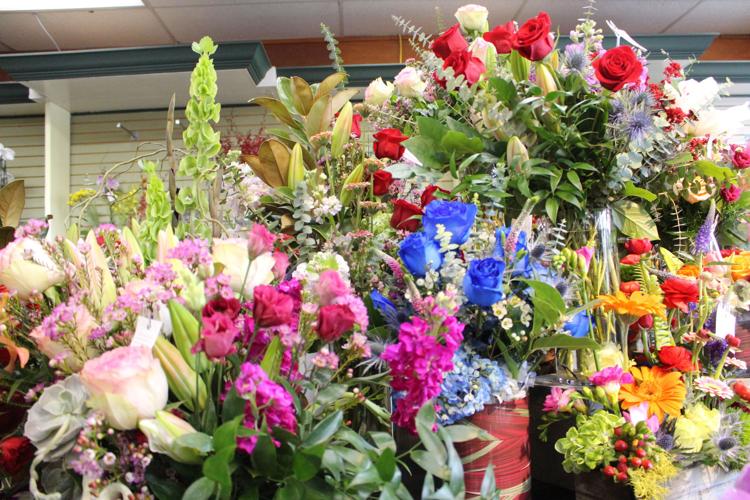 Kathie Repetto, of Repetto's Nursery and Florist, agreed. The Half Moon Bay outlet sells wholesale flowers at the market in the morning and also offers a retail location for coastside shoppers.
Burning the candle at both ends requires staffing up for the season and the company currently has about 15 employees, said Repetto, who considered Valentine's Day the busiest week on the calendar — outside of maybe Mother's Day.
And by the time Friday passes, Repetto said the respite will be welcomed. Until then, it's a stretch of stiffness, exhaustion and isolation — with a dash of enjoyment.
"It's fun but you just have to put your whole life aside for the whole week," she said. "You can't do anything else."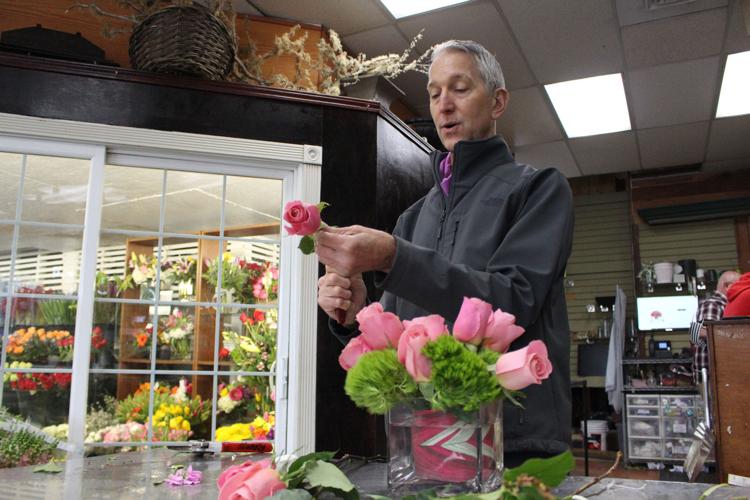 For Steve Adams, a pair of comfortable shoes help him endure the marathon sessions of trimming roses for bouquets. Managing potential discomfort allows him to finish between 50 and 100 arrangements per day at San Mateo Florist and Gifts.
The gentle ribbing of coworkers keeps him on his toes too, as Adams trades laughs with Bruce Alvin in the arrangement space along El Camino Real where they pull from toppling flower piles to build overflowing vases.
Michelle Kelley said teamwork is essential to making it through the busy season, when the crew at San Mateo Florist and Gifts completes as many as 600 daily deliveries. The normal load is in the neighborhood of 30 to 50, she said.
"Everyone pitches in and we hire lots of extra help," she said. "We just somehow make it happen."
With roughly 30 years of experience, Kelley has observed some evolution in the industry. And while nothing beats the bouquet of a dozen red roses, she said more unconventional choices are getting into the mix. Air pants, succulents, peonies and hydrangeas are growing in popularity among those seeking a break from the norm, said Kelley.
To manage changing tastes or just put a new touch on a classic look, Sabelnik said many of her customers will defer to the professionals.
"A lot of people who have a good florist keep coming back because of the quality and specialty that florists can provide," said Sabelnik. She added such trust can lead to long relationships with clients who return regularly for holidays, weddings, baby showers and funerals.
For her part, Repetto said she is seeing a rise in customers forgoing the wire service deliveries in favor of stopping by the store and selecting their own flowers. To accommodate, she said the nursery designated a design area where shoppers are free to transform their purchase into a customized arrangement.
Yet despite the spike in available options, Repetto said the timeless choice remains a favorite.
"For Valentine's Day, it's all about red roses," she said.