The San Mateo Police Department held a traffic enforcement operation throughout the city Thursday to catch vehicle and pedestrian violators, with officers citing 45 drivers.
Sgt. Craig Collum of the San Mateo Police Department said the city saw a steady increase in pedestrian-related traffic collisions in the years before COVID-19, and he expects traffic collisions to increase after COVID-19 restrictions ease.
"Coming out of it, those people are going to want to keep those speeds up probably, but the traffic is higher. So I do anticipate bigger issues, more issues down the road." Collum said.
Over four hours, police enforced three intersections and crosswalks, including the block of Fourth Avenue, Monte Diablo Avenue and North San Mateo Drive and Fourth Avenue and South Grant Street. Of 183 vehicles, 138 yielded appropriately, while the remaining 45 did not and were cited, a failure rate of around 24%. There were seven cellphone violations and two jaywalking violations.
San Mateo saw a steady increase in the annual numbers of pedestrian-related traffic collisions before COVID-19. San Mateo from 2015-2020 had 216 pedestrian-related traffic collisions, with 178 the driver's fault and 38 the pedestrians. There were 49 collisions in 2019, the highest since 2015, and a 104% increase from 2016 numbers of 24. In addition, California in 2020 saw a 9% increase in traffic collision-related deaths, according to police.
The police also held enforcement operations Thursday at Fourth Avenue and Grant Street, Fifth Avenue and Laurel Street, and 22nd Avenue and South El Camino Real. The locations were picked based on community input and a history of violations or crashes.
Each location had a mid-block crosswalk, and a plainclothes officer would walk in the crosswalk to see if any drivers would violate rules. Drivers who did were pulled over by patrol motorcyclists and given citations or warnings. Police said the event was to educate drivers and pedestrians on the rules as traffic increases.
"I actually just saw a violation, which is kind of surprising with all the [crosswalk] lights. People will still not see them and drive through," Collum said.
The police planned the enforcement day over two months, with the design based on other traffic enforcement programs from across the nation. In the last two weeks, the department held several other traffic education programs, with police giving out more than 100 warnings over three days. The department also restructured its traffic program in January to have full coverage Monday through Friday during peak commute hours. At any given time, they have a maximum of five officers and a minimum of two or three depending on the day of the week, with more traffic and motorcycle officers patrolling.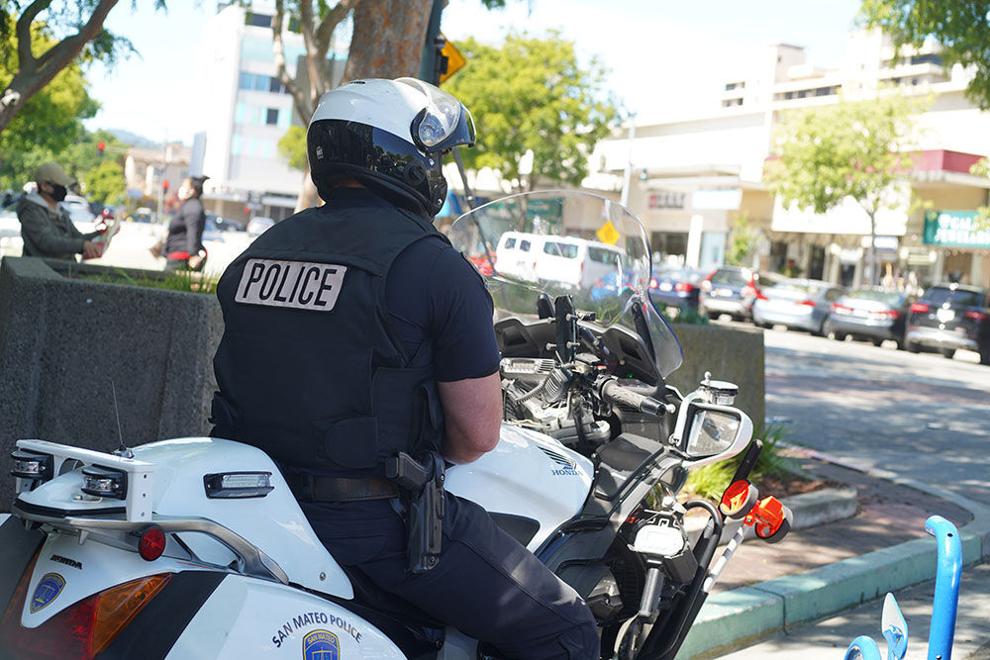 "We have taken our staffing and reallocated it with the same amount of people but more at the data-driven times, the peak hours and peak crash times," Collum said.
Police officers in the traffic division will have more pedestrian safety enforcement operations in 2021. Collom noted traffic pre-COVID was booming, with several dangerous streets in crowded areas.
"It was a lot of high-density foot traffic and cars, and out on the roadways, it was increasing because so many people would want to bypass the freeways and take El Camino or cut through," Collom said.
The traffic enforcement turning point for police was a collision at Fifth Avenue and Claremont Street involving a child that brought renewed attention from the community and the police department.
"We determined we needed to do more driver awareness safety enforcement and education. So we started doing whole database research on it and started putting together a data map," Collum said.
While Thursday mostly caught drivers, San Mateo does have incidents of pedestrians jaywalking and being at fault for incidents.
"There are quite a few where it is pedestrian caused by walking across out of a car and the car coming doesn't see it and hits them," Collum said.
He warned pedestrians against jumping into the road in the middle of the block to reduce risks and asked drivers to be more aware.
"Depending on the speed of the road, it's harder for cars to perceive, react and stop," Collum said. "For cars, slow down, and be a little more aware of your surroundings and all the other environmental hazards out there."
(650) 344-5200 ext. 102