When San Mateo resident Shawn Fahrenbruch purchased his family's home on Parrott Drive in 2017, he saw an opportunity to create not only a home for his wife and two children near Aragon High School but also his mother, who was in her 70s at the time.
Having provided child care for his family for years, Fahrenbruch's mother had been a key source of support and he wanted to find a way to help provide for her as she got older.
"Now that she's approaching 80 ... it's now more about caring for her rather than her helping us with the kids," he said.
Focused on converting the house into a multi-generation home, Fahrenbruch embarked on a process to build an accessory dwelling unit, or ADU, on his property. Months later, he is on his way toward converting what had been a largely open basement space into a junior ADU with a bathroom and a small kitchen where his now 79-year-old mother can live in the coming years.
But having spent months working with an architect and a general contractor to design and work on the space, Fahrenbruch acknowledged the process has been more time-consuming and expensive than he imagined it would be. He said city staff who have guided him through the set of city and state requirements for these types of units have been very helpful, but hopes officials can revisit some of the rules in the future to see if they can be streamlined for other homeowners considering similar projects.
Also known as in-law or granny units, ADUs have been viewed by state and local officials as one strategy of many that could help address the state's housing shortage. In response to a state law passed in 2016 and aimed at encouraging the production of housing, city officials across the state have grappled with the question of how to maintain some local control over the process while bringing their cities' rules into alignment with the state's, which eased parking requirements and allowed homeowners to bypass some elements of the public review process.
Because the city's ordinance allows homeowners to include up to 640 square feet in an ADU and up to 500 square feet in a junior ADU, Fahrenbruch said he was initially hoping to build a full ADU. But he soon set his sights on building a junior ADU since the width of his home's garage fell just short of the city's requirement and because his basement space didn't meet some of the fire wall and door requirements for an ADU. Given the specifics of his basement space, he found a rule allowing homeowners to convert bedrooms into a junior ADU to be the easiest way for him to comply with the city requirements.
Though he's received a permit for converting the space into a bedroom, Fahrenbruch has kept an eye on the city's junior ADU requirements as he's worked with crews to renovate the basement space and lay the groundwork for the plumbing and electricity needed for a small kitchen.
He said he is hoping to include amenities allowing his mother to cook and do laundry on her own, and also access the bathroom shower and exterior door to the space with a wheelchair, if she needs to use one in the future. Alongside his junior ADU project, Fahrenbruch has taken on grading along the side of the house and adjustments to the stairs in his backyard to ensure the path to the unit is accessible to those with difficulty walking.
"I'm going for family harmony here," he said.
Among Fahrenbruch's concerns is the two-step permitting process he has undertaken, which requires him to pay for a permit to build the bedroom and then apply for and pay for another permit for the junior ADU once he is finished with the bedroom renovations. He said permit costs are calculated based on the value of the work, and investing in one permitting process without assurance he will be approved for the other has been worrisome. Together with expanding construction costs and unexpected discoveries as crews have worked on the space's existing features, Fahrenbruch has seen the estimated project costs jump substantially from when he first started crafting plans for it.
"Anytime you get into one of these things, you've got to be prepared to have to double estimates," he said.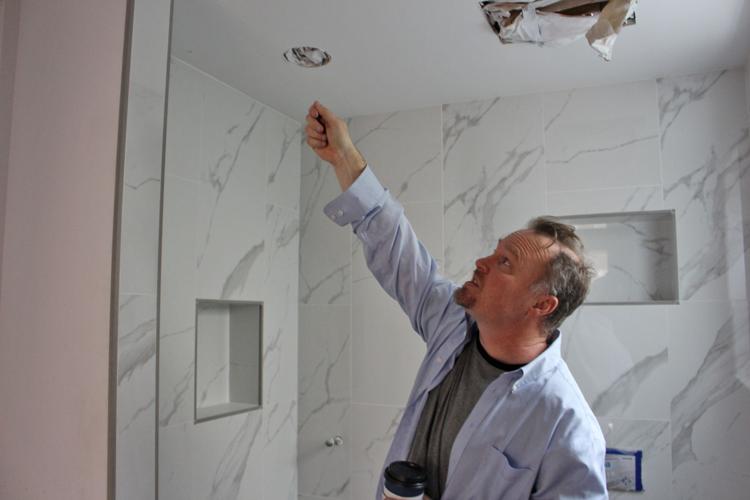 City planner Lily Lim acknowledged Fahrenbruch's challenges with the existing rules for junior ADUs, and noted the legally-permitted existing bedroom requirement in the junior ADU ordinance can streamline the planning process for some homeowners who have a bedroom that works within the city's rules. Because Fahrenbruch's space wasn't an existing bedroom, he has to receive permits for both converting the space into a bedroom and converting it into a junior ADU, she explained.
Lim noted every homeowner's situation is different, so while some may be able to move through the ADU or junior ADU planning process within a matter of weeks, others may take longer as homeowners work with city staff or architects to figure out how a space's existing features can be most efficiently converted into an ADU or junior ADU. Though some homeowners discuss their plans with staff before they submit an application for a permit to build an ADU, many submit their projects directly to city staff for review. Lim said it takes staff some three to four weeks to comment on an owner's initial application, and some two weeks to provide feedback on resubmittals.
"[For] the challenging ones … it does take a little while to find a creative solution," she said. "But we try as much as possible to help them to try and make them work."
Fahrenbruch added city requirements limiting the allowable width of a food preparation sink to 16 inches, refrigerators installed in the unit to be half-size or smaller and a 6-foot maximum length for kitchen countertop and storage cabinets put even more constraints on homeowners trying to make the most of a 500-square-foot space. With several requirements dictating how much space can be allocated to specific kitchen features and the voltage of cooktops, for example, Fahrenbruch noted the rules leave homeowners with few practical options for designing the space and hoped the rules could be adjusted so the 500-square-foot space limitation guides much of the planning process.
"When you've only got 500 feet here, you've got to be really creative," he said.
Lim said officials will likely study the topic at a study session this year, and noted the easing of parking requirements late last year is one change that has opened opportunities for homeowners to begin considering these types of projects. According to the city's code, a minimum of one standard off-street parking space for each ADU or bedroom, whichever is less, must be provided in a garage, carport or uncovered or covered space. The zoning currently stipulates no additional parking is required for ADUs located within half a mile of a public transit stop, within an architecturally and historically significant district or within one block of a car-sharing pick-up and drop-off location, among other exceptions.
"I definitely think that's given more opportunities to certain people," she said. "[We're] hopeful that more people can take advantage of that."
From January of 2018 to March 4, Lim said more than 50 applications to build new ADUs, convert existing space into a new unit or legalize existing ADUs had been submitted, and about half of the permits applied for were issued.
Despite some of his frustrations with the existing rules, Fahrenbruch, an electrical engineer, said he values the permitting process because it leverages planners' expertise and ensures projects are completed safely and in compliance with city code. But after investing hours of time and thousands of dollars in the process, he is left wondering how the rules could be streamlined so future homeowners don't have to work through all the headaches he faced as he planned his own project.
"You don't just walk into the planning desk there and say 'hey, I want to make an ADU,'" he said. "There's all kinds of things you need to comply with."