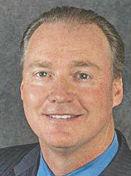 San Mateo County Community College District officials are cooperating with the District Attorney's Office during an investigation into former chancellor Ron Galatolo, officials said.
District Attorney Steve Wagstaffe confirmed investigators served search warrants during an investigation of Galatolo, potentially in relation to management of school district finances.
Word of the investigation spread shortly after Galatolo and district officials announced his transition from the school system's top post to chancellor emeritus, in a new position from which he would examine establishment of a local CSU branch.
Recognizing the timing of the two incidents, district Board of Trustees President Maurice Goodman said the mutual decision to find a new role for Galatolo was not related to the district attorney's investigation.
Looking ahead, Goodman committed to collaborating with Wagstaffe's office on the probe.
"While the college district is unable to comment on a pending investigation, I can say that we are fully cooperating with the District Attorney's office," he said in a prepared statement.
Confirming a story first reported by the Palo Alto Daily Post, Wagstaffe offered scant details regarding the investigation, though committed to thoroughly examining the thousands of pages of documents collected.
"It's a community college district and that means it is public money and that requires particular attention from agencies such as mine," said Wagstaffe.
He also said no timeline has been established in determining whether a case will be brought against Galatolo, due to the painstaking nature of the investigation process.
"Attention to detail is the difference between a successful and sloppy investigation," he said.
Wagstaffe also acknowledged allegations of harassment were made against Galatolo, while noting investigators are solely concerned with looking into potential crimes.
Last week, community college district officials agreed to pay Galatolo an annual baseline salary of $467,700 to work as chancellor emeritus, in a deal matching the terms of his previous contract. College of San Mateo President Michael Claire was promoted to acting chancellor amidst the transition.
In his new role, Galatolo was expected to be working alongside local legislators on a proposal to establish a Peninsula branch of the California State University system, as well as other undefined duties, according to the proposed contract. The initiative launched by state Sen. Jerry Hill, D-San Mateo, and Assemblyman Kevin Mullin, D-South San Francisco, is seen by officials as an opportunity to broaden the educational horizon for local students. In previous discussions, officials have identified the Cañada College campus in Redwood City as a potential site for the CSU branch.
For his time, Galatolo will receive at least $38,975 per month, along with vacation and sick leave, receive health benefits and retirement payments and may be reimbursed for business travel, but the contract cannot be extended or renewed beyond its expiration date March 2022, according to terms of the deal.
Should officials attempt to fire Galatolo, the contract requires former Superior Court judge Richard Kramer to work as arbitrator, mediator and ultimate decision-maker on whether cause exists for the termination, according to the contract.
For his part, Goodman said a priority for district officials will be working to preserve the school community's trust throughout the investigation.
"Maintaining the trust of our community, staff, students and many supporters throughout the county and state is one of our highest priorities and we will take any steps necessary to maintain that trust," he said in the statement. "At this time, we believe it is important to avoid speculation or jumping to conclusions and allow the DA's office to conclude the investigation."