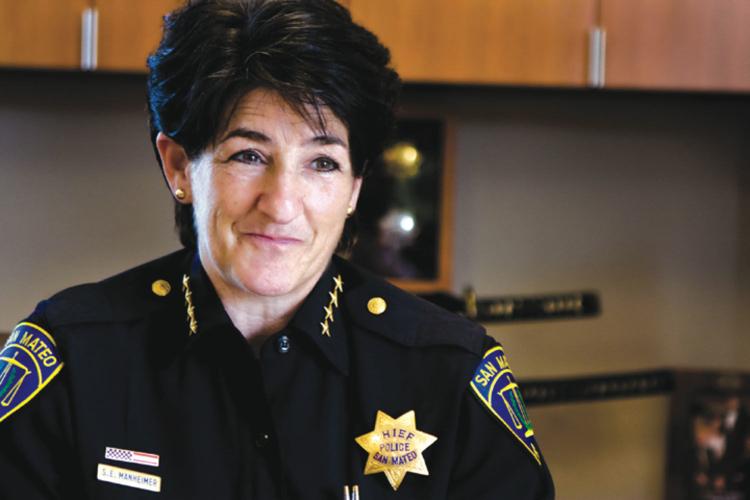 An appreciation for San Mateo's diversity, a dedication to understanding community issues and a willingness to engage with residents were among the qualities community members hoped San Mateo's next police chief would embody at one of two meetings to be held this week at the San Mateo Main Library.
The effort to gather community feedback came nearly one month after Police Chief Susan Manheimer announced plans to step down from the city's top law enforcement post at the end of 2019, marking the end of a more than 30-year career in law enforcement. Manheimer led the San Mateo Police Department for more than 19 years and has become known for shaping crime prevention, juvenile justice and homeless outreach programs that have served as models for agencies throughout San Mateo County.
City Manager Drew Corbett underscored the importance of hearing from community members as officials embark on the recruitment process to find Manheimer's replacement at a Monday night meeting. Corbett acknowledged Manheimer's many accomplishments as the leader of the city department that engages the most with the community, which he said magnified the importance of hearing from community members about what they would like to see.
"On the one hand, I'm excited for her, on the other, I'm sad to see her go," he said. "She's been a great leader for the department and now it's time to think about the replacement and the recruitment process."
Evelia Chairez, a 26-year San Mateo resident, was among those who advocated for the next police chief to have an appreciation for the city's economic and ethnic diversity. Though she acknowledged the city and San Mateo County are largely seen as economically strong, Chairez noted there are many low-income families who may fear calling the police and reporting crimes.
Chairez hoped the department's next leader would follow in Manheimer's footsteps in understanding San Mateo's diversity and establishing trust with all community members.
"I would like someone to feel empathy for us, especially in the Latino community," she said. "Even though we are a wealthy county … we still have those people who are underserved."
Robert Harker, an eight-year resident, also encouraged officials to prioritize cultural competence and understanding the role bias may play in policing. He praised Manheimer for her presence at community events and participation in the city's Services Academy, which aims to help those who live and work in San Mateo better understand how city staff and departments work to provide services to residents.
Harker said he met Manheimer at a Service Academy session some five years ago, and was impressed with her nuanced understanding and approach to complex issues like human trafficking. He felt the department's approach to addressing gang violence — which he said included creating youth programs through the Police Activities League and forming a multi-disciplinary task force aimed at engaging families affected by gangs — was a comprehensive one.
"That built a lot of trust in the community and that's what I like to see in community policing," he said.
In response to a question about how the department is managing staffing levels, Corbett said Manheimer and he have felt the department's head count has been at the right place, but a challenge has been recruiting new staff members. He said when the department has open positions or is at minimum staffing, other officers may be asked or required to work beyond the overtime shifts they need to staff for planned events. Corbett also noted the job is physically demanding, so officers may have to work overtime to fill shifts to cover those of injured officers.
"Something I worry about a lot — and I know the chief worries about it — is burning folks out, because the amount of overtime they're having to work, the distances they're having to travel to go to work," he said. "It's a difficult time to be a police officer, certainly on the Peninsula but really throughout this region."
For Dana Stoehr, chief executive officer of the San Mateo County Event Center and 18-year resident, the new chief's ability to establish department standards of cultural inclusivity was a priority. Acknowledging the Event Center is host to a wide array of events — from corporate events to cultural celebrations — Stoehr emphasized the importance of the department's officers being able to work with community members from diverse backgrounds.
Stoehr also hoped the next police chief would either have an understanding or respect for the culture of collaboration and willingness to tackle problems she felt is unique to the Bay Area and San Mateo County.
"I think culturally the commitment to diversity, the commitment to inclusiveness, all these things … are classically very Bay Area," she said.
Corbett expressed gratitude to those who offered feedback, and noted their input helped crystallize for him the merits of Manheimer's belief in investing in the community early and building trust in the community, which he said he would be looking for in candidates to fill the role.
"We're not going to replicate Chief Manheimer, it's not possible. She's a very uniquely talented individual," he said. "This community demands and deserves the best and I think we're going to get it."
Teri Black, a professional recruiter assisting the city, said recruitment for the position is slated to open in the next two to three weeks, and is expected to remain open for about a month, at which point candidates will be screened and interviewed. She said officials will be working toward selecting a candidate before the end of year so the next police chief is in place before the start of 2020.
San Mateo officials will hold another in-person meeting to gather feedback on the recruitment of a new police chief at 10 a.m. Saturday, Aug. 17, in the Oak Room at the San Mateo Main Library, 55 W. Third Ave. Visit cityofsanmateo.org/CivicAlerts.aspx?AID=979 for more information and to access an online survey.