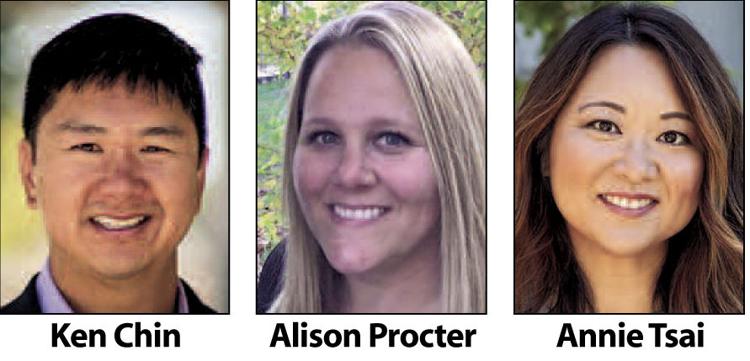 In the Peninsula's largest school district, where budget and personnel concerns are central, one appointed incumbent and two challengers are seeking election to the San Mateo-Foster City Elementary School District Board of Trustees.
Appointed incumbent Ken Chin is seeking re-election to his first full term on the board, alongside challengers Annie Tsai and Alison Procter, who are also looking to fill the two open board seats.
The board election comes on the heels of successful bond and parcel tax measures which aided officials in their work to assure there are talented, experienced teachers before students in modern classrooms.
But due to the instability of the budget, which relies heavily on parcel tax revenue as the district fluctuates primary funding sources from the state to local community, Chin said fiscal sustainability remains a primary focus of his campaign.
"If we don't spend the money right, if we don't watch what we are doing, it will run out," said Chin, who was appointed to the board last year following the abrupt resignation of former president Nancy Kohn Hsieh.
Meanwhile Proctor, a Foster City resident and president of the Foster City Elementary School PTA, said she would like to see clearer communication to the school community about the district's financial challenges.
"We need to help the community to understand that there is just not a ton of money there, even if it looks like it," said Proctor, who believes her work as a CPA will help demystify the district's spending plan to the public.
For Tsai, a San Mateo resident, she said a focus should be assuring officials keep a broad perspective and open mind when considering the budget, with hopes of making the most of its limited funds.
"I will be helping find a way to optimize spending so all our kids, no matter where they are, can fall in love with learning," said Tsai.
A key to keeping students engaged is building a staff full of experienced, talented teachers who feel connected to their school community, said Tsai, who claimed she built the requisite skills through her career in human resources to make that possible.
Beyond offering competitive salaries, Tsai said she favored the district's examination of teacher housing, with an eye on attracting and retaining teachers through the ability to offer below-market rents.
"I'm interested in seeing if that can be part of the solution," she said. "And if not, what else can be done?"
For her part, Proctor prioritized offering teachers attractive professional development opportunities to assure they are up to date on the most effective and modern techniques.
"Teachers are our district's most attractive asset," said Proctor.
During his time on the board, Chin said he contributed to a decision by officials to offer teachers raises, with hopes of improving schools by assuring stability and limiting staff turnover.
"If you don't have a nice, solid, stable school climate where everybody is there and everybody is aligned, it's going to impact everybody," said Chin.
Also as part of the effort to serve all students, Proctor said she favors the district focusing on supplementary programs as well as early education and after school care to assure the district's achievement gap shrinks. But providing the requisite programs on a limited budget can be a challenging, according to Proctor, who said "if it was an easy answer, the problem would be solved."
Chin meanwhile said he favored examining success stories in the district where achievement levels of all students have improved, with hopes of expanding those models across all campuses.
"We want a concrete plan for how we look at raising performances at those schools," said Chin, referring to campuses which are not succeeding at rates as high as others in the district.
For her part, Tsai favored looking beyond district boundaries for examples of successful models, pointing to programs in comparable school systems in other parts of the state which could be implemented locally.
"What are they doing that is working? I think there is some learning that we can do," she said.