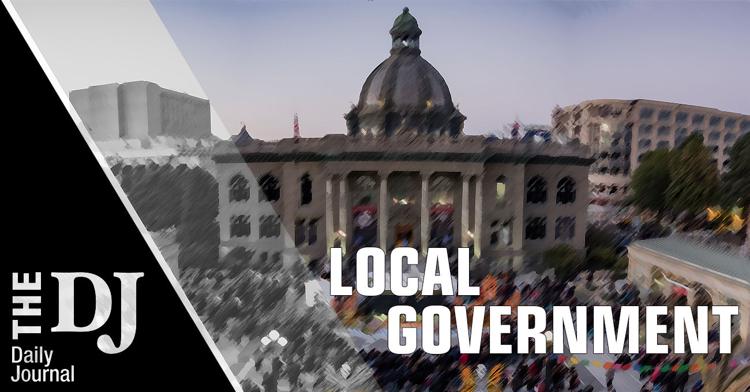 Prioritizing community benefits and the creation of additional affordable housing, the Redwood City Council voted to approve six of the nine developments proposed in a gatekeeper process, permitting developers to initiate traditional development reviews. 
During a remote meeting Monday night, councilmembers voted against staff recommendations to deny three mixed-use development proposals which promise to bring various community benefits to the city. Staff's recommendation was based on concerns that if more than five proposals were approved, the planning processes of two vision plans, the Central Redwood City and Transit District, would have to be paused. 
Councilman Ian Bain said selecting between approving developments and conducting a vision plan was a "false choice." Despite recognizing staff limitations due in part to the pandemic and already initiated workloads, Bain and his colleagues voiced optimism a solution, such as contracting additional consultants, could be produced to complete city tasks. 
"We're in a position now that I never wanted us to be in which is, the proposals are advancing the vision as opposed to aligning with the vision that we already discussed with the community," said Bain, noting he has regularly called for a revised vision plan as the 2010 General Plan reached various development caps. 
Despite community pushback for the development of additional office space and staff recommendation to approve only two of the five mixed-use proposals, the council prioritized community benefits in initiating the three developments. Developers now have two years to formally submit proposals for the public planning process.
"We need to get our workers back downtown. … We prioritize child care and equity issues like minimum wage. We need to also prioritize the ability of small independent business owners to stay in businesses," said Councilwoman Janet Borgens on the importance of workforce patronage of downtown businesses to a pandemic recovery. 
A housing development at 603 Jefferson Ave. reserved for teachers and school staff, paired with a 170,000-square-foot office space at 750 Bradford St. gained wide support from both the council and public speakers. Many noted teachers and staff struggle to find affordable housing due to income levels disqualifying them from housing assistance while being too low to afford market rate units. 
The council also voted to initiate a mixed-use development at 901, 947 and 999 El Camino Real where an AutoZone sits. Staff recommended the project be denied following the developer's off-site addition of a 60-unit residential building at 2529 Broadway. The Broadway location is within the city's Transit District, which is under review for needed transit upgrades, and would require a separate review process. 
Noting the importance of affordable housing units and the proposal's inclusion of a teen center, the council approved the project out of concern that delays would make the development infeasible. The housing development would include two-, three- and four-bedroom units, a winning feature for Councilwoman Giselle Hale.
Additionally, the council approved a proposed development which will replace Chase Bank at 2300 Broadway, consisting of 200,000 square feet of office space and 15,000 square feet of retail space. Also proposed is 15,000 square feet of public open space, 5,000 of which would be a Redwood grove. Developers requested acquisition of Hamilton Way between Broadway and Marshall Street which would allow for the expansion of the public space and connection to Courthouse Square. 
Because the proposal falls within the proposed boundaries of the Central Redwood City Plan area, staff recommended the proposal be considered within the context of the new plan. The council opted to initiate the development due to the addition of affordable units, to be owned and operated by the nonprofit MidPen Housing, and the community space. 
Councilmembers also unanimously agreed with staff's recommendation to approve planning initiation for three of the four proposed residential developments. Councilmembers voiced concern that all nine developments were not considered as a collective. 
The largest of the projects initiated includes a 5.3-acre site at 1205 and 1295 Veterans Blvd. The proposed plans include 430 units including 70 affordable apartments. A 4,000- to 6,000-square-foot child care facility is also proposed in the plan, meeting the city's children and youth priority. 
Also approved for initiation was a development at 651 El Camino Real which includes 301 residential units, with 68 below-market-rate units reserved for veterans. Plans include a new 11,275-square-foot American Legion space with 3,600-square-foot event space. 
Councilwoman Diane Reddy challenged the developers, as well as the 603 Jefferson developers, to make the units "truly affordable" for veterans and education staff. Reddy has regularly noted veterans are unable to afford even below-market rate units, noting market rate units are frequently left vacant. 
An initiated development at 505 E. Bayshore Road is the only one proposing units for sale including 60 townhomes with nine units listed at below-market rate. Included in the plans is a 8,000-square-foot public easement along Bayshore and a new publicly accessible trail to the Bay Trail system, a 500-mile walking and cycling trail which travels through all nine Bay Area counties. 
Councilmembers appreciated the public benefits, noting below-market rate units for sale is uncommon, but echoed concerns related to sea level rise voiced by the Sierra Club. The developers noted they intend to modify the proposal to adequately address rising waters caused by climate change and would be willing to meet with Sierra Club members.  
Denied and unapproved plans 
The only denied proposal sought to construct two market-rate units over an existing commercial zoned building at 797 Arguello St. The building owner intended to rent the units to employees of the Redwood Massage and Sauna which currently occupies the building.  
The council agreed with staff that the development would have been "an inefficient use of staff time and resources." Development costs for staff time and a General Plan amendment review would potentially make the proposal financially infeasible for the developer as well. 
Two mixed-use developments, both promising to bring below-market rate units to the city, did not receive approval from the council but were advised to return in six months with modified plans. Denied proposals would have to wait two years to resubmit similar plans for the same site for reconsideration, a time period for which councilmembers expressed concern. 
"We're not comfortable waiting two years. Some of these are not as well formed but there is a 'there' there and we want to see them potentially take bloom," said Hale.
A more than 88,000-square-foot development at 601 Allerton St. included a publicly accessible pickleball court and $3.7 million in donations toward local organizations. While the developers originally proposed constructing eight workforce housing units on site, councilmembers suggested off-site housing be considered to accommodate additional units. 
At 1900 Broadway, a seven-story mixed-use development was recommended for approval by staff but denied by council due to traffic concerns. The development would require the acquisition of city land including a portion of Spring Street and an adjacent parklet for which developers offered to pay the city $11 million.
Community benefits presented in the proposal included a public plaza equipped with a bike repair station, shaded outdoor dining area, free public WiFi and a game space. All of the 54 proposed residential units, consisting of two and three bedrooms, would be listed at low or very below market rate.