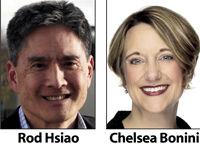 Two experienced education officials are facing off in a rare contested race for the San Mateo County Board of Education.
Incumbent Rod Hsiao is challenged by Chelsea Bonini, a former San Mateo-Foster City Elementary School District trustee, in the race for trustee area 4 representing San Mateo, Foster City and surrounding areas.
With other incumbents Jim Cannon, Joe Ross and Ted Lempert running unopposed, both of those in the area 4 race acknowledged it is unusual for two qualified candidates to run.
After 14 years on the board, Hsiao admitted most trustees have worked together for an extended term but he feels he still has more to offer the local school community.
"Now more than ever, we need people who have the experience and commitment to helping all students," he said.
Meanwhile, Bonini said she believes in her ability to offer a new point of view to the board.
"I feel like this is an opportunity to get fresh ideas in that role," said Bonini, who also generally favors term limits for elected positions, though no such restrictions exist on the county board.
The county Office of Education — which the board directs — does not oversee all county schools, but offers a variety of education, business and service support programs to local districts, including coordinating some mental health services. The primary responsibility of the office is to educate students enrolled in court or community schools, and special education programs. The board also reviews and approves charter school applications which have been rejected by the host district.
Furthermore, trustees must work alongside a county superintendent who is independently elected, establishing a different dynamic than the relationship among other local districts in which the school board hires and sets policy for the superintendent to execute.
Considering the county's responsibility for supporting special education programs, Bonini said she believes her experience as a former elementary school trustee and education nonprofit director will serve her well.
She has built a set of skills allowing her to navigate through channels required to get students with special needs educational assistance, and can help communicate that process clearly with the school community.
If elected, Bonini said she would advocate for more collaboration between departments at the county which could clear some of potential sticking points where communication breaks down.
Meanwhile, Hsiao said he is confident in his ability to draw on his experience to help close the achievement gap and push officials to ramp up support for students struggling amid the pandemic.
"I don't want to be there to just rubber stamp stuff," said Hsiao, regarding the unfinished business he sees before the board.
To that end, he said special attention should be paid to families and members of the school community who do not speak English as a first language and assuring they receive the support necessary during a uniquely challenging time.
"We really need to do a better job leaning in more closely … with those families," said Hsiao.
He added the pandemic and remote learning requirements have further exposed the inequitable access to education resources — a shortfall he plans to close with another term.
"It is showing the great divide between the haves and the have nots," he said.
Bonini agreed the board should do more to assist traditionally underserved communities which need additional support.
"We need more focus on the marginalized groups," she said.
With optimism she has the experience to provide that assistance and more, Bonini made her case for the seat.
"I think it's the right role for me and I'm excited about it," she said.
Meanwhile, Hsiao claimed he is best suited because his best service to the board is yet to come.
"I feel like I still have something to offer," he said.