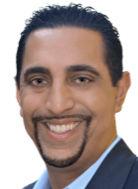 The Foster City Council is divided as to how to respond to a Brown Act violation committed by one of its members. 
The San Mateo County District Attorney's Office in August concluded that Councilman Sanjay Gehani violated the Brown Act by discussing plans to redevelop a vacant site in the city with a majority of councilmembers outside of a noticed public meeting. The state law aims to promote transparency in government by preventing councilmembers from establishing consensus on an issue behind closed doors. 
The district attorney declined to take action against Gehani, but two of his council colleagues said he should be censured during a raucous meeting Tuesday. Censure is defined as the "formal resolution of a legislative, administrative or other body reprimanding a person, normally one of its own members, for specified conduct," according to a staff report. 
"This is not about an individual, this is not about Mr. Gehani. It is about the institution, it is about good governance, it is about ethics, it is about public trust. It is about our reputation, the entire council's reputation in the region," Councilwoman Richa Awasthi said during the meeting. "This is a guilt, this is a violation and I encourage everyone on the council to be brave and strong and vote for a censure." 
Awasthi and Vice Mayor Herb Perez voted to hold a censure hearing at a future meeting while Mayor Sam Hindi and Catherine Mahanpour voted against it. Gehani recused himself from the vote, but was present for the discussion that preceded it. 
A tie vote means the motion failed and a censure hearing will not take place, but Perez is confident that the hearing will in fact occur because two councilmembers requested it be placed on a future agenda. The city clerk Wednesday was unable to confirm if there is another way to hold the hearing separate from Tuesday's vote.
Gehani is a partner and chief marketing officer for Building Kidz, a franchiser of preschools. He violated the Brown Act in January when he asked councilmembers to support his plan to buy and redevelop 388 Vintage Park Drive in the city into a preschool, according to the district attorney. The site would have to be rezoned to accommodate a preschool and Gehani understood his plans would require involvement and/or approval by the council, the district attorney said.
During the Tuesday meeting, Gehani apologized for his actions and said he was unaware that he was violating the Brown Act because his plan was merely an idea. 
"My mistake was believing because a subject was just in the early idea phase it wasn't covered by Brown Act restrictions. While the idea was never formally submitted to the city, I now clearly understand that even an idea is covered by Brown Act restrictions," he said. "This is my mistake only, no one else's. I'm here today to assure everyone that this mistake will never happen again and I apologize to the residents and fellow councilmembers for not doing better."
Following the meeting, Gehani did not want to comment on what had transpired in it and said he looks forward to focusing on the various issues facing the city, including traffic congestion and the levee project. 
"I think we need to heal as a community and it's best to move forward," he said. "For me, I want to focus on the issues that are affecting the city and move forward." 
Hindi and Mahanpour also want to move forward and while both said they disapprove of Gehani's actions, they felt a censure hearing would only serve to further divide the community.
Another recent point of divisiveness is an effort in which members of the public are gathering signatures to ask voters if they want to recall Perez over his stance on development and treatment of others.
"Gehani has acknowledged his violation and has made a promise it won't happen again. While I don't approve of any violation of law, I do believe Councilman Gehani has learned a valuable lesson here and I'm willing to give him another chance," Mahanpour said. "He's already been publicly shamed if we can call it that and another public shaming — which is what a censure is — is not going to accomplish anything except divide the residents and divide this council. I think we need to get on with the business of the city and we don't need any more divisiveness." 
Perez strongly disagreed with that take and said a censure hearing is necessary to send a warning to future councilmembers. 
"What occurred was a purposeful plan and with purpose of forethought an effort [by Gehani] to enrich himself personally," Perez said and went on to accuse Gehani of lying about his actions during a previous meeting. "We need to send a warning, we need to document and memorialize in the record what occurred, why and how to serve as a warning for anyone else who sits on the dais to never do this again."