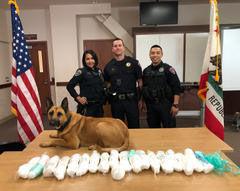 A 26-year-old East Palo Alto man is facing up to 14 years in prison after he was arrested Thursday with 23 pounds of methamphetamine in his car near Los Prados Park in San Mateo, according to the San Mateo County District Attorney's Office. 
Vladmir Magallan-Gallegos was charged with one count of felony possession of drugs for sale and one count of felony sale of drugs when he appeared in court for the first time Friday. The county's private defender program was appointed for his case, and his bail was set at $500,000, according to prosecutors. 
At around 7:45 a.m. Oct. 3, Magallan-Gallegos was allegedly contacted by San Mateo police officers doing a welfare check on his Ford Focus, which was parked near Los Prados Park. The officers allegedly saw Magallan-Gallegos asleep in the driver's seat, and though he didn't wake up when they first knocked on the window, he eventually woke up, according to prosecutors. 
He allegedly told the officers he was OK and that he had just come from Reno, and provided an ID to them before giving them consent to search his car. It allegedly wasn't long before Ajax, a police dog trained to search for narcotics, found the methamphetamine in Magallan-Gallegos' trunk, according to prosecutors. 
Magallan-Gallegos is next expected to appear in court Monday for appearance of a retained attorney, according to prosecutors.