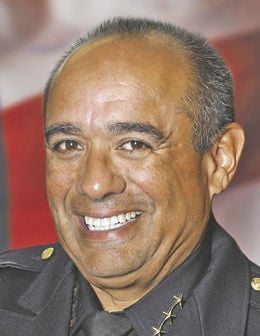 In discussing recent changes to state and federal immigration laws and policies, a conversation about whether and how the San Mateo County Sheriff's Office should cooperate with federal immigration officials was sparked at the Board of Supervisors' Tuesday meeting.
Passed in 2017 and enacted Jan. 1, Senate Bill 54, otherwise known as the California Values Act, limited the use of state and local law enforcement resources for immigration enforcement and many forms of cooperation between local law enforcement and federal immigration authorities.
Sheriff Carlos Bolanos said the law has not significantly altered the day-to-day operations of the Sheriff's Office, which has maintained a policy in which it does not directly enforce federal immigration laws but may comply with Immigration and Customs Enforcement's requests to notify the agency of an inmate's release date from Sheriff's Office custody. Locally, most San Mateo County law enforcement agencies have reported they do not enforce federal immigration policies, instead leaving that duty up to ICE.
"Public safety and building relationships with the community continue to be my top priorities," said Bolanos, according to a video of the meeting. "There are times, however, where individuals that come into our custody present a threat to public safety and my office does cooperate with ICE in these instances as allowed by law."
Undersheriff Mark Robbins explained that under SB 54, the Sheriff's Office is allowed to respond to ICE requests for the release dates for those convicted of serious or violent felonies, as well as those who have been arrested for serious and violent felonies and appeared for a preliminary hearing in which a judge has determined there is probable cause for the charges. Individuals who are registered sex offenders, those who have either been convicted in the last five years of a misdemeanor punishable as either a misdemeanor or felony and those who have been convicted in the last 15 years of a felony are also included among those for whom the Sheriff's Office can provide information to ICE.
Robbins noted inmate release dates are public information and are available on the Sheriff's Office website, and said upon booking someone into jail after an arrest, they are required by the Department of Justice to record specific information, including height, weight, Social Security number and fingerprints, among other data. But they don't inquire about an individual's immigration status or record the information anywhere as part of the booking process, said Robbins, who added ICE neither has dedicated workspace at the Sheriff's Office's facility nor does it access any information from the department's equipment.
In modifying the Sheriff's Office's policies to comply with the new law, Robbins said among the major changes to the department's policies were notifying individuals in the Sheriff's Office's custody that interviews with ICE are voluntary and letting them know if the federal agency's request for their release date has been fulfilled.
ICE picked up 38 inmates
Between January and October, Robbins said ICE has picked up 38 individuals in the Sheriff's Office's custody and has not interviewed anyone in the department's custody this year. Of the 611 inquiries the Sheriff's Office has received from ICE, Robbins said 243 have met the statutory requirements for notification of release dates. He added 35 of the 38 individuals picked up by the agency at Sheriff's Office facilities upon their releases were men.
As a member of the San Mateo County Coalition of Immigrant Rights and an attorney with the Immigrant Legal Resource Center, Grisel Ruiz commended the Sheriff's Office for keeping an open line of communication with several community, faith-based and legal groups over the years and challenged officials to consider the policies adopted by San Francisco and Santa Clara counties, neither of which have turned any individuals over to ICE this year. Ruiz noted SB 54 limits local law enforcement's cooperation with ICE but does not require it, and individual jurisdictions are free to pass stronger policies or deny the agency's requests for information.
"That sends a strong message to the community that in these jurisdictions, they are cooperating with the community and not cooperating with ICE," she said, of the policies of the two neighboring counties. "When local law enforcement cooperates with ICE, that sends a very conflicting message to the community … trust is more delicate than ever and these policies feed directly into trust with the immigrant community."
In her work with the nonprofit Silicon Valley De-Bug, East Palo Alto resident Sarait Escorza has met with families whose loved ones have been transferred into ICE custody, noting the stress and emotional hardship they experience is immeasurable. She encouraged officials to consider the roles those released from the Sheriff's Office's custody play as wage-earners for their families and the contributions of the immigrant community to the county.
"I think this county needs to take the leadership in protecting families and making sure that we're adopting a policy that protects everyone, regardless of their criminal convictions," she said. "People have served their time, people have done their time and it's time for us to start thinking of our families as human beings."
Into custody
In response to questions about how those released from Sheriff's Office custody are picked up by ICE, Robbins said the federal agency asks for the individual's release date and enters the department's facility at that time to take the person into custody. Bolanos added on other counties where there is no cooperation with ICE, the agency may visit an individual's home or work, and a transfer of those who have committed serious or violent felonies at county facilities can be smoother and safer.
Supervisor Don Horsley asked Bolanos whether during a raid of someone's home, ICE might take into custody others they find that are also undocumented. Bolanos said the agency can take others into custody on such a visit and has been known to do so, which could make someone convicted of a serious or violent felony a threat to others in their community when he or she is released.
"That's the premise of Senate Bill 54, which is there are individuals who pose such a threat to the safety of the public that the law has allowed for law enforcement to cooperate with ICE as it deals with those individuals," he said.
More information sought
Though he said he would not be in favor of adopting the approach used by San Francisco or Santa Clara counties, board President Dave Pine voiced support for forming an ad hoc committee with Supervisor Warren Slocum to explore the five instances in which the Sheriff's Office may respond to ICE requests for inmate release dates under SB 54.
Acknowledging the decision of whether the Sheriff's Office will fulfill ICE's request for notifications under the circumstances outlined by SB 54 is up to Bolanos, Pine thought it would be helpful for supervisors to understand the five exceptions and law enforcement's perspectives on them and determine whether any changes to the current policy might be warranted.
Pine noted officials struggled with a similar discussion regarding the county's deportation defense fund and whether there were any individuals whose deportation defense should not be supported by public funds. Though they decided those who committed a serious violent felony should not be considered for use of those funds, Pine acknowledged some disagreed and the topic could be explored further.
"We had a very similar discussion and struggle when we appropriated what is close to $1 million for the deportation defense," he said.
(650) 344-5200 ext. 106