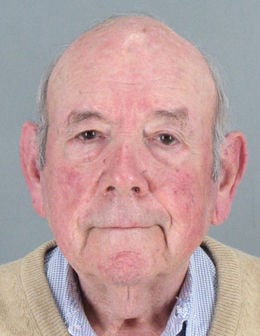 An 82-year-old attorney accused of embezzling nearly $500,000 from a 92-year-old woman and her disabled and dependent 63-year-old son over four years pleaded no contest to two counts of felony elder fiscal abuse and one count of insurance fraud Tuesday, according to the San Mateo County District Attorney's Office.
Charged in late May after a yearslong investigation, Daly City resident Albert Boasberg will face three years in state prison when he returns to court Jan. 11 for sentencing. Boasberg was released on his own recognizance and a judge allegedly said his progress in paying restitution to the victims will be considered at his sentencing hearing, according to prosecutors.
Initially the family's attorney, Boasberg eventually became the financial and medical power of attorney for the elderly woman, who is living with dementia at the Marymount Greenhills Retirement Center in Millbrae, as well as her son, who is in his 60s and living at the Burlingame Long Term Care Center. He is believed to have filled out 12 life insurance applications using false information about the man's medical history. He listed himself as the beneficiary and stole some $17,000 from the man's mother between 2010 and 2014, according to prosecutors.
The thefts were discovered when both facilities, where the victims receive 24-hour care, reported his failure to make monthly payments for their care to the county Health System's Adult Protective Services, which resulted in his removal as the victims' power of attorney in 2015. The county's Public Guardian has been the victims' conservator after Boasberg was removed as their attorney, according to prosecutors.
Boasberg is believed to have used the funds for personal reasons, including diversion of some $100,000 to his wife's home country, the Philippines, and luxury vacations in Las Vegas, according to prosecutors.
Because the two victims trusted Boasberg as their lawyer, District Attorney Steve Wagstaffe said this was one of the more serious crimes against an elder he's seen.
"These two victims could have been thrown out on the street because he was ripping them off and I find that despicable," he said. "He was enjoying life at their expense and left them basically penniless."
Boasberg's defense attorney Adam Gasner said his client took responsibility for the biggest mistake and lapse of judgment in his life Tuesday, and, with no home or retirement savings to his name, will work to sell the few assets he has and to try to borrow from family members to make restitution payments.
"Mr. Boasberg admitted wrongdoing at [an] early stage of the case with the desire to try and now pay back money he is accused of misappropriating," he said in an email. "He knows and worries that he faces being incarcerated in San Quentin State Prison for his actions and does not want to die of old age or from violence in that environment."
Boasberg was ordered to have no contact with either victim and surrender his passport and is not allowed to practice, provide care for others or take on any fiduciary duties, according to prosecutors.
(650) 344-5200 ext. 106