The San Mateo County Fair is back with all the staple activities, performances and concessions plus a few new additions to look forward to.
One of those new additions is the Aussie Kingdom, the only traveling Australian animal show in the United States and Canada, featuring marsupials such as kangaroos, wallabies, wallaroos and other wildlife native to the 'land down under." One of the six kangaroos is a 13-year-old albino named Noni and another is hopping around with a baby in her pouch. Its gender has not yet been determined and fair organizers want to name it Mateo. 
The exhibit will be open all fair hours and there will be three 25-minute educational shows daily at 3 p.m., 5 p.m. and 7 p.m. Those shows will feature reptiles including a bearded dragon, blue-tongued skink and woma python, but not the mammals because it's too stressful for them to be pet.
Performing at the fair this year are a variety of big names including Morris Day & the Time, which will kick off the concert series Saturday, followed by Air Supply, Sir-Mix-A-Lot, Better Than Ezra, 98° and The Commodores. The shows are free with a fair ticket and will be projected on a jumbo screen nearby for those unable to find a seat. 
For a different kind of music experience, a silent disco will be open to all ages just about every evening — another new addition this year. For the silent dance party, live DJs will spin rap, pop and R&B hits from the '90s and early 2000s that can be heard in wireless headphones offered on loan.
Also new this year is a mobile glassblowing studio, at which glass artist Ryan Gothrup will transform hot molten material into works of art, and a selfie museum with six life-size backdrops for photo shoots. 
Chinese acrobats, drone and robotics demonstrations and a hypnotist are daily attractions, as are mainstays including the petting zoo and pig races. The Domini Hoskins Black History Museum also returns this year, highlighting the history and contributions of African Americans. The museum was founded by Belmont resident Carolyn Hoskins.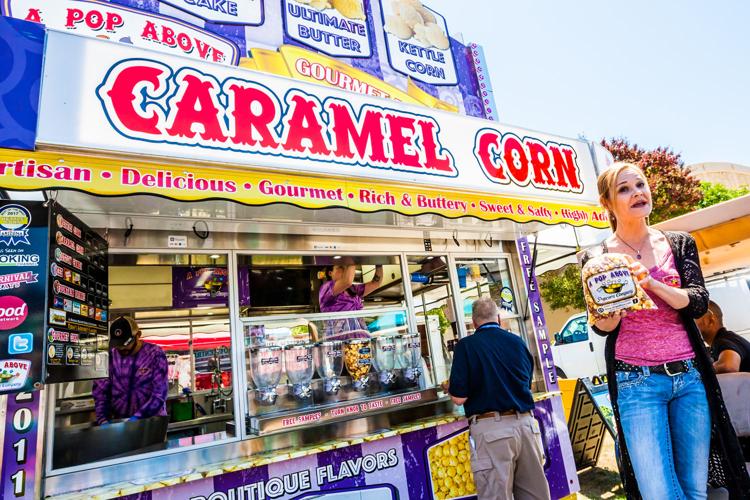 The collection of rides will all be familiar to returning fairgoers as will most of the food offerings. Comfort favorites including burgers, turkey legs, corn dogs and pizza will of course be on offer, along with returning favorite Noel's Mexican Food, purveyor of fried avocado tacos, and A Pop Above, maker of gourmet popcorn. That company has debuted a new flavor this year called "Mateo Munch," which is popcorn coated with movie butter, coconut oil, sea salt, fudge brownie and double caramel. 
"Popcorn is something we can wrap just about any flavor around," said co-owner Kelly Manzo.