CAMPBELL — Serra head coach Patrick Walsh has been preaching love to his Padres football team all season. That message resonated louder than ever in Serra's 16-12 victory over No. 1-seed St. Francis in the Central Coast Section Division I championship game Friday night at Westmont High School.
"We've had so much success here," Walsh said. "And just given what we've been going through in 2020, 2021, it means everything to me. And this banner is hung as much for the 2020 team as it is for the 2021 team. I'm putting both dates on it because that team deserved a championship banner too. So, I'm happy for that. I'm happy that we're battling through this pandemic and we're doing it as a family. That's the way it's supposed to be."
While Serra won on a drive of destiny — its final possession, marching 72 yards on 11 plays — the game was delayed shortly thereafter when a gunshot was heard from the high school parking lot. The St. Francis players ducked and covered on the field, and Serra's players were ushered behind their team tent on the opposite side of the stadium.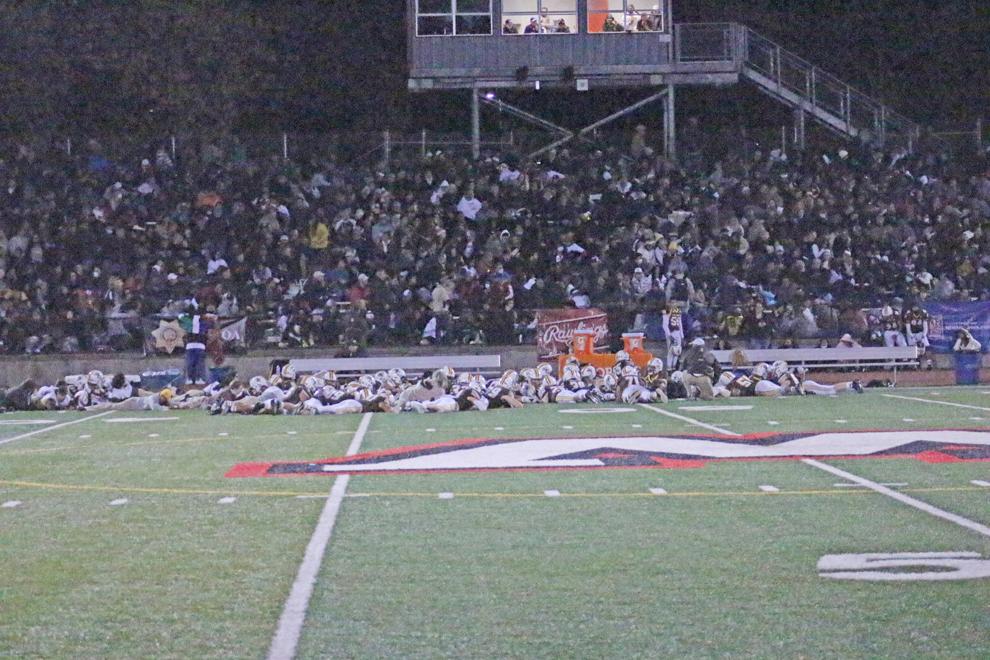 Spectators and players alike initially reacted with panic. Order was restored after approximately five minutes of mayhem, with people running for the exits. Play was stopped for 30 minutes until police determined the shots were fired outside the stadium. The parking lot was roped off and deemed a crime scene, with at least one person being shot, an officer of the San Jose Police Department officer said.
"I don't really know what's going on," Walsh said. "I'm going to enjoy this victory. It's a hard-fought victory against a team that embarrassed us a few weeks ago. I'm just very, very proud of our team. I'm concerned about what's happening in society and I just hope everyone comes together, I really do."
On the field, the game was one for the ages. No.2-seed Serra (11-1) kept its all-time undefeated record in CCS championship games intact, improving to 7-0 on the section's grandest stage. But after what happened three weeks ago, when St. Francis downed the Padres 44-21 with Lancers running back Viliami Teu rushing for a program-record 344 yards, Serra entered Friday's rematch as a supreme underdog.
"We were angry," Serra place kicker Leo Galindo said. "We actually had a wound. That one wound, that one loss, we just learned from it, and we just conquered."
This time it was Serra that etched a program record when Galindo channeled his anger into a 50-yard field goal at the beginning of the second quarter. Not only did it give the Padres a 3-0 lead. It tied a program record for the longest in Serra history, matching 50-yarders kicked by Jon Waugh in 1988 and Rich Heintz in 1999.
But it was the legs of Serra quarterback Dom Lampkin that delivered the Padres to victory. The Lancers had just taken the lead, using a short field to score on a 32-yard quarterback keeper by Joshua Perry to swing out front 12-10 with 7:20 to go in the game.
With the Padres starting from their own 28 on what would be their final possession of the night, Lampkin took his place among the great quarterback who have engineered championship drives.
"Dom showed up big time for us tonight," said Hasan Mahasin, Serra's injured senior running back who has been out of action since Oct. 2. "I've been telling him this whole playoff run to use your legs. He's been trying to show that he's a Division I quarterback. We already know he's a Division I quarterback. But what we've got to do is what we've got to do to win games. So, it's wide open, make plays, use your legs. Do what you've been doing your whole life."
After running back Petelo Gi opened with a 14-yard carry, Lampkin connected with junior receiver Jayden Weber on a short shuffle pass, and Weber turned up the field for a 39-yard pickup. Then Lampkin ran for gains of 1, 10 and 9 yards to move the ball to the St. Francis 8 with less than three minutes to go.
Two plays later, Lampkin went to the play action, faking to Gi with a tremendous sell job on a draw route, before dancing off the right edge and into the end zone for the go-ahead score.
Then the Serra defense put its stamp on a brilliant performance. Not only did the Padres hold St. Francis to 214 yards of offense, Teu was held to under 100 yards for just the third time this season. The senior carried 23 times for 82 yards.
"It was an amazing performance by our defense," Walsh said. "I don't know how many yards they rushed for, but it certainly wasn't what they did the first time."
This time it was the pass defense that finished off the victory. With Perry forced to the air, the Padres overcame a pass interference penalty on the first down after play resumed. Defensive back Andrew Stewart, who was called for the PI, shined on the ensuing plays along with defensive back Malakai Hoeft.
Serra overcame a halftime deficit after a long St. Francis drive to close out the first half. The Lancers went to work with a gritty 15-play, 65-yard scoring drive that including three third-down conversions— before senior Camilo Arquette ran off tackle for a 6-yard score with 20 seconds remaining in the half for a 6-3 lead after a missed point-after try.
Then came the second-half dramatics. Serra took the lead on its first drive of the second half, marching 64 yards on 10 plays, capped by a 21-yard scoring pass from Lampkin to senior Sione Laulea, who elevated in tight coverage to haul it in inside the 5 and dive across for the score to make it 10-6 Serra.
"He kind of tugged on me a little but at all times I just grabbed the ball and just held onto it," Laulea said.
Serra needed just 198 yards of offense to hand St. Francis (11-1) its first loss of the season. Lampkin totaled 141 of those yards, carrying 15 times for 76 yards, while going 3-of-5 passing for 65 yards.
"Seniors win these types of games," Walsh said. "Seniors are the ones that make all the difference in the world. I thought our seniors stepped up and played well, and we're hanging another banner at Serra."