Jared Mettam doesn't come to the yard to play nice or make friends. He comes to compete; he comes to win — and does so with a swagger.
The Half Moon Bay senior did just that in Thursday's Peninsula Athletic League Ocean Division regular-season finale, a head-to-head showdown at Sacred Heart Prep for the league championship. Mettam scored a run in the Cougars' final at-bat to lead his team to a thrilling 4-3 victory, and the PAL Ocean crown, in an instant classic, insofar as high school baseball games go.
And Mettam, while taking over the game in the seventh, looked poised to get his cavalier on-field antics on SportsCenter. Sorry, Jared, this is as close as you get for now.
"To me, he's the best player around," Half Moon Bay manager Brian Anderson said. "I think he's the best player in the county. He does everything defensively for us, as well as offensively. He's the best player around."
With the game deadlocked at 3-3 in the top of the seventh, Mettam led off the inning by putting a charge into a fastball from SHP reliever Nolan Wilbur. The towering drive to right-center looked destined for a triple but bounced over the wall for a ground-rule double.
"I was thinking it was poked, I was thinking it was gone," Mettam said. "But I'm just glad it hit the ground and went over. I was super hyped when I hit that."
But the senior would not be denied, and with junior Trevor Coruccini at the plate, Mettam used his legs to take what was his. He waited two pitches before stealing third base with a hard headfirst dive, then hopped to his feet and struck a pose for his teammates across the field in the first-base dugout.
"I'm always thinking about stealing bags," Mettam said. "I'm always thinking about trying to use my speed to try to get in better situations to do a job."
That's precisely what he did to produce the game-winning run. With SHP playing the infield in, Coruccini worked the count full before hitting a routine one-hopper directly at second baseman Andrew Rocha. Rocha checked on Mettam, and appeared to freeze him, before making the short throw to first base to retire Coruccini.
But on the throw, Mettam took off like a bullet toward home. SHP first baseman Devin Saltzgaber threw a quick strike to catcher Mason Chetcuti but Mettam used his dynamic foot speed to simply beat the throw home, sliding headfirst across the plate with the go-ahead run.
"If I take off on contact, I'm out, no matter what," Mettam said. "So, that's why I stopped and, once he looked away, that's when I went."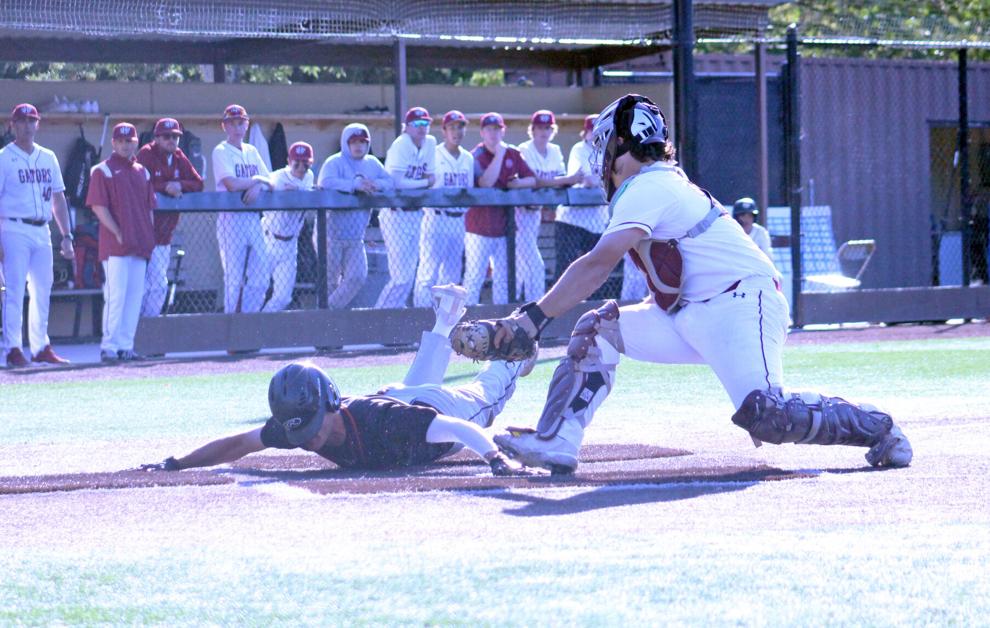 Mettam's celebration was boisterous and charismatic, and he even whipped off his helmet after the play was over and left it at home plate for his teammates to pick up — because that's what they're there for — but the ripple effect was felt in the HMB dugout, for sure, as the Cougars rallied around their star player.
"He knows his speed," Anderson said. "And then to score on that ground ball that was to the second baseman, it was kind of a routine out, just knowing his speed, and knowing: 'I've got this' … just having that ability to wait and know: 'All right, once he makes the throw, I'm gone.'"
But the Gators nearly turned the tables as senior John Adrian Dioli stepped to the plate with two on and two out in the bottom of the seventh and came within a few feet of producing a SportsCenter highlight the old-fashioned way.
HMB junior relief pitcher Devin Costa was dealing, and would finish with three innings of work, striking out five, to earn the win. But after starting the seventh by recording the first two outs quite quickly — thanks to a rangy play by Mettam at shortstop as he danced over the middle to fire a strong, side-armed strike to first base a la young Troy Tulowitzki — the Gators died hard as Jake York and Zach Friere worked back-to-back walks to bring Dioli to the plate.
Dioli gave one a ride, connecting with a challenge fastball and sending it deep to left field. Off the bat, there was a moment where the air of a fairy-tale walk-off home run lifted everyone in attendance to the edges of their seats. But the fairy tale was not to be for SHP, as HMB left fielder Jason Couto hustled back and squared up under it on the warning track to haul in the final out of the day, setting off a Cougars celebration in the middle of the infield.
"I was just thinking I wanted to put the ball in the gap and just get those two guys home," Dioli said. "I didn't really want to try to do too much. … That guy was a good pitcher. I feel like I had timed him up pretty well in the on-deck circle. But it didn't go our way."
On contact, however, the HMB dugout feared Dioli's drive was headed over the wall.
"Oh, for sure," Anderson said. "Because the ball just kind of goes here in general, and I see him turn and run, you're going: 'Uh-oh, is it going to get out?' Because you know balls can just get out here."
Costa's relief effort was worthy of the victory. The submarining right-hander has been a workhorse for the Cougars, leading the pitching staff with 19 appearances, a majority of which have been multi-inning relief outings.
Both team's starting pitchers set a blistering tempo, HMB junior right-hander Ryan Harrington retired the first nine batters he faced and went on to work four-plus innings, getting charged for three runs. SHP senior starter Jack Halloran overcame an unearned run in the first inning and would ultimately surrender three runs through 5 1/3 innings of work.
"Both guys came to compete, both guys were throwing strikes," Gators manager Sean McMillan said. "They're two great teams and they showcased it both games."
Harrington ran into trouble in the fifth, loading the bases before York's two-run single knocked him out of the game. Then Costa emerged and sandwiched a sacrifice fly by Dioli between a pair of strikeouts to keep the Cougars within striking distance with the Gators leading 3-1.
"Devo is outstanding," Anderson said. "It just seems like nothing phases him. He's been in all sorts of weird positions that we've put him in, whether we're up or down, and today … with only giving up one run, it basically saved us to even be able to be in that game."
HMB answered back in the sixth, fueled by a leadoff double from "Wee" Will Moffitt. The Cougars loaded the bases before Victor Castro got hit by a pitch to force home Moffitt. SHP went to its bullpen and Wilbur allowed one inherited runner to score on an RBI fielder's choice off the bat of Couto to tie it at 3-3.
Then came Mettam's immortal game-winning seventh.
"I'm speechless right now," Mettam said. "We've just got a great group of guys and I'm glad we finished strong."
With the win, HMB (11-3 PAL Ocean, 16-10 overall) secures the outright PAL Ocean title. The loss for second-place SHP (10-4, 14-13) snaps a six-game winning streak.