The kids of the Carlmont swimming team are looking at a modern dynasty.
Sure, technically they're all kids. But as the Scots swept all four team titles at the Peninsula Athletic League Bay Division championships — each boys' and girls' varsity, along with boys' and girls' junior-varsity — the relative youth of the varsity squads prove Carlmont is going to continue to be a force to be reckoned with in the years to come.
"It was amazing," Carlmont sophomore Morgan Hawes said. "I just love this team so much. Being able to come together and cheer for everybody, it's just fun watching your teammates do so well. It was awesome. I wouldn't trade it for anything in the world."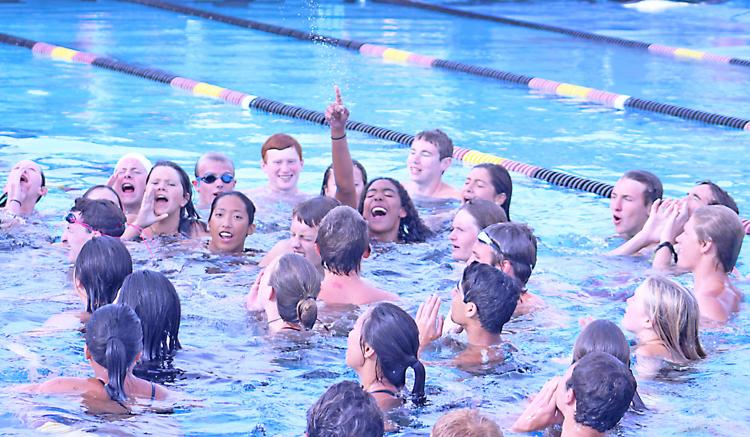 The Carlmont boys' varsity team rallied for its fourth straight PAL Bay Division meet championship Saturday at Menlo-Atherton, totaling 488 points. Mills took second place with 406 points and M-A took third with 309.
The Carlmont girls won a second straight PAL Bay meet crown, dominating the day with 546 points. Second-place M-A finished with 321 points while Woodside, in third place, had 287 points.
Hawes was the highlight of the girls' team, winning four championships on the day. She captured the girls' 200 individual medley with a time of 2 minutes, 5.69 seconds, overtaking San Mateo senior Emma Lepisova — who later in the day won the PAL Bay championship in the girls' 100 backstroke — on the final freestyle leg. Lepisova finished with a time of 2:07.52.
"She is a really great backstroker, so I was a little bit worried about that," Hawes said. "I was able, luckily, to keep with her for the breaststroke. So, usually for the freestyle I'm able to finish and I have stamina like that. … So, I was kind of worried going into the 50 freestyle but on the last 25 I knew I had a chance of catching up."
Hawes went on to repeat as champ in the 100 free with a dominant time of 51.57. She also led off in the girls' 200 relay — also with sophomore Kaitlin Leung, Jade Margolis and Sammie Lee — for a championship time of 1:40.33.
The sophomore then anchored the final girls' swim of the day in the girls' 400 free relay, teaming with Margolis, Lee and freshman Emma Elliott for a time of 3:36.24. The time is a new program record, breaking previous mark Hawes helped set last season at the Central Coast Section championship meet.
"I thought all four girls, including [Elliott], one of our freshmen — all four girls were splitting really great times," Carlmont head coach Fred Farley said. "That was a time better than we did last year at CCS."
The Carlmont boys relied on depth to four-peat as PAL Bay Division meet champs.
The Scots only won two individual events on the day. Luca Garloti, a junior, earned the first individual title for Carlmont at the midway point of the meet, topping the field in the boys' 500 with a time of 4:49.69. He also shared in Carlmont's other win in the boys' 400 relay, teaming with sophomore Oliver Crawford-Shelmadine, junior Christian Buck and senior Tyler Rachal for first place with a time of 3:20.78.
As a testament to Carlmont's relative youth, Rachal is the only swimmer on the team that has been around for all four years of the boys' team's PAL Bay Division four-peat.
"A valuable member this year," Farley said, "and really stepped up and kind of took hold of the leadership mantle. That's the way things seem to be going. Hopefully, the mantle is passed on to the juniors and the sophomores that are coming up."
Garlati may be just the man for the job. The junior also enjoyed two second-place finishes Saturday. The same quartet took second in the boys' 200 free relay with a time of 1:31.54, getting edged out by Burlingame's championship time of 1:31.51.
He also took second in the boys' 200 with a time of 1:43.79, getting out-touched by Burlingame freshman Pavel Sinclair's first-place time of 1:43.30.
"I've been pushing myself to do more shorter stuff because it helps the team more," Garloti said competing in the 200. "There aren't too many other people who want to do it. And I don't mind."
Freshman Billy Picht endured a similar workload. Not only did he place third in the boys' 500 for Carlmont with a time of 5:01.79, he also took second place in the boys' 100 fly with a CCS cut of 54.04 seconds. Only M-A junior Niky Marakovic faired better, winning the event in 52.62.
"I've been improving a lot over this season," Picht said. "So, I've had some pretty close ones over the course of the high school season."
The Lady Scots relied on some senior leadership in the girls' 500 as Karen Li took the crown with a CCS cut of 5:24 flat. It marks the first PAL championship for Li, who previously finished no better than fifth in her four-year varsity career.
Li enjoyed a wire-to-wire lead, but over the final lap felt M-A sophomore Ava Peyton (second place, 2:24.47) and Carlmont freshman Kayla Hogan (third place, 5:24.87) breathing down her neck.
"In the corner of my eye, I could see she was catching up to me," Li said. "I was just like, 'I can't let my dream of being a PAL champion get away from me.'"
Perhaps the highlight of the day for Carlmont, though, was Lee's third leg of the girls' 400 relay.
Lee enjoyed three first-place swims, including the girls' 50 free with a time of 24.93, out-touching Peyton's second-place time of 24.98. Lee also shared in Carlmont's girls' 200 free relay win.
In the girls' 400 free relay, though, when Lee hit the water for the penultimate leg, she trailed by nearly a full length to M-A, but chased down her mark to give Hawes a comfortable lead going into the final leg of the program-record swim.
"I was so excited for her because she is such a great swimmer," Hawes said, "and her 50 free is really fast as well. So, I just knew she could do amazing things in her 100 free. So, when she dove in, I just had a feeling she was going to catch up … and she totally passed her, and I was just so happy for her."