When it comes to producing next-level talent, there are no San Mateo County public schools that compare to Burlingame High School.
The Panthers saw four alumni — pitcher Vince Arobio, infielder Phil Caulfield, outfielder Jonathan Engelmann and pitcher Zac Grotz — finish the 2018 season in the affiliated minor leagues. If you count free agent major league pitcher Scott Feldman, that makes five Burlingame grads in the pro ranks.
The four minor leaguers are all connected, though, having each played for current Panthers manager Shawn Scott. And they share just one degree of separation, with Grotz, having graduated in 2011, playing with Arobio and Caulfield as sophomores. When Arobio and Caulfield — Burlingame's longtime up-the-middle tandem — were seniors, Engelmann played with them as a sophomore.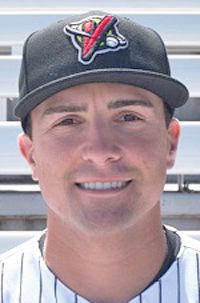 "I think it had a lot to do with that high school team," Arobio said of the pro success. "Just playing for Shawn, he just expected more from us. And it just seemed like our group from when I was a freshman to a senior, those guys were playing (Little League) All-Star teams together and they just stuck together all the way through high school."
Arobio has bragging rights after a 2018 season that saw his Great Falls Voyagers — the Rookie-Class affiliate of the Chicago White Sox — capture the Pioneer League championship last Thursday with a 6-4 win over Rockies affiliate Grand Junction.
The Voyagers swept through two playoff series, taking two straight in the best-of-three semifinal from Diamondbacks affiliate Missoula. Then in the best-of-three championship series, Great Falls swept again to realize the Pioneer League championship.
"Winning the championship was like nothing I'd ever been a part of," Arobio said. "That was blast."
Arobio didn't pitch through the four postseason games, but finished off an up-and-down regular season with two victories in his last three appearances. This came on the heels of his going 0-4 in July, despite it otherwise being his best overall month of the season.
"Sometimes that's just how things go but he took it in stride," Great Falls pitching coach John Ely said after Arobio's fourth straight loss. "Lately he's started to trust the life on his fastball and let the action work for itself."
The 23-year-old right-hander is in his second season of professional baseball after being drafted by the White Sox in the 24th round in 2017 out of University of the Pacific. He posted a 3-6 record with a 5.67 ERA in 24 relief appearances this season, but showed a propensity to get swings and misses by striking out 44 in 33 1/3 innings.
There is one clear-cut ticket to Arobio's strikeout stuff, according to Ely. And that's the right-hander's wicked curveball.
"It's got some serious bite to it," Ely said. "It's a big league pitch."
Sure, Arobio features a cutter that sits 89-91 mph. He also throws a changeup. But it is the spike curveball he learned from pitcher Kyle Serrano — a 10th round pick by the Astros out of Tennessee in 2017 — when the two were teammates for the Matsu Miners in the Alaskan Summer League in 2014.
Arobio worked through some arm troubles at the outset of the year as well. During spring training he experienced minor inflammation of the rotator cuff in his pitching shoulder. It cost him six weeks, during which he remained in extended spring training. He did not receive his first assignment of the season until he joined Great Falls, making his season debut June 15.
"I would say I'm happy with how [extended spring] went because I got to work on some stuff," Arobio said. "But I just didn't feel really polished with my command."
As he continues to hone the precision of his curveball, Arobio will use the offseason to undertake a similar feel for his cutter. While he only returned home to Burlingame last Friday, he is already slated to head back to Arizona Tuesday where he will report the White Sox's instructional league, spanning through Oct. 17.
Arobio said he is now pitching pain free.
"Feels good," Arobio said. "I had that tough shoulder injury and it's finally settled down. So I'm actually excited."
Caulfield — a 32nd round pick by the Washington Nationals out of Loyola Marymount in 2017 — hit .215 over two levels of Class-A ball this season. He batted .263 (10 for 38) at Low-A Auburn before struggling with a .188 (13 for 69) average at Low-A Hagerstown.
Engelmann — a 31st round pick by the Cleveland Indians out of Michigan in 2018 — hit .322 over two levels, batting .322 (38 for 118) with four home runs and 24 RBIs in the Rookie-Class Arizona League before being promoted to Low-A Mahoning Valley, where he went 3 for 10 with a homer.
Grotz — a free-agent pickup by the New York Mets in 2018 — went 3-7 with a 4.61 ERA through 13 starts for at Low-A Columbia.
The right-hander Grotz was originally drafted in the 28th round by the Houston Astros out of Embry-Riddle University in 2015. He was released by the Astros in 2016, but shined later that season in the independent Frontier League, and continued to deal through 2017 in the independent Atlantic League.