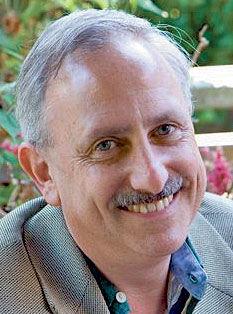 Who are you going to ask to the prom? For many, if not most kids, this is one of the toughest questions in the world. Perhaps you're painfully shy and can't imagine asking anyone. Maybe you're terrified that the person you have this massive crush on will reject you. What if he or she already has a date? Of course the biggest conundrum played out over and over again on TV sitcoms is for the boy or girl who somehow messes up and asks two people to the prom and they both say yes. Cue up the farcical music as the boy or girl tries to be in two places at once, finally getting caught and having to admit to the truth. 
I remember watching those shows and knowing I would never be in that situation! Back when I was in high school in the '70s, there was no way on Earth that I would ask anyone out to a prom. If the person I really wanted to invite knew how I felt about him, that would have ended our friendship. But a lot has changed since then, and I've asked the man I love to come to a prom with me on Saturday, Sept. 14, and he said yes. He had to, I think, given that we've been married for nearly 30 years. 
Two years ago, the San Mateo County Pride Center held the first LGBTQ youth rainbow prom and packed the house. Each year, the event has sold out with countywide youth celebrating the joy of our diverse community with music, food, dancing, laughter and, yes, a little bit of romance. After the first prom, a lot of adults asked why we couldn't have an event like that for ourselves. So, a small group got together with the staff at the Pride Center and this coming Saturday we will raise the roof at Three Craft Kitchen and Bar on Third Avenue in San Mateo. The event title is "Somewhere Over the Rainbow, A Peninsula Masqueerade." There's a lot packed into that title so I'll share a bit of insight into what it all means to me. 
"The Wizard of Oz" and Judy Garland have, since the 1960s, been inextricably bound into LGBTQ culture. When I first saw the movie, I was spellbound by the idea of going from a drab, boring world to a spectacularly colorful place with all types of people and creatures happily living together. Later as a teenager hiding that I was gay, I loved the idea that there was this other magical place where perhaps I could go, and be accepted for who I was. Judy Garland was a gay icon, beloved and imitated by many LGBTQ folks. The Stonewall riots happened on the day of her funeral, though historians argue over whether her death was part of the spark that lit that flame. 
When people think about LGBTQ life in the Bay Area, San Francisco and the Castro come to mind. We wanted to let people know that there's a lot of LGBTQ life happening right here on the Peninsula. This year, for the first time, the cities of Redwood City, Belmont and San Carlos raised the pride flag in June. The Pride Center is now a hub of LGBTQ life on 11th Avenue and El Camino Real in San Mateo. The center offers support groups, crafternoons, youth/elder dinner dialogues, mental health services, legal clinics, comedy shows, movies, a library and casual drop-in times to name just a few of the dozens of activities and services. It is a wonderfully welcoming place and has already touched the lives of thousands of people in the area.
The last word I'll dig into is "Masqueerade." LGBTQ people have a rich history of doing various forms of "drag," dressing up as something or someone other than who we were expected to be. Whether we were doing that for fun, as a form of protest, or as another way of hiding, wearing masks is part of our history. For this party we wanted people to be comfortable coming however they wanted, so we say come as you are or as whoever you'd like to be! And yes, we did add an extra "e" in there, to include a word which LGBTQ people have reclaimed as a positive, and is especially useful to younger people who prefer not to be locked into a particular singular sexual or gender identity. 
So, who are you going to take to the prom? Whether you are LGBTQQIA+ or an ally, you're invited! This is a fundraiser for the Pride Center and we'll also be honoring two LGBTQ local heroes. Sliding scale tickets and opportunities to be a sponsor or donate are available at bit.ly/adultpromsept14.
Craig Wiesner is the owner of Reach And Teach Books Toys and Gifts on 25th Avenue in San Mateo.