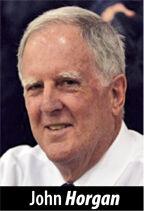 Restrictions on our regular lives are slowly being eased as the dire effects of the pandemic finally show some solid signs of abating.
More and more, people are getting back to some semblance of normality. One of those pursuits is dining outside the home — inside a restaurant.
Those establishments, at least those that have survived the last 13 months of lockdowns, quarantines, dire warnings and strict rules, are making a comeback. But a significant number of cafes, bistros, coffee houses, etc. have simply gone under.
Sadly, that's not new. We've seen this before, albeit not on the current scale. The restaurant business is not an easy one. There are plenty of pitfalls that conspire against longevity, even during good times.
Just look at a selected short list of once-popular San Mateo eateries that are, unfortunately, no more:
Vince's Italian & Seafood
In their heyday, this dandy dozen plus one was as good as it gets. They (and a lot more) are all gone now. There are scant traces of them left.
So what's occurred lately is far from unusual. But the pandemic most assuredly has made the situation much, much worse.
RECALLING DER BINGLE'S SPROUT: In a bygone era when print newspapers were thriving entities, local sports reporting was, shall we say, a bit informal and almost folksy, even occasionally juvenile, in tone.
There was a quaint nudge, nudge, wink, wink aspect to it. This came to mind recently when real estate interests revealed that one of the palatial former Hillsborough homes of the late entertainer Bing Crosby's was for sale.
Crosby's sons by his first marriage attended Bellarmine College Prep in San Jose. As the offsprings of an international celebrity, there was intense interest in them.
When the Jesuit school was scheduled to play a football game versus Burlingame in the 1940s, what was then the Burlingame Advance (later, the Advance Star) ran a giddy story describing one of the Crosby boys playing for the Bells as "Der Bingle's Sprout."
It's hard to imagine any sports page (print or electronic) worth its journalistic salt ladling out a phrase like that for public consumption now.
YES, THEY ARE ALL AROUND US: Still on the subject of local real estate, ultra-pricey though it may be, Chuck Gillooley, a San Carlos agent who writes The White Oaks Blog, has pointed out a statistic that you might not be aware of.
He notes that, countrywide as of the end of January, there were more licensed real estate agents in the U.S. than there were homes for sale.
Using data provided by the National Association of Realtors, he explains that there were 1.45 million licensed agents throughout the country and just 1.04 million homes for sale during the period in question.
There were lots of reasons for the disparity, Gillooley says, not the least of which were increasing demand and a tight supply of available properties during a pandemic.
HAROLD AND MAUDE IS A CLASSIC: For young movie buffs, it's entirely possible that the 50th anniversary of a classic film replete with oodles of Peninsula locales would mean very little.
But "Harold and Maude" deserves a look — assuming you can find it. Starring Bud Cort and Ruth Gordon as the two main title characters, this 1971 cinematic dark comedy probes a truly odd (if not somewhat disturbing) relationship between two people of vastly different ages who happen to obsess a lot about death and, finally the meaning of life.
San Mateo County is pretty much home base for most of the film. The various locations include: Holy Cross Cemetery in Colma; a railroad siding at Oyster Point in South San Francisco; the Rose Court Mansion in Hillsborough; the Golden Gate National Cemetery in San Bruno; the Dumbarton Bridge; and Mori Point in Pacifica.
If you get the chance, check it out. Just don't be put off by Harold's (Cort's) persistent (and fake) suicide attempts. They aren't meant to be serious.
John Horgan, who was particularly intrigued by Harold's customized quasi-hearse/sports car, can be contacted via email at johnhorganmedia@gmail.com.